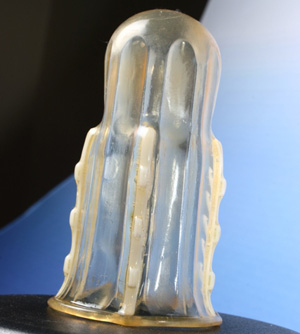 Fight disinformation:
Sign up
for the free
Mother Jones Daily
newsletter and follow the news that matters.
Women can now arm their vaginas with a latex condom fitted with internal hooks to snare rapists. The Rape-aXe, shown at left, was invented by Dr. Sonnet Ehlers in South Africa to help curb the country's alarming rape rate. She's seeking donations to distribute the device during the World Cup, which is appropriate since about 317 South African women will be raped during one 90-minute game.
Basically, the Rape-aXe fits inside a woman's vagina like a tampon. During penetration, it hooks onto the penis resulting in excruciating, debilitating pain for the attacker while allowing the rape victim to (hopefully) escape. Only surgery can remove the Rape-aXe from a penis once it's attached, which will alert doctors (and the authorities) that the patient's a likely rapist. A possible Rape-aXe ward installed in every hospital (My idea) sounds great, the hope being that once a few rapists get their wickers nicked, word would spread and cause other men to think twice before they assault women.
This isn't a new idea. South African women were inserting sponge-wrapped blades into their vaginas to thwart rapes way before the Rape-aXe came along, Ehlers told CNN. The vagina-as-Venus-fly-trap meme has even been used as fodder for bad horror films. What's disturbing is the unsafe conditions that are driving women to stick medieval chastity-belt-type razors up their vaginas in the first place. South Africa has the highest rape rate in the world: One in four men there admitted to raping someone, and the country's current president has even stood trial for the crime. It's in this hostile environment that the Rape-aXe was created, but the Rape-aXe's critics have made some valid points, as CNN reports:
Critics say the female condom is not a long-term solution and makes women vulnerable to more violence from men trapped by the device. It's also a form of "enslavement," said Victoria Kajja, a fellow for the Centers for Disease Control and Prevention in the east African country of Uganda. "The fears surrounding the victim, the act of wearing the condom in anticipation of being assaulted all represent enslavement that no woman should be subjected to."
Kajja's thoughts on fear were what worried me about the device at first. It disturbs me that a woman might have to think: "I'm going to a bad neighborhood tonight, better stick in the old Rape-aXe." A vagina shouldn't be a safety liability, but it sometimes is. A world where a woman needs to use the Rape-aXe is a world that seriously needs to examine its gender dynamics. Squashing the cultural conditioning that's preached women's subordinate, almost accessory-like status, is a must. But while the anti-rape billboards, school lesson plans, and other modes of social reconditioning are being developed, females in environments where sexual assualt is pervasive need something to fight back. I think the Rape-aXe in those cases is empowering.
It has big problems, like its inability to actually prevent rape since penetration has to occur for it to work. It also doesn't protect women against gang rapes and other forced, non-vaginal sex acts. And sure, there might someday even be a case of an enraged spouse deciding to use a Rape-aXe as punishment for her husband's infidelity. But the device doesn't break the skin of the penis, and prevents women from "fluid exposure." The possibility of branding at least one rapist and reducing the chances of a woman becoming pregnant, contracting AIDS, or other sexually transmitted diseases from her attacker, makes this thing a big winner in my eyes. What do you think?
UPDATE: This post previously stated that Sonnet Ehlers "has been distributing the device during the World Cup." Ehlers says that, contrary to CNN's report, she has not distributed 30,000 Rape-aXe condoms during the World Cup as she intended due to a lack of donations. She will distribute them during the games if she finds more donors. The error has since been corrected.