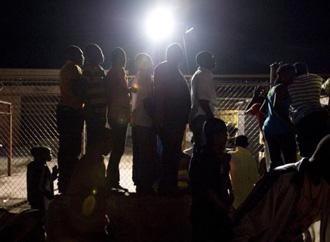 Fight disinformation:
Sign up
for the free
Mother Jones Daily
newsletter and follow the news that matters.
With Haiti in the midst of fresh political turmoil, Mac McClelland's on-the-ground scoop about the return of dictator Jean-Claude "Baby Doc" Duvalier to quake-ravaged Haiti (accompanied by Mark Murrmann's great photos) was a creepy reminder of something that manipulative Haitian thug leader Emmanuel "Toto" Constant told MoJo contributor Bernice Yeung back in 2008.
Then in jail awaiting trial for real-estate fraud in the United States—he fled Haiti in 1994 when President Jean-Bertrand Aristide returned to power, landing in Queens, New York—Constant revealed that he still had political aspirations. "I can even be the president, the prime minister," he told Yeung. "It's strange to be locked up in prison upstate and talk about being president of Haiti, right? It's strange…. Strange meaning it's happened before. That people have come from jail to become leaders of their country."
As Yeung recalled in her piece (which you can read here), Constant was founder and former leader of a group called the Front for the Advancement and Progress of Haiti, linked to the rapes and murders of pro-democracy activists in Haiti during the early 1990s:
Human-rights watchdogs say the group was modeled after the Tontons Macoutes, [François "Papa Doc"] Duvalier's personal police force, which shook down, tortured, and killed the dictator's political opponents.
According to declassified CIA reports, FRAPH conducted violent attacks, ran extortion rackets, and became a "major perpetrator of abuses." The Organization of American States has reported that members of Constant's group, the army, and the police terrorized Haitians "with complete impunity." Victims described gang rapes by as many as five FRAPH members while their young children were forced to watch. "Supporters of Aristide were severely intimidated, and in some cases, killed," says John Shattuck, assistant secretary of human rights under President Clinton.
At the time, any reader would have dismissed Constant's comments as hubris, the delusions of an egotistical man raised on wealth and connections, whose father was a key lieutenant for Papa Doc. With Baby Doc's return to Haiti, I'm not so sure. Constant is still in prison in the United States. He got 12 to 37 years—an unusually long stint for fraud (the judge took Constant's legacy into account)—but he has already served four and a half, and will be up for parole before you know it.
It's an open question whether a $19 million civil judgment against him for his role in rape, torture, and murder will make any difference, but you can be sure Haitian Americans and human-rights groups, not to mention the staff or Mother Jones, are going to be keeping a close eye on these developments.