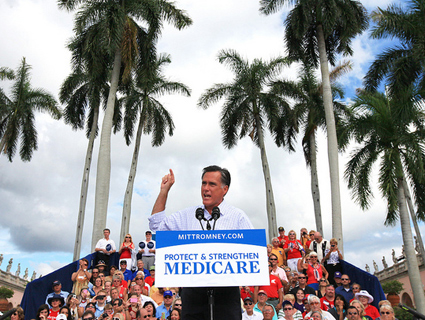 Fight disinformation:
Sign up
for the free
Mother Jones Daily
newsletter and follow the news that matters.
Mitt Romney kicked off his appearance at last week's Univision Forum in Miami by thanking a few key supporters. First, he gave a nod to the state's former Republican governor, Jeb Bush. Then he turned to an elderly couple sitting near the front: "Remedios! Fausto! How are you?"
The GOP presidential candidate would be hard-pressed to find two more enthusiastic supporters in South Florida than Remedios Diaz-Oliver and her husband, Fausto, a Cuban-American power couple with GOP roots as deep as their pockets.
They also have a troubled history when it comes to the IRS and US Customs.
In 1999, then-Texas Gov. George W. Bush was forced to distance himself from Remedios Diaz-Oliver when the Associated Press reported that she had recently pleaded guilty to a misdemeanor count of accessory to customs fraud after the fact and one of knowingly providing a false document. Diaz-Oliver had raised at least $25,000 for the Bush campaign at a Miami fundraiser, which campaign spokeswoman Karen Hughes called "unfortunate," adding, "I could only speculate that if the (Miami) volunteers would have known, they would not have asked her to help in the host committee." The Diaz-Olivers and their business partners had been indicted on 18 counts relating to a tax evasion scheme, but Remedios' felony charges were dropped as part of the plea deal. Remedios was given three years' probation and forced to pay $92,012 to the US Customs Service. (The charges centered on a scheme to avoid paying import duties on imported food products by filing fraudulent invoices.) "I can go back to work and I don't have to spend one single day in any place," a relieved Diaz-Oliver told the Miami Herald at the time.
"In my 40 years in private business, I have never evaded my tax obligations," Diaz-Oliver wrote in an email to Mother Jones. "Moreover, I have never committed, nor plead, to any felony violations. To the contrary, I have always proudly paid all of my tax dues to this great country, which opened its doors to me. The record stands absolutely clear on that."
Fausto Diaz-Oliver, meanwhile pleaded guilty in 1999 as part of the same case, to felony charges of corporate tax evasion and customs fraud. He received a sentence of three years probation and 300 hours of community service.
Remedios Diaz-Oliver's ties to the Romney campaign go well beyond that one shout-out. In a January press release, the Romney campaign named Diaz-Oliver as a member of its National Hispanic Steering Committee, alongside prominent Republicans, including former Florida Sen. Mel Martinez. That month, the couple appeared at an event for the US-Cuba Democracy Political Action Committee, of which Diaz-Oliver is a member. In May, both Diaz-Olivers co-chaired a fundraiser for the Romney Victory Fund at the Biltmore Hotel in Coral Gables, where a $10,000 contribution or a $25,000 bundle of donations earned funders a photo with the candidate.
The Diaz-Olivers came to the US from Cuba together in 1961. In 1991, Remedios founded All American Containers Inc., a plastic and glass container manufacturer. Remedios has also given generously to Democratic politicians, including Florida Rep. Debbie Wasserman-Schultz, the chairman of the Democratic National Committee, and New Jersey Sen. Robert Menendez, who is Cuban American.
Supporters' tax woes have plagued both candidates during the campaign. In June, President Obama cited pop singer and prominent supporter Marc Anthony as an example of someone who should be required to pay more in taxes—an auspicious example, given that Anthony recently owed $3.4 million in federal taxes. But the issue is more pronounced for Romney given the controversy over his own returns.
This isn't the first time Romney has run into trouble with a South Florida supporter. In August, the Associated Press reported that the host of a Romney fundraiser in Miami had a prior felony conviction for cocaine trafficking, which under Florida law means he might not even be eligible to vote.
Correction: The headline originally referred to the Diaz-Olivers as donors. They have co-chaired a fundraiser but not donated to the campaign.