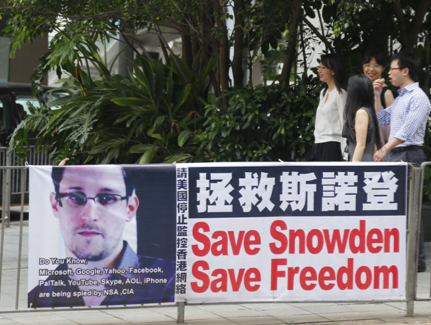 Fight disinformation:
Sign up
for the free
Mother Jones Daily
newsletter and follow the news that matters.
Former NSA contractor Edward Snowden, who has been officially indicted by the United States under the Espionage Act, is en route to Ecuador, one of at least two countries in which he is seeking asylum, WikiLeaks founder Julian Assange said today on a call with reporters. Assange would not provide further details on Snowden's current whereabouts. The whistleblower arrived in Moscow on Sunday, fleeing Hong Kong after China urged his departure in order to avoid a messy extradition battle with the United States, according to Reuters. Snowden was scheduled to fly to Havana early Monday morning, but he never boarded the plane.
Assange blasted the Obama administration for seeking Snowden's extradition and interfering with his quest for asylum, which WikiLeaks is assisting with. He said that focusing on Snowden distracts from the sweeping surveillance program that he exposed.
"Snowden has issued an asylum application to Ecuador and possibly other countries," Assange said from the Ecuadorean Embassy in London, where he is himself avoiding extradition by Sweden and potentially the United States. "We are aware where Mr. Snowden is. He is in a safe place and his spirits are high, but due to the bellicose threats coming from the US administration, we cannot go into further details at this time." Kristinn Hrafnsson, a WikiLeaks spokesman, added that Snowden is also formally seeking asylum in Iceland, but wouldn't name other potential countries that he is petitioning for safe haven.
After Snowden arrived in Moscow on Sunday, Ecuador's foreign minister, Ricardo Patino Aroca, tweeted that Ecuador had received an asylum request from Snowden. Assange says that the application is being carefully considered.
National Security Council spokesperson Caitlin Hayden issued a statement Monday morning urging Russia to send Snowden back to the United States: "Given our intensified cooperation after the Boston marathon bombings and our history of working with Russia on law enforcement matters—including returning numerous high level criminals back to Russia at the request of the Russian government—we expect the Russian Government to look at all options available to expel Mr. Snowden back to the U.S. to face justice for the crimes with which he is charged."
Michael Ratner, an attorney for WikiLeaks and president of the Center for Constitutional Rights, said on the call that it's troubling to see the United States trying to block asylum for someone who is a "clear whistleblower." He added, however, that "maybe it's not so surprising," given the Obama administration's history of cracking down on whistleblowers.
Questions have been raised about Snowden's whistleblower status, particularly since, after disclosing the NSA's domestic surveillance efforts, he revealed sensitive national security information about US cyberattacks in China, alleging that the NSA hacked the text messages of Chinese mobile phone users. In an online chat with the Guardian, Snowden claimed: "I did not reveal any US operations against legitimate military targets." According to CNN, Snowden told Ecuadorean president Rafael Correa in a letter that he fears that if he is sent back to the United States, it is "unlikely that I will have a fair trial or humane treatment."
"The Obama administration was not given a mandate by the people of the United States to hack and spy upon the entire world," Assange said. "To now attempt to violate international asylum law by calling for the rendition of Edward Snowden further demonstrates the breakdown in the rule of law by the Obama administration, which sadly has become familiar to so many."