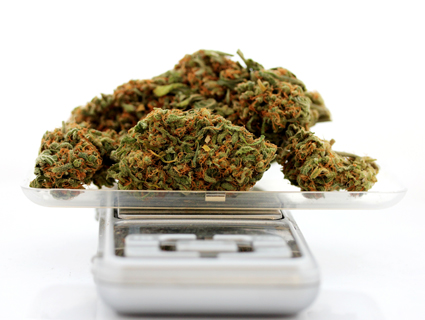 Fight disinformation:
Sign up
for the free
Mother Jones Daily
newsletter and follow the news that matters.
On Thursday, Sports Illustrated published the latest in its five-part investigation into the Oklahoma State University football program, whose rise in the national rankings has tracked closely—the story alleges—with a culture of academic cheating and allegations of cash payments to athletes. (Paying players is forbidden by the NCAA, the sport's governing body, even though many of the players who allegedly received cash were broke and incapable of holding down a paying job because they spend most of their free time providing unpaid labor for a multi-billion dollar cartel.)
The report also uncovered a disturbing trend at Oklahoma State: some college students smoke pot:
As the Cowboys have risen from Big 12 cellar-dweller to one of the nation's elite teams, widespread marijuana use by players and even some drug dealing has gone largely unexamined, unchecked and untreated.

"Drugs were everywhere," says Donnell Williams, a linebacker on the 2006 team who says he didn't use drugs but observed other players who did. Other players echoed that, saying it was common for some players to smoke weed before games. "[Against] teams we knew we were going to roll, a couple of guys would get high," says Calvin Mickens, a cornerback from 2005 to '07. "Some of the guys [it] didn't matter what game it was, they were going to get high." In the weeks leading up to the 2012 Fiesta Bowl, running back Herschel Sims says that so many of his teammates were smoking marijuana regularly that if the school had suspended those who had the drug in their system, "we probably would have lost about 15-20 people who actually played." (According to the school, 18 of the team's more than 100 players were randomly tested by the NCAA before the game; one tested positive and was suspended.)
In other words, college student-athletes at Oklahoma State are a lot like unathletic college students at Oklahoma State, except that they're forced to undergo drug tests on a regular basis and have their recreational pursuits scrutinized. The fact that widespread marijuana use seems to have such little effect on the football team's performance would seem like an angle worth pursuing, given the story's premise that marijuana use is a malignant problem facing the Cowboys program. But that goes unexplored. Nor is there any attempt to explain why, exactly, recreational marijuana use is a problem worthy of lengthy investigation from a major national magazine. And it's not the first time either.
Previously in "OMG college athletes smoke pot": ESPN's 2012 examination of the "cloud of pot busts" that threaten to tarnish the sport's image.
College football players smoking marijuana is nothing new. Coaches and administrators have been battling the problem and disciplining players who do so for decades. Still, "I believe it's becoming more and more frequent on campuses," says Michigan athletic director Dave Brandon. One Football Bowl Subdivision coach says that athletes of today seem to treat marijuana as players from previous generations treated alcohol and that many of his players prefer smoking pot to drinking because weed leaves no hangover.

NCAA statistics show a bump in the number of stoned athletes.
Back in the world of peer-reviewed studies and public polling, marijuana is increasingly accepted and increasingly legal. And unlike, say, football, no one who uses it is going to die as a result. You'd never know it from reading the sports pages.