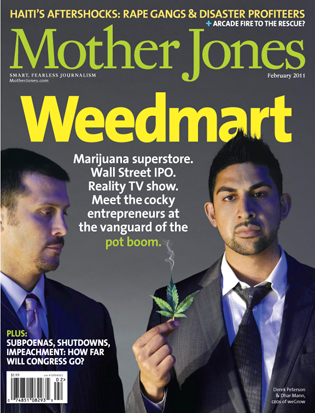 In 2011, a Lamborghini-driving 26-year-old named Dhar Mann became a national media sensation when he partnered with a Morgan Stanley investment banker in an audacious plan to create weGrow, a vertically integrated marijuana conglomerate better known as the "Walmart of Weed." Shortly after I wrote the first detailed profile of Mann, however, he split with Morgan Stanley's Derek Peterson amid mutual accusations of unpaid debts and financial shenanigans. Peterson charged Mann with running "a fucking hydroponzi scheme."
Now it looks like he wasn't exaggerating by much. Yesterday, Mann pleaded "no contest" to five felony counts of defrauding the City of Oakland, the Oakland Tribune reports. The scion of a wealthy taxi monopolist and a major local political donor, Mann was accused of pocketing some $44,000 in city redevelopment funds that he was supposed to use to fix up several of his properties. According to court documents, Mann submitted checks to the city that he'd supposedly written to contractors but that were in fact redeposited into his own bank account.
Mann won't face jail time, but still must resolve an Oakland civil suit seeking $345,000 in civil penalties and damages.
Though weGrow got a lot of media attention, it was never very popular among the Bay Area's pot cognoscenti, who saw the company's materialistic and confrontational image as a liability to their wider goal of a truce in the drug war. But now it looks like it was Mann himself, not anti-drug crusaders in the federal government, who planted the seeds of his demise.