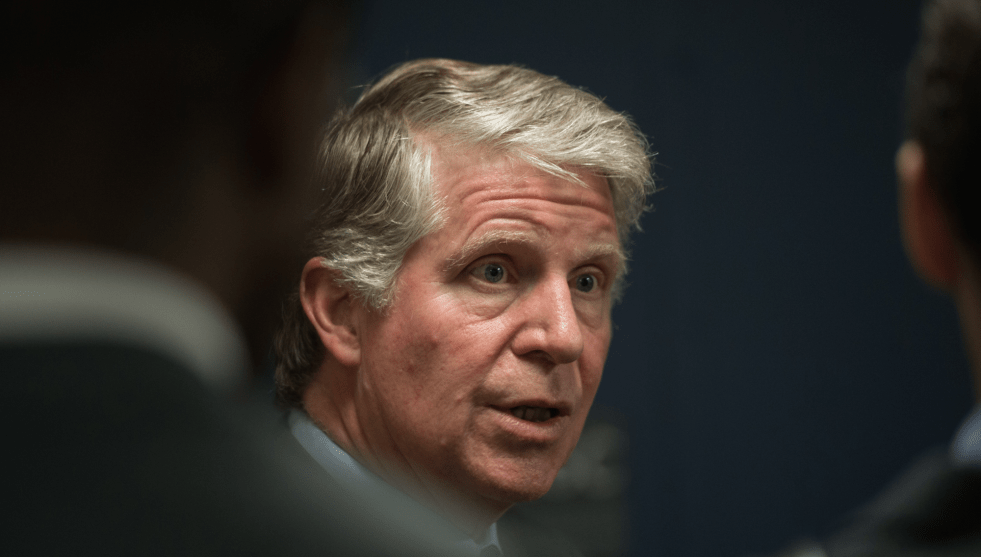 Fight disinformation:
Sign up
for the free
Mother Jones Daily
newsletter and follow the news that matters.
The past week has brought two bombshell reports of apparent malfeasance that went unpunished. ProPublica revealed that in 2012, Ivanka and Donald Trump Jr. were close to being charged with felony fraud for defrauding prospective tenants of the Trump SoHo. The New Yorker detailed horrifying accounts from multiple women alleging that Hollywood executive Harvey Weinstein sexually assaulted them—including one woman who secretly recorded their encounter but failed to win charges against the movie mogul.
While the two stories appear to address starkly different subjects, one central figure has emerged from both: Manhattan District Attorney Cyrus Vance Jr. The two-term district attorney, who is running for reelection next month unopposed, is named in both reports for similar decisions to call off criminal investigations.
In 2012, as New York prosecutors were investigating the Trump siblings, a hefty donation from their father's attorney, Marc Kasowitz, to Vance's reelection campaign may have influenced Vance's abrupt decision to close the case. From ProPublica:
Just before the 2012 meeting, Vance's campaign had returned Kasowitz's $25,000 contribution, in keeping with what Vance describes as standard practice when a donor has a case before his office. Kasowitz "had no influence and his contributions had no influence whatsoever on my decision-making in the case," Vance said.
But less than six months after the D.A.'s office dropped the case, Kasowitz made an even larger donation to Vance's campaign, and helped raise more from others—eventually, a total of more than $50,000.
Vance has maintained that there was no impropriety in the campaign donations. When asked about the report during a gun violence event on Saturday, Vance reportedly "offered no comment and swiftly left the event." One state lawmaker is now calling on New York Attorney General Eric Schneiderman to investigate Vance for possible corruption.
Reporting for The New Yorker, Ronan Farrow detailed a 2015 NYPD sting operation in which model Ambra Battilana Gutierrez secretly recorded Harvey Weinstein trying to persuade her to come back to his hotel room. The audio also captured Weinstein admitting to having previously groped her.
Despite the evidence, Vance decided not to file charges against Weinstein. "If we could have prosecuted Harvey Weinstein for the conduct that occurred in 2015, we would have," the Manhattan District Attorney's office said in a statement responding to the report in The New Yorker.
Statement by Chief ADA Karen Friedman Agnifilo on allegations against Harvey Weinstein — pic.twitter.com/4kLfEk60re

— Cyrus Vance, Jr. (@ManhattanDA) October 10, 2017
Five days before The New Yorker published its piece, the International Business Times reported that Weinstein's lawyer delivered $10,000 to Vance, just months after he decided not to pursue criminal charges against the Hollywood mogul.
Many expressed outrage over Vance's role in both cases.
https://twitter.com/lpolgreen/status/917772517187768322
When you ask why women don't press charges perhaps it's because people like Cy Vance Jr. decline to prosecute despite decades of abuse. https://t.co/lWIBzRgaMe

— Patricia Arquette (@PattyArquette) October 10, 2017
Cy Vance is running for reelection and remains unopposed. First-time NYC voter registration ends Friday. https://t.co/XRUaVUZe4X https://t.co/98bteusJxi

— Jazmine Hughes (@jazzedloon) October 10, 2017
Last year, 72 percent of elected prosecutors ran unopposed.