Facts matter:
Sign up
for the free
Mother Jones Daily
newsletter.
Support
our nonprofit reporting.
Subscribe
to our print magazine.
For the third consecutive weekend, marches and protests against police brutality and anti-Black racism are taking place not just in the United States but around the world. Below are some visuals of the massive crowds today. We'll update this post over the next few hours as protests on the West Coast get underway.
New York City
This is ONE of the #BlackLivesMatter protests in NYC right now.

— Joshua Potash (@JoshuaPotash) June 13, 2020
NOW: Thousands of protestors moving through New York City demanding justice & change. pic.twitter.com/EkJqfsH6Pp

— Kathy Park (@KathyParkNBC) June 13, 2020
Washington, DC
Hundreds of students end the peaceful protest at #BlackLivesMattters plaza @wusa9 #getupdc pic.twitter.com/1VPDIArPmo

— Nicole DiAntonio (@NicoleDiAntonio) June 13, 2020
Minneapolis
Boots on the Ground To Shut this Shit Down! ✊🏽#Minneapolis #blacklivesmatter pic.twitter.com/7zOXnsRYuT

— Athena Drew (@AthenaaDrew) June 13, 2020
Los Angeles
The weekend after we learned homelessness rose in LA County by 13% since last year — a large crowd is listening to firsthand accounts of homeless experience at a Black Unhoused Lives Matter demonstration at Echo Park.

Organizers include @LACANetwork @NOlympicsLA @DSA_LosAngeles pic.twitter.com/XXCBBN3qVi

— Libby Denkmann (@libdenk) June 13, 2020
Black lives matter protests along Colorado Blvd. in Pasadena. #blacklivesmatter #pasadena #losangeles #georgefloyd #protest pic.twitter.com/1eC5KqbmAy

— Keith Birmingham (@photowkb) June 13, 2020
Philadelphia
"Say her name, Breonna Taylor!"

Hundreds of kids in Penn Wynn (outside of Philly) marched this morning in support of #BlackLivesMatter.

This gives me hope. Our children will save us.pic.twitter.com/F7yMZBV3dr

— Minh Ngo (@minhtngo) June 13, 2020
Seattle
People came out. You couldn't see the end in either direction. pic.twitter.com/3rt8S9NBAC

— Adrian Majkrzak (@ghostorbit) June 13, 2020
Atlanta
Hundreds march through Roswell against racism and police brutality. @ ajc pic.twitter.com/FVElvRrweZ

— Eric Stirgus (@EScoopStirgus) June 13, 2020
Richmond, Virginia
Thousands gather at the Robert E. Lee monument in Richmond, VA ahead of the start of the 5000 Man March Against Racism @MSNBC pic.twitter.com/lnTWweo9Du

— Amanda Golden (@amandawgolden) June 13, 2020
Paris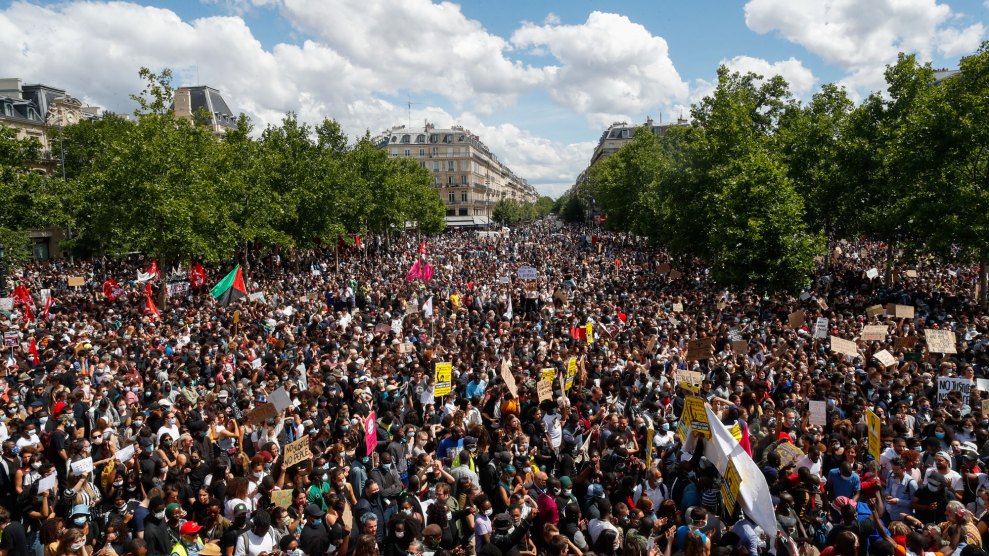 https://twitter.com/sahouraxo/status/1271831432294535168
Paris, place de la République le 13/06/2020. Images : @TCHIMBAKALA1 #Traore #BlackLivesMatter #generationidentitaire pic.twitter.com/UdXSkMWksQ

— Diallo Oumy (@DialloOumy4) June 13, 2020
Perth, Australia
Okay this is the #BlackLivesMatter protest in Perth, Australia. Right now. pic.twitter.com/iSzqKuSnG9

— Joshua Potash (@JoshuaPotash) June 13, 2020
Zurich, Switzerland
Zurich: Huge rally against racism in little Switzerland. #BlackLivesMatter pic.twitter.com/BlptOF0DEw

— Fabian Eberhard (@FabianEberhard) June 13, 2020