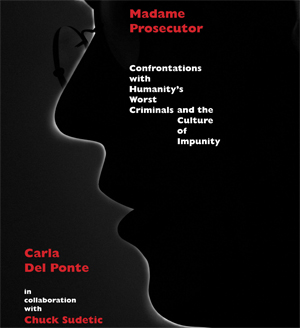 Fight disinformation:
Sign up
for the free
Mother Jones Daily
newsletter and follow the news that matters.

Length: 16:10 minutes (14.81 MB)
Format: Stereo 44kHz 128Kbps (CBR)
War crimes prosecutor Carla Del Ponte has dedicated her career to bringing the world's worst human rights violators to justice. As chief prosecutor for the United Nations War Crimes Tribunals for Rwanda and the former Yugoslavia, Del Ponte successfully prosecuted some of the most powerful masterminds of mass murder, including Serbian strongman Slobodan Miloševi?.
Her recent memoir, Madam Prosecutor, details her experiences in The Hague. I spoke with Del Ponte's co-author, Mother Jones contributor Chuck Sudetic, by phone from Croatia. (Del Ponte, now a Swiss ambassador to Argentina, has been barred by her government from speaking publicly about the book—for the backstory, listen to the podcast).
Two quick highlights from our conversation:
Mother Jones: In terms of strategy, Carla Del Ponte argues that it's actually cheaper to pursue tribunals, as opposed to humanitarian aid and military inventions and peace keeping missions, and all the subsequent reconstruction efforts and development efforts, that the tribunals themselves are actually less expensive.

Chuck Sudetic: Exactly. A lot of people complain when they see the costs of the tribunal where you employ hundreds of people at a pretty high pay-grade in a pretty high-cost part of the world. But if you compare that to a U.N. mission in Bosnia, for example, that went on and on and on and spent untold billions to enforce a peace that didn't exist, or when you talk about interventions in places like Rwanda, the tribunals are much, much cheaper. It still isn't a foregone conclusion that tribunals will solve the problem in the long run, that they will create enough of a deterrence, but its at least worth the gamble because the cost compared to the alternative is significantly lower.

MJ: Toward the end of the book, Del Ponte offers a few lessons for prosecutors. She says that prosecutors must remain objective in the face of these horrendous crimes, and I just wonder if that's even possible. I mean, these are the most heinous crimes crimes committed, and so how do you actually remain objective?

CS: Well you do it by being professional. And you do it by constantly questioning whether your evidence and whether your theory fit the case, and fit the law and the indictment. These are tough cases to proof because people who are presidents, people who are ministers of defense, or ministers of internal affairs, the police ministers of countries, they generally sit in offices that are air-conditioned and nicely furnished in places that are far away from the venues where execution squads are killing, or where men are going into villages and killing wholesale and raping women wholesale. What you're required to do is to create a link between the crimes taking place on the ground and the orders given by the individuals, men and women, on high. It's not a slam dunk, these are not show trials. These are places where inquiring minds have to be nay-sayers, and have to question everything, and it's a good thing they do.

There's a huge degree of cognitive dissidence involved in this. On the one hand you have to look into the faces of survivors of horrible events, who in many cases have been reduced to utter penury by the conflicts in which they've been victimized. Meanwhile, in an international justice system where the U.N. gets involved and the rights of the defendants have to be protected, the defendants in the jails are actually living better than the victims in the villages that have been burned and looted and all the women taken off and raped. These are difficult things to factor with some kind of common denominator. In the end, you get torn apart by this.
We go on to talk about how prosecutors prioritize who to prosecute (only those with no hope of being prosecuted in their own countries, it can be a painful process of selection); how to deal with the inflated ego of war criminals (don't let them represent themselves in court); and whether Del Ponte has any advice for those seeking prosecutions of Bush administration officials (be steadfast, even though we love international justice for other countries, no one wants their own people tried).
Click here to listen to more Mother Jones podcasts.
Read sections of Madame Prosecutor.