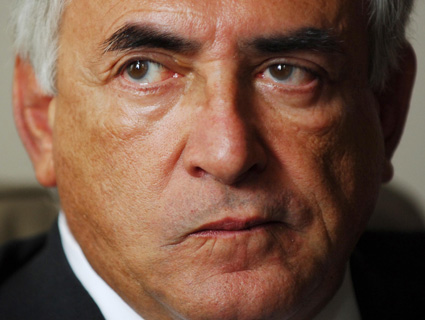 Fight disinformation:
Sign up
for the free
Mother Jones Daily
newsletter and follow the news that matters.
This post first appeared on the ProPublica website
The arrest of International Monetary Fund chief Dominique Strauss-Kahn for allegedly sexually assaulting a maid at a Midtown Manhattan hotel has raised many questions. One we had is what role diplomatic immunity might play—and who else gets it.
The Basics of the Case
According to Strauss-Kahn's accuser, she entered his hotel room to clean it when Strauss-Kahn emerged nude from the bathroom, locked the maid in the room and assaulted her twice before she broke free. Earlier this afternoon, Strauss-Kahn was arraigned in Manhattan Criminal Court, where he pleaded not guilty and a New York Supreme Court judge denied him bail until his next court hearing.
Reuters, citing a report from France's RMC radio, said Strauss-Kahn has offered an alibi that contradicts the accuser's timeline: Strauss-Kahn has reportedly said he checked out of the hotel before the alleged assault took place, then left to meet his daughter for lunch and took a taxi to the airport.
Such an alibi, of course, should be easy enough to verify: The hotel's records should be able to tell when the maid accessed Strauss-Kahn's suite and whether it was before or after he'd checked out.
The New York Post reports that at Strauss-Kahn's bail hearing today, his defense attorney "hinted" he w ould argue that an encounter did occur, but was consensual.

What About 'Diplomatic Immunity,' Could Strauss-Kahn Still Invoke It?
Although a spokesman for the NYPD has said Strauss-Kahn does not have diplomatic immunity and Strauss-Kahn's lawyers have not invoked such protections, various media outlets and some experts have pondered whether Strauss-Kahn could still try to invoke it as part of a long-shot defense strategy.
The IMF is technically a U.N. agency, and so officials there can get some immunity. The BBC has a good backgrounder on the issue, noting that diplomatic immunity is granted by a hodgepodge of agency rules, federal law and international treaties. (Our friends at NPR's Planet Money also have a handy explainer on what the heck the IMF is anyway, and Slate explains the difference between the IMF and the World Bank.)
There seem to be three potential sources of diplomatic immunity that Strauss-Kahn might invoke: the IMF's Articles of Agreement, the U.S. International Organizations Immunity Act and the Vienna Conventions on Diplomatic Relations.
All three limit immunity to only a diplomat's "official acts," but what that means remains open to interpretation. Even the U.S. State Department's manual for law enforcement says what constitutes an official act "is an issue that may only be resolved by the court with subject matter jurisdiction over the crime."
 
How Do Courts Set the Scope for Diplomatic Immunity?
Defining "official acts" for the purposes of establishing diplomatic immunity isn't a new issue. In fact, it's a problem that has landed in several U.S. courts, with mixed results.
Reuters has pointed out several cases where domestic workers employed by foreign diplomats in the United States had their suits dismissed by judges who took a broad reading of what constitutes "official acts." In April, for example, a federal judge dismissed a civil suit against Lebanon's ambassador, who was accused of underpaying and verbally abusing his maid. The judge said hiring household workers was considered part of the ambassador's official duties.
But other judges have interpreted the scope of diplomatic immunity differently. In 2007, a federal judge in Manhattan said the Philippines ambassador could not claim immunity when he was sued by a former maid because the maid's duties benefited the family's "personal household needs" and were "unrelated" to his "diplomatic functions."
For Strauss-Kahn, it's impossible to know whether immunity will apply until the question is raised before a judge. So far, his lawyers have given no indication that they plan to assert it, nor has the IMF, which posted a brief statement on its website that said it would refer all inquiries to Strauss-Kahn's lawyers.
Strauss-Kahn is charged with five various sexual assault counts and one count of unlawful imprisonment. He faces up to 25 years in prison if convicted.