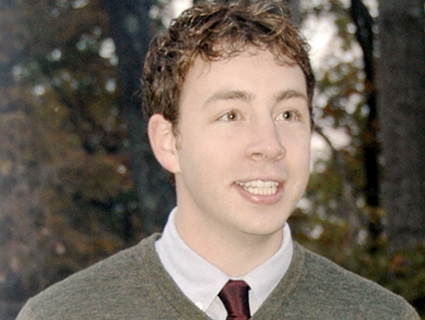 Fight disinformation:
Sign up
for the free
Mother Jones Daily
newsletter and follow the news that matters.
On Monday, Massachusetts Gov. Deval Patrick (D) announced that the Bay State will refuse to participate in the Obama administration's Secure Communities initiative, a controversial program that requires states and municipalities to tell the federal government about arrests of undocumented immigrants. Patrick cited concerns over racial profiling and suggested that the program would undermine existing law enforcement efforts and further discourage undocumented residents from reporting violent crimes. But the governor's decision didn't sit well with Massachusetts Republicans—notably 24-year-old State Rep. Ryan Fattman. Here's what he told the Worcester Telegram & Gazette:
Asked if he would be concerned that a woman without legal immigration status was raped and beaten as she walked down the street might be afraid to report the crime to police, Mr. Fattman said he was not worried about those implications.

"My thought is that if someone is here illegally, they should be afraid to come forward," Mr. Fattman said. "If you do it the right way, you don't have to be concerned about these things," he said referring to obtaining legal immigration status.
Fattman's comments earned him some sharp rebukes on the left, including from BlueMass and Right Wing Watch. There are already plenty of pernicious pressures working against women who have been raped—the prospect of being publicly shamed by French intellectuals and former game show hosts, for instance; the prospect of being subjected to a lecture on how they somehow brought it upon themselves. For undocumented residents, with the threat of deportation perpetually overhead, those pressures are even greater.
I called up Fattman on Thursday for an explanation.
The first thing he makes clear is that, despite what that quote might seem to imply, he doesn't think undocumented women should keep quiet if they've been assaulted. "Of course anybody who was raped and molested and injured in any way should report it regardless of their status," he explained. "What I did say is that the Secure Communities program does not address that."
According to Fattman, the Telegram quote ignores some key context: "If someone got into a car accident, it's obviously a tragic event. But if they're drunk and they crash, it's a crime," he explained. "If that person was drunk and survived the accident they would be afraid to come forward. I think if someone is here illegally they should be afraid to come forward because they should be afraid to be deported."
I asked him he thought that analogy really held weight. After all, if you drink and crash a car, that's your fault; if you're undocumented and get beaten up or raped, it's absolutely not.
"But if you weren't here, the crime wouldn't happen," Fattman says, reitterating that by virtue of being in the country without the requisite paperwork, undocumented residents are commiting a crime. And then he switches gears: "Like I said, I'm a human being and to have anything negative happen to anybody, I empathize with them and sypmathize with them. It's terrible and they should come forward."
And if they do come forward, should they be arrested? Aside from the racial profiling aspect, the central concern immigration advocates have with Secure Communities is that the threat of deportation discourages undocumented residents from reporting crimes and, more generally, leaves them open to exploitation.
"I think it's up to the discretion of the police. I have a lot of friends who are police officers and I have a lot of police officers in my district and I trust their discretion. I think there are some times and situations where it doesn't really matter what their status is, what your creed is, what your age is, it matters what happened."
Fattman is no Joe Arpaio clone; he says he'd like to make it easier—less expensive, shorter wait—for immigrants to come to the United States. He's also introduced legislation to crack down on businesses that exploit undocumented workers. He doesn't, he emphasized repeatedly, think victims of violence should ever be afraid to come forward. That's the right sentiment, but it's difficult to reconcile with the reality of what Fattman's proposing.