Fight disinformation:
Sign up
for the free
Mother Jones Daily
newsletter and follow the news that matters.
Judicial elections are kind of under the radar, but some 39 states hold elections to fill their courts—elections that are in no way exempt from the pay-to-play rules of the Citizens era. Judicial candidates spent a record $4.6 million on TV ads this election season, more than quadruple the spending two years ago.
But a new report from the Brennan Center for Justice and the Justice at Stake Campaign suggests that isn't the whole story. Two states, Alabama and Ohio, have actually seen a big drop-off in spending. Why? Because Republicans in these big-spender states fundraised so well in recent years that they succeeded in dominating the state supreme courts. "Money and special interests continue to transform judicial elections around the country," Alicia Bannon, counsel in the Brennan Center's Democracy Program, said in a press release. "We are seeing uncontested races in traditionally high-spending states like Ohio and Alabama, where big money over the past decade delivered the high court to a single party."
In Alabama, Republicans hold all nine of the state supreme court's seats. Five of those are up for grabs this year, and a Democrat is in the running for just one of them. In Ohio, the only Democrat of the seven justices on the high court, Yvette McGee Brown, was appointed by the governor. This year, she's facing a challenge from Republican Sharon Kennedy, but has been holding her own in fundraising so far—probably because she's winning over the business interests that usually back Republicans. The other two open seats are held by Republicans whose Democratic challengers have reported virtually no contributions so far.
With so little room for influence, it's no wonder spending is falling drastically. Check out the drop over the past decade: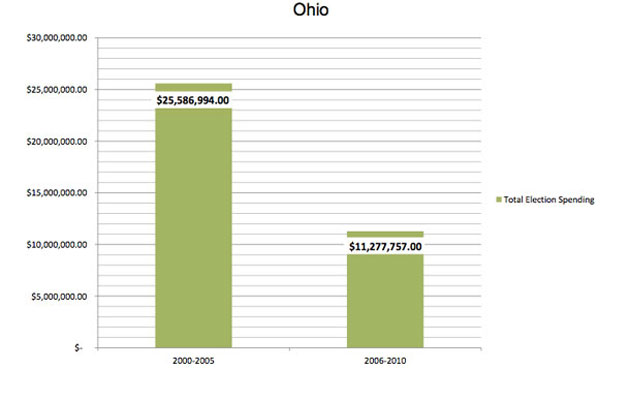 Total spending for this election cycle is expected to continue to fall in both states compared to previous years, the report says.
The big business money that delivered the courts to Republicans has notably affected rulings in both states. The Business Council of Alabama is one of the main backers of seven of that state court's nine justices, and the Ohio Chamber of Commerce has spent heavily to elect five of the Ohio Supreme Court's seven justices. According to a recent study by the Center for American Progress, in Alabama, Ohio, and other states that have seen recent deluges of largely pro-business campaign cash, rulings have clearly skewed toward business interests. The study looked at hundreds of cases over the past decade that involved an individual suing a corporation in six states that have seen a big influx of corporate election spending, and found that their courts ruled in favor of corporations 71 percent of the time. In the previous decade, when less money was in play, the decisions were evenly split between corporate and individual interests. In Ohio in particular, rulings swayed toward citizens 85 percent of the time.
Today, beyond the captured states where spending has dropped, expensive judicial races are still the norm.
"The new politics of judicial elections is playing out differently in different states, but the threat everywhere is the same," Bert Brandenburg, executive director of Justice at Stake said in a statement on the report. "Special interests are spending millions to capture our courts, and they are succeeding."
Correction: This article originally stated incorrectly that the two Republican incumbents in Ohio who are up for re-election faced no challengers. They both face poorly-funded Democratic opponents.