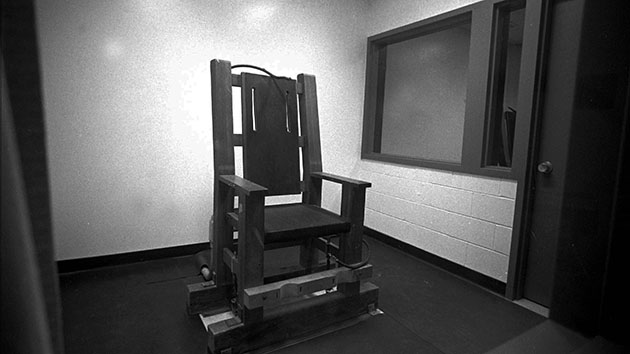 Fight disinformation:
Sign up
for the free
Mother Jones Daily
newsletter and follow the news that matters.
Nebraska legislators on Wednesday overrode the Republican governor's veto to repeal the state's death penalty, a major victory for a small but growing conservative movement to end executions. The push to end capital punishment divided Nebraska conservatives, with 18 conservatives joining the legislature's liberals to provide the 30 to 19 vote to override Gov. Pete Ricketts' veto—barely reaching the 30 votes necessary for repeal.
Today's vote makes Nebraska "the first predominantly Republican state to abolish the death penalty in more than 40 years," said Robert Dunham, executive director of the Death Penalty Information Center, in a statement shortly after the vote. Dunham's statement singled out conservatives for rallying against the death penalty and said their work in Nebraska is "part of an emerging trend in the Republican Party." (Nebraska has a unicameral, nonpartisan legislature, so lawmakers do not have official party affiliations.)
For conservative opponents of the death penalty, Wednesday's vote represents a breakthrough. A month ago, overcoming the governor's veto still looked like a long-shot. Conservatives make a number of arguments against the death penalty, including the high costs and a religion-inspired argument about taking life. "I may be old-fashioned, but I believe God should be the only one who decides when it is time to call a person home," Nebraska state Sen. Tommy Garrett, a conservative Republican who opposes the death penalty, said last month.
"I think this will become more common," Marc Hyden, national coordinator of Conservatives Concerned About the Death Penalty, said in a statement following the repeal vote. "Conservatives have sponsored repeal bills in Kansas, Montana, Wyoming, South Dakota, Missouri, and Kentucky in recent years."
But conservative opponents of the death penalty have a tough slog ahead. Though support for the death penalty has reached its lowest point in 40 years, according to the latest Pew Research Center survey, 77 percent of Republicans still support it.