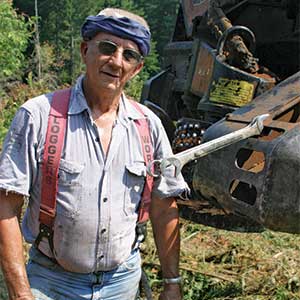 Fight disinformation:
Sign up
for the free
Mother Jones Daily
newsletter and follow the news that matters.
On a bright August afternoon in Scotia, a logging town in Humboldt County, California, Amy Arcuri drove her van to the end of Main Street and parked near a locked gate. For three years she and her friend, who calls himself Lodgepole, had been sneaking food through a gap in the fence and up to fellow tree sitters camped in an ancient redwood tagged for the chainsaw. But on this day, just after they stepped out of Arcuri's van, a timber-company truck spotted them and crunched to a halt. A large, ruddy man with a thick mustache sprang from the driver's seat and approached with a glint of metal in his hand.
And then he smiled. Tom Schultz, forest operations manager for the Humboldt Redwood Company, was holding a shiny ring of keys. He'd known the tree sitters were coming because they'd told him. Schultz opened the lock and handed it to Lodgepole. "Have fun," he said, casually waving the van, with its half-eaten packet of tofu on the dash, through the gate.
Schultz's simple gesture was the latest sign that the timber wars that have raged in Northern California's redwood country for nearly a quarter century are coming to an end. Gone is Pacific Lumber, the 145-year-old company that Charles Hurwitz and his Houston-based Maxxam Inc. took on a binge of old-growth logging in the '80s and '90s, making it easily the most despised lumber company in America. It was plucked from bankruptcy in June by the Donald Fisher family, founders of Gap and Banana Republic. The Fishers pledge that their new firm, Humboldt Redwood, will do everything Hurwitz wouldn't: save old-growth trees, restore overharvested lands, and provide stable jobs to lumberjacks and millwrights. And so an unlikely truce between loggers and tree huggers has taken hold—though whether it will last long enough to improve the battered community's fortunes, no one can yet tell.
For years, Scotia has known only the fast profit of clearcutting. "He who has the gold rules," Hurwitz told the employees after buying Pacific Lumber in 1986 for $863 million, most of it in junk bonds. (His financier was Michael Milken, who later went to jail for racketeering and fraud.) Pacific Lumber's new corporate parent, which controlled 75 percent of America's privately owned old-growth redwoods, doubled the logging rate and began toppling giants that took root in the time of Jesus.
The pillaging sparked a culture war of sorts. Timber workers sided with Hurwitz when the northern spotted owl was listed as threatened in 1990; during the Redwood Summer protests that year, thousands of activists blocked company trucks. In 1997, Julia Butterfly Hill launched a two-year tree sit that spawned dozens of imitators, and the following year, David "Gypsy" Chain was crushed to death by a falling redwood as he tried to keep it from being cut. In 1999, hoping to end the skirmishes, the Clinton administration brokered the Headwaters Agreement, which required Pacific Lumber to set aside old-growth trees and improve logging practices; in exchange, it got $480 million and assurances that it would be allowed to log elsewhere.
But the mistrust remained. Even now, loggers, enviros, and timber execs are tense with mutual suspicion, fearing layoffs, clearcuts, or sabotage. "Maxxam did such a great job of making sure people were divided, playing off the extremes," says Hill, who learned in 2000 that vandals had nearly killed "Luna," her beloved giant redwood. And Eva Austrus, whose husband worked for Pacific Lumber for 26 years, told me, "We've all been lied to for so long that it's hard to believe what anyone says." Humboldt Redwood president Mike Jani likens the emotional landscape to that of the Israeli-Palestinian standoff, and one tree sitter ventures, "This is the deep North, and it hasn't been desegregated yet."
Nor did the Fishers have the greatest reputation with activists. Ten years ago, the family formed another logging outfit, the Mendocino Redwood Company, and promised to restore overharvested land acquired from Louisiana Pacific—only to follow through on LP's plans to clearcut old-growth trees near sensitive salmon and trout streams. Picketers laid siege to Gap stores and accused the Republican-leaning family of purchasing the support of the Natural Resources Defense Council, where Donald Fisher's son, Robert, served on the board. But then Mendocino Redwood reduced its harvest, began to protect streams and large trees, and earned a green seal from the respected Forest Stewardship Council. Now it has the potential to be a model of sustainability, says David Simpson, leader of an environmental coalition that considered bidding for Pacific Lumber. "Everybody here is ready to give them a chance."
Humboldt Redwood seems content with a slow-growth approach. "The cash profits in this business are going to be modest for the foreseeable future," admits chairman Sandy Dean. On average, he explains, the company expects $30 million in annual operating profits, less than half of what Pacific Lumber raked in—although it's hoping for more in the long term. And while Hurwitz's company cut trees faster than they could grow, Humboldt will let the forest regenerate at twice the rate it harvests. The Fishers can afford to be conservative, Dean explains, because they have secured long-term private capital and aren't saddled with their predecessor's junk-bond debt. The family, he pledges, will protect the remaining old-growth ecosystem, leaving their children a more valuable asset.
Such talk has tree sitters feeling like Ewok villagers who've just been liberated from the Galactic Empire. "This is so cool," Arcuri said on the afternoon that Schultz unlocked the gate to the redwoods. She and Lodgepole led me through ferns and horsetails to show off their "dream catchers"—makeshift dwellings high above the forest floor. They pointed out how Hurwitz's loggers had threatened them with guns and spray-painted "The Motherfucker" on the largest tree. Slashes of blue spray paint still indicated where trunks were to be sawed. But the day before I visited, Jani had met with the sitters and wrapped these trees with ribbons marked "Do Not Cut." "It was a huge weight off our shoulders," said Lodgepole, whose teal amulet and B-boy hoodie evoked a hippie Snoop Dog. Jani's goodwill visit had so impressed Lodgepole that he now wanted to work for Humboldt Redwood—as a logger.
But some tree sitters were reserving judgment. I shimmied to the top of a 30-story redwood festooned with lichens, hammocks, and buckets of food to speak with Cedar, a 22-year-old from Alberta who hadn't traveled more than a stone's throw from her tent-sized perch in nearly a year. Cedar intended to stay put until Pacific Lumber's original harvest plan expired in September.
Leaving the grove that night, Arcuri and Lodgepole ran into Rudy, a security guard Pacific Lumber had hired to track them. He grabbed Lodgepole's elbow and churned his hand in congratulation.
Rudy wasn't the only sympathizer in town. Outside the post office, retired mill worker Bob Weaver pointed a tattooed arm at a hillside clearcut. "Uncle Charlie," he said, referring to Hurwitz, "just went in and chopped it down to the ground." Even in the redwood-paneled Scotia Inn, which Pacific Lumber once paid to remodel, manager Debbie Jeffries repeated a line I'd hear in the saloon, on the sidewalk, and deep in the woods: "He just raped the land."
Not long ago, speaking out against Hurwitz in Scotia bordered on treason. Pacific Lumber owned everything in the community of 1,200, from the pharmacy to the fire engines. It painted each home in one of four colors and rented them to workers at below market rates—a true company town.
But Humboldt Redwood isn't interested in this charmingly run-down Victorian-era outpost; Scotia has to survive on its own now, or be annexed by neighboring Rio Dell. Forty or so workers were laid off in July after Humboldt Redwood took over and slashed the harvest rate, leaving workers fearful. "I hoped to retire here," Jack Saffell, a gardener and 25-year Pacific Lumber veteran, told me. "Charles Hurwitz changed all that."
Indeed, most locals blame Hurwitz for the recent layoffs. The boom he created in the 1980s was straight out of The Lorax—Hurwitz nearly doubled the workforce to 1,700, added night shifts, and built a fourth mill—but it couldn't last. In 2001, he closed two mills and slashed the payroll. Soon the company shriveled to a single mill and 363 workers. Hurwitz blamed regulators and the Headwaters deal, although most of his logging plans still got government approval. In truth, there wasn't much timber left to cut. Outside Scotia's last mill, saw sharpener Mark Gillam told me simply, "I was ready for a change."
The next day, Humboldt Redwood asked Jim Adams, one of its foresters, to accompany me to the woods along with Scott Graecen, head of the Environmental Protection Information Center. It was the first time Graecen, an outspoken critic of Pacific Lumber, had met his nemesis—Adams was a chief forester under Pacific Lumber, before Humboldt took over and put him back in the trenches. "I would not have contemplated this in a million years," Graecen said. Adams, behind the wheel, nodded in agreement.
As the blacktop threaded out of town between trunks the girth of Mack trucks, Graecen pointed to the spot where "Gypsy" was crushed. The logger who cut the tree "was just wiped out for a while," Adams said. The men fell silent. We drove up a dirt road past marbled murrelet habitat protected by the Headwaters pact. "The deal was based on fraudulent data, and basically illegitimate," Graecen griped, referring to a dismissed lawsuit that accused Pacific Lumber of lying on Headwaters paperwork.
"I don't think there was any problem at all," Adams bristled.
Graecen backed off. "We don't need to refight that fight."
As we bounced along sandy ridgelines freckled with stumps, Adams talked up some of Pacific Lumber's environmental efforts. But, he added, "We had a lot of debt, and that drove a lot of decisions." We rounded a bend, then came to a stop amid a clamor of saws and bulldozers. Adams climbed out and bushwhacked through the slash into the remaining forest.
Here the air was cooler, the ground carpeted with sword ferns and huckleberries. Pacific Lumber's loggers had planned to clear the area, but Humboldt decided to cut selectively, leaving behind clumps of large trees. Adams was still coming to terms with this approach. "Clearcutting is not all bad," he said, "as long as you don't clearcut too much." Graecen, meanwhile, was pondering the future. "Making this into a park wouldn't be good for the forest," he mused. Humboldt Redwood's more intensive management—weeding out invasive species to nurture slow-growing firs and redwoods—could improve the land, he concluded.
On the way back to the truck I spoke with 63-year-old Ron Lord, who was repairing a huge saw called a feller buncher. He'd retired a few years ago, but couldn't take it. "Logging's just like cocaine," he said. "I can stay off for three or four months and a log truck can pass by and you smell them logs…" I asked what he thought of the new company. "I think if somebody takes care of the land, it will be a good operation again," he said, "but the way they was raping it, it will never be anything."
Adams, who'd been standing by quietly, pointed out that this would be one of the company's last clearcuts. He then shook Lord's greasy hand. Adams didn't bother to introduce himself as the man behind Pacific Lumber's forest plans, and Lord didn't bother to ask. Both were just happy to be back in the woods.