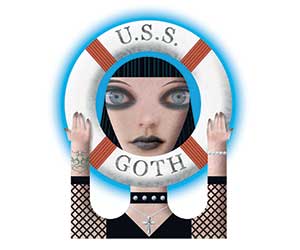 Fight disinformation:
Sign up
for the free
Mother Jones Daily
newsletter and follow the news that matters.
Ahoy, special-interest maties! If classic cruise activities like shuffleboard and midnight buffets don't float your boat, fear not. With apologies to the late David Foster Wallace, here are some other niches in the sea.
MacMania Cruise Six days of seminars such as "Backing Up Your Mac" and "The Nooks and Crannies of the Mac OS"; past celebrity passengers have included Apple cofounder Steve Wozniak.
Supposedly Fun Thing You'll Never Do Again: Reboot over the railing
Gothic Cruise Now in its 19th year, a week of Rocky Horror nights, masquerade balls, and boatloads of eyeliner
Supposedly Fun Thing You'll Never Do Again: Slather on the spf 100
The Dr. Laura Cruise Last year's voyage included four days of private book signings, wine tasting, fitness and makeover demos, and intimate morning walks with the conservative radio host.
Supposedly Fun Thing You'll Never Do Again: Learn about the proper care and feeding of cabana boys
Smoking Cessation Cruise Eight days of counseling and nonstop distracting entertainment
Supposedly Fun Thing You'll Never Do Again: Ignore that you are stuck on a long white object with smoke coming out of it
The Great Gig in the Sea Pink Floyd Cruise Three days with cover band Think Floyd USA
Supposedly Fun Thing You'll Never Do Again: Write "wish you were here" postcards
Bloggers' Cruise Five days with Carnival Cruise director John Heald, who blogs about…cruises
Supposedly Fun Thing You'll Never Do Again: H/T John Heald
Girl's Get-a-Way Cruise Four days of single-sex Christian sailing, with G-rated stand-up, "Modest Is Hottest" fashion shows, and Full House star Candace "D.J." Cameron Bure
Supposedly Fun Thing You'll Never Do Again: Kiss tan lines goodbye with your long-sleeved bathing suit
Sandra Day O'Connor Cruise Twelve days on the high seas with the ex-high court justice
Supposedly Fun Thing You'll Never Do Again: Wear your "friend of the court" briefs
Creation Cruise Last year's passengers spent seven days at rest, marveling at Alaska's glaciers—which are only 6,000 years old!
Supposedly Fun Thing You'll Never Do Again: See polar bears before God calls them home