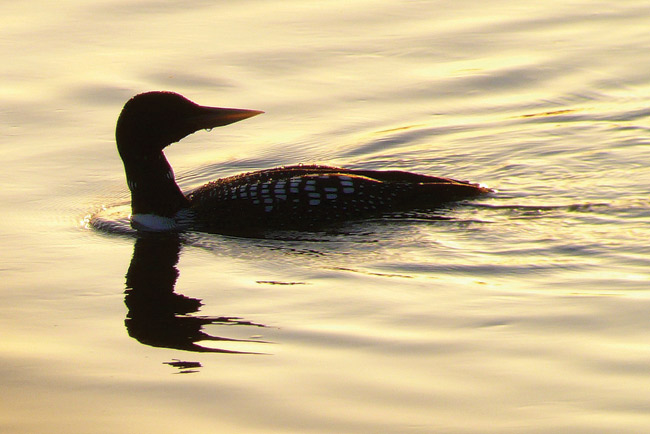 Fight disinformation:
Sign up
for the free
Mother Jones Daily
newsletter and follow the news that matters.
When it comes to protecting imperiled wildlife, a task that ranked low on the Bush administration's list of priorities, little has changed at Obama's Interior Department. At least that's what conservation groups are saying, and they point to a recent decision by the agency as evidence that it hasn't departed from its Bush-era ways.
At issue is the yellow-billed loon. On Tuesday, the Interior Department announced that its inclusion on the endangered species list was "warranted but precluded." Essentially this means that the available science suggests this bird population requires Endangered Species Act protection, but the agency has no plans to go forward with a listing anytime soon. The decision relegates the loon, which number somewhere between 16,000 and 32,000 globally, to a list containing 250 other plants and animals that Interior considers deserving of protection but says it can't officially protect due to a lack of resources. The Center for Biological Diversity's Brendan Cummings calls this "administrative purgatory," and he notes that some species have remained in limbo for two decades, during which time 24 have gone extinct.
Plants and animals on the "precluded" list are ranked on a scale of 1 to 12—with 1 indicating the most threatened species—and are reviewed every year to gauge whether their status has changed. Presently, the yellow-billed loon rates an 8, which puts it ahead of the southern Idaho ground squirrel (9) but behind such species as the Baker Station cave beetle (5), the Georgia pigtoe (2), and the lesser prairie-chicken (2).
Species are supposedly wait-listed so that other, more imperiled wildlife can be added to the ESA list. Yet, Cummings says, Interior has made little progress in clearing the backlog in recent years, listing only two species under the ESA in the past 35 months—"the slowest listing rate in the ESA's history."
Interior's decision on the loon, which breeds in Alaska's tundra wetlands, in areas slated for oil development, may come as welcome news to Governor Sarah Palin, who is already fighting a two-front endangered species battle. Fearing that endangered listings—and the review processes that accompany them—could hinder oil and gas development, Palin's administration sued the Interior Department in August over its decision to list the polar bear under the ESA. In January, Palin threatened the Commerce Department with the same over its listing of the Cook Inlet beluga whale. (In Palin's FY 2010 budget, which slashed Alaska's overall spending by nearly a half-billion dollars, she upped the budget of the state's Department of Law specifically to fight ESA listings.)
"You can pretty much guarantee that Palin would have condemned the loon decision if it had been an actual listing proposal," says Cummings. In this case, though, the feds saved her the trouble.
Responding to criticism from groups like the Center for Biological Diversity and the Natural Resources Defense Council, Fish and Wildlife Service spokesman Bruce Woods says the yellow-billed loon decision is not about politics, but about practicality. "It's driven by budget and staff time," he says. "As you know, federal agencies have taken some pretty big hits in recent years." Alluding to the Bush years, when the administration was ideologically opposed to the Endangered Species Act and installed a political appointee with no scientific background to oversee Interior's ESA program, Woods said, "I think everybody knows that there was a long period when there was very little listing action going forward. On the other hand, between '02 and '04 14 species moved off the candidate list to listing." He adds, "I anticipate that we will be seeing more action going forward than we have in the recent past, although that's only my personal anticipation. No one has made that promise to me."
For now, at least, it seems to Cummings and other conservationists that Interior Secretary Ken Salazar is continuing the ESA policies of his Bush-era predecessor, Dirk Kempthorne. "The loon finding runs completely at odds with Obama's pronouncements of putting science first," says Cummings.
If nothing else, the loon decision was oddly timed. Days earlier, Salazar had unveiled Interior's first ever report on the state of bird populations in the US, which found that "nearly a third of the nation's 800 bird species are endangered, threatened or in significant decline." Remarking on this news, Salazar said, "From shorebirds in New England to warblers in Michigan to songbirds in Hawaii, we are seeing disturbing downward population trends that should set off environmental alarm bells." Conservationists wholeheartedly agree. They're just waiting for Salazar to respond to the alarm.