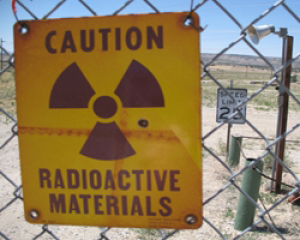 Fight disinformation:
Sign up
for the free
Mother Jones Daily
newsletter and follow the news that matters.
After decades of uranium mining turned the tiny town of Church Rock, New Mexico, into a Superfund site, in August the EPA moved seven resident Navajo families to Gallup apartments, where they'll wait for five months while the EPA scrubs their town of radioactive waste. But as the EPA hauls away the uranium tailings and radium-infused topsoils that have been permanent fixtures since mining ceased in the 1980s, Church Rock's remaining residents are asking why they have been left behind. In 1979, the largest spill of radioactive waste in US history occurred in Church Rock when 94 million gallons of mine waste were accidentally released into a stream. Children swam in open pit mines and the community drank water from local wells as recently as the '90s. (Now they haul in drinking water.) Cancer rates and livestock deaths remain higher than they should be. As for the families who remain, Church Rock evacuee and local activist Teddy Nez says the agency "drew an imaginary line in the sand" that excludes a residential area half a mile west of the Superfund site.
Less than two weeks ago the Navajo Nation EPA (NNEPA) and the US EPA walked the area where Nez's neighbors live and tested the soil, discovering lower levels of contamination than local researchers of the Church Rock Uranium Monitoring Project found. Nez claims that when he asked for a copy of the EPA data that showed safe levels of radium, they told him it could take up to a decade before they could release the information, depending on when the entire mine site was cleaned. Clancy Tenley at the EPA told me that they had only completed preliminary tests and reliable results would not be available until later this fall.
In the meantime, Nez's neighbors are staying put, wondering how dangerous their backyards really are.
According to Michele Dineyazhe of the NNEPA, these nearby residences will not be added to the current Interim Removal Action, but will likely be part of the "final remedy" for the Northeast Church Rock Mine cleanup. Currently the EPA is reviewing public comments to determine what that remedy will ultimately be. Two main options: 1. Haul the contaminated dregs away from the homes but to the nearby mill site, or 2. Ship them to Idaho. Not surprisingly, the Navajo president has expressed favor for the second option, though it would cost responsible parties an additional $250 million.
"The difficulty with Superfund law," says Albuquerque-based activist Chris Shuey, "is it really doesn't address issues that are ancillary to sites with hazardous substances." The locals want roads redone so they don't have to go by mining areas, but "the EPA says that doesn't have anything to do with mining impacts." Since last month, Church Rock parents and grandparents have been driving school-age children to the bus stop so kids don't have to continue traversing old mine sites each morning by foot. Nez recently met with the local school board to request that school buses run directly to their homes, but has yet to see a response. Earlier this month, the locals had to stop EPA workers at the last minute from bulldozing the radioactive topsoil off a particular area because it was a Navajo burial site.
Though legal battles between the local Navajo Nation Chapter and a string of mining companies have been ongoing for decades, this fall things are coming to a head. United Nuclear Corporation and General Electric, which most recently held responsibility for mining operations in the area, have agreed to a settlement with the EPA in which they will spend an estimated $5 million on a preliminary cleanup project for one of 520 old mines on Navajo land. The EPA intends to excavate all of them over the next five years, which could cost anywhere from $43 million to $290 million, depending on how far they export the waste.
When I visited Church Rock in 2007, locals told me about a canyon that holds a makeshift landfill in which Church Rock miners were instructed to bury mining machinery and washing machines that had washed miners' clothing decades ago and could not be decontaminated. The EPA did scrape off topsoil from half an acre of the contaminated area around Nez's house in 2007, but this much larger project has been a long time coming. Now that it's finally beginning, it won't get any simpler. When testing for radium, Nez told me, the farther down into the earth you go, "the hotter it gets."
(Check back with Mother Jones for updates on this story.)