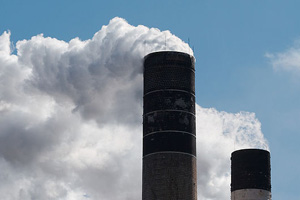 Fight disinformation:
Sign up
for the free
Mother Jones Daily
newsletter and follow the news that matters.
Apple Computer's announcement Monday that it was quitting the US Chamber of Commerce was just the latest high profile defection from the country's most powerful business lobby—and one of the most prominent opponents of climate change legislation. In the preceding two weeks, three major electric utilities and Nike also said they'd be leaving the Chamber's board of directors or dropping out altogether to protest its antiregulation stand. But yesterday Nike made it clear that its parting of ways with the Chamber went beyond a simple policy disagreement, describing a lack of transparency and accountability that conflicted with the organization's own supposedly democratic principles and suggested the outsized influence of a few Chamber members in setting its climate stance.
The Chamber claims to speak for more than 3 million businesses spanning Wall Street to Main Street. But in its zeal to please a few powerful industries, it has taken a hard-line position on climate change that seems to be out of step with part of its membership. The organization opposes the Waxman-Markey energy bill and is threatening to sue the Environmental Protection Agency if it regulates greenhouse gas emissions, arguing that such a move would dramatically increase "the price of everything that uses energy." It has also questioned the fundamental scientific consensus around global warming, even proposing a public hearing on climate science that would be "the Scopes Monkey Trial of the 21st Century." Though he has backed away from the Monkey Trial idea, Bill Kovacs, the Chamber's vice president for the environment, technology, and regulatory affairs, still asserts that the minority views of climate change "whistleblowers" and skeptics are being ignored by policymakers.
In embracing this aggressively narrow climate policy, the Chamber appears to have gone around its usual policy-making process. According to the Chamber's internal rules, its policies and positions are developed by committees and then approved or rejected by its board of directors. But Donald J. Sterhan, chair of the Chamber's energy and environment committee, says that its board of directors and its committees never formally endorsed the climate stance. "There was no vote taken," he says. He adds that his committee held "really more of an information discussion" than a policy debate on the issue. The final decision to challenge the EPA's regulation of greenhouse gasses, he explains, was "Bill [Kovacs'] position on this, and his finding." Still, Sterhan says that the energy committee could have voted to change the policy if any of its 60 members had filed a motion to do so.
One Chamber member disputes that claim, however. "Several [energy committee] members raised the issue of how they could influence or change the Chamber's policy," says a spokesman for a company that participated in the energy committee meetings and had also worked with the US Climate Action Partnership to craft what became the Waxman-Markey bill. He asked that his company not be named because it was concerned about the Chamber's response to its criticism. Members of the energy committee that questioned the Chamber's climate stance "were told that basically this was not the forum to do it," he says. "There's basically no outlet for changing the policy."
Several Chamber members representing USCAP recently met with president Tom Donohue to request that he alter the group's climate stance, according to the spokesman. "They were totally rebuffed," he says. Donohue "said that they should continue the dialogue, but offered no methods or avenues for changing the Chamber's position."
In an interview with Greenwire published yesterday, Nike backed other board members who say they never voted to approve the Chamber's climate policies. "We just weren't clear in how decisions on climate and energy were being made," said Brad Figel, Nike's director of government relations. "They're not being made at the board-of-director level, because we're a member of the board of directors. We were not consulted. We're convinced that's not really where the action on climate change is being made."
The Chamber declined to respond to most questions for this story, but spokesman Eric Wohlschlegel says, "The Chamber's polices are developed by its members through numerous policy committees in a democratic process. The committees make recommendations to the full board, who then formalize policies based on a majority vote."
On its website, the Chamber says that it asks for the views of its members "on certain key issues through meetings, mailings, and surveys." But most important decisions are supposed to go through its board and policy committees. New members of the board must be selected by the board's nominating committee and and approved by its sitting members. Though the board officially strives for a diverse membership, of its 118 members, only 1 represents a local chamber and only 6 are from small businesses. The rest are highly capitalized regional, national, or international corporations.
An unusually large portion of the more than 100 board members come from companies tied to the production or burning of fossil fuels. At least 49 of 118 board members represent oil and gas companies, chemical companies, utilities, transportation companies, the construction industry, or companies that build machines that burn large amounts of petroleum. Three of the five members of the board's senior council represent such interests. Only two board member companies, Siemens and Alpha Technologies, earn a significant portion of their revenues from alternative energy technologies.
Other members of the Chamber's board appear reluctant to challenge other members on anything that doesn't affect their bottom lines. "We tend to engage and focus when it has something to do with investors," said a spokesman for San Francisco-based Charles Schwab when asked about the board's discussions of climate change. "That's the business that we are in and that's the topic that we are sort of exclusively engaged in. So on this other topic, I don't think we would have much to offer."
Though it has driven away a few members, the Chamber's position on climate policy also provides political cover for companies that oppose new regulations, especially those that rely on "green" marketing and branding strategies yet are reluctant to oppose climate legislation in public. The Chamber also strenuously avoids releasing the names of its members, and has even established special accounts where companies may make contributions to support its policy goals without public disclosure.
The opaque nature of the Chamber's inner workings is also reflected in Chamber president Tom Donohue's role as a booster for business in general and for a few businesses in particular. In addition to raking in more than $3 million from the Chamber in 2007—six times what his predecessor earned—he makes a lucrative income as a member of several major companies' boards of directors. He is on the board of the Union Pacific Railroad, which has given the Chamber $700,000 since 2004. It is also a staunch opponent of Waxman-Markey; it operates diesel locomotives and earns a significant portion of its revenue hauling coal. (On average, major railroads earn 20 percent of their revenue from moving coal.) Since 1998, Donohue has earned roughly $2 million in payments and up to $2.2 million in stock and options from the railroad. In return, he is expected to abide by a Union Pacific conflict of interest policy that prevents him from engaging in "any conduct or activities that are inconsistent with the company's best interests." The Chamber has no similar policy.
"What makes this uncommon is in this case the individual is the head of the nation's business federation," notes Natural Resources Defense Council climate campaigner Pete Altman, who first drew attention to Donohue's Union Pacific connection. "They want people to believe that they represent the broad consensus views of their federation, but he is obligated to watch out for Union Pacific, and I just don't see how you reconcile those roles."
Sterhan, the energy committee chair, represents the Montana-based Mountain Plains Equity Group, which finances affordable housing projects. But he also has ties to the oil and gas industry through his membership in the Billings Petroleum Club and says "there's no rhyme or reason" to the Waxman-Markey cap and trade plan. Sterhan insists that his committee includes a mix of fossil fuel and clean tech companies, but says the Chamber won't let him divulge their names. He adds that some companies have left the Chamber because they believed it had not spoken out against the climate bills strongly enough, but again, he would not name them.
Sterhan says that the Chamber's stance on climate change ultimately boils down to what's good for business. "People are going to vote their pocketbook," he says. "And they are going to vote for how it affects them directly. Rarely, do they step back and say, Okay, this might be good for me, but how does it affect everybody else overall? Or the opposite—Gee, this isn't very good for my company but maybe it's something we need to do as a society or a country. And 9 times out of 10, they are going to vote, and they are going to advocate, for what is in their own best economic interest. And I think that is what you are seeing going on here. It's not necessarily a philosophy about whether climate change is right or wrong or whether this is the best solution, but it's, What does this mean for me?"
With additional reporting by Kate Sheppard.
Hey Diggers: Check out the "green" companies that are still in the Chamber of Commerce.
An earlier version of this story incorrectly reported Tom Donohue's compensation from Union Pacific. The correct amount is roughly $2 million in payments and up to $2.2 million in stock and options. Mother Jones regrets the error.