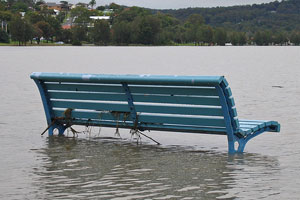 Fight disinformation:
Sign up
for the free
Mother Jones Daily
newsletter and follow the news that matters.
Nearly two decades after writing a book that popularized the term "global warming," MoJo contributing writer Bill McKibben founded 350.org. He is chronicling his journey into organizing with a series of columns leading up to the global climate summit in Copenhagen this December. You can find the others here. And you can put yourself on the cover of MoJo's special issue on climate change here.
And so the climate show moves on. Last week it was Barcelona. We've been in the out-of-town tryouts phase, everyone trying hard to get it right before the curtain opens in Copenhagen a month from now.
Or maybe not so hard. Governments, and international negotiators, keep lowering expectations just as fast as they can. "Of course, we are not going to have a full-fledged binding treaty—Kyoto type—by Copenhagen," European Commission President Jose Manuel Barroso said last week. "There is no time for that." Of course not—the Copenhagen meeting was only scheduled five years ago. Added the UN Secretary General, "I am reasonably optimistic that Copenhagen will be a very important milestone. At the same time, realistically speaking, we may not be able to have all the words on detailed matters."
That's not because there's t-crossing and i-dotting that will take too long. It's because there are deep and fundamental gaps, two of them, still waiting to be crossed.
The first I've dwelt on at some length in the past: Most rich countries are still unwilling to deal with the latest science. Barack Obama, John Kerry, the EU, even some of the old-line environmental groups continue to toss around outdated figures: 450 ppm CO2, 2 degrees rise in temperature, 80 percent cuts by 2050. These date from two or three years ago, before it became clear just how fast the planet's temperature was rising.
Numbers like those guarantee the slide straight into a globally warmed hellhole, as the emerging science keeps making clear—and in the UN context, they guarantee that many "member states" will disappear beneath the waves or succumb to spreading drought. That's why some of those nations will hold a Vulnerable Nations Forum this week in the Maldives—as that country's environment minister, Mohamed Aslam, explained, "Climate change threatens every country on Earth. But some nations are at the front line of this battle. And many developing, front-line states, who do not have resources for adaptation, are most vulnerable." Like Nepal, for instance, where the government will hold a cabinet meeting on the melting slopes of Mt. Everest, a follow-up to the underwater session in the Maldives last month.
But the other gap—just as fundamental—is between how much the rich countries are willing to pay for a climate agreement and how much the poor countries require. Questions of justice are very clear here: Rich countries are rich in large part because they've spent 200 years burning fossil fuels. Poor countries won't be able to follow that strategy to develop, if we intend to keep the planet habitable. And because of their locations, they're already bearing the brunt of the effects of global warming. So they need help both coping with those consequences and developing without coal. Through no fault of their own, they need seawalls and they need windmills, and they don't have the money to buy them. The West—for both moral and practical reasons—will need to pony up.
The question is, how much? First the old numbers, circa 2007: UN estimates ranged from roughly $30 to $65 billion a year. But in September an independent team published a major study showing that those were grievous underestimates, by a factor of two or three. China, India, and other major developing nations called for the West to send south a full 1 percent of its GDP annually to pay for adaptation and technological leapfrogging—when the West said those numbers were too high, they scaled back their ask to half a percent, or somewhere north of $200 billion annually. As the bargaining began to get serious earlier this year, the UK's Gordon Brown said that the bill would amount to roughly $100 billion. It sounds sort of like the bargaining process was working.
That's a large sum of money, however—even if it's only less than 1 percent of what we spent to bail out the financial system. The Europeans last week whittled it down considerably, deciding that a total $32 to $75 billion was about right, and that their share should be somewhere between $7.5 and $18 billion. And last week London's Independent quoted one "senior European official" who said he thought it was unlikely that the EU offer could be substantially revised upward. "This is what the EU has decided its taxpayers can afford and a final deal will have to be of this order," he said. So, the Japanese will toss some in, and the Canadians, and the Australians, and even that inadequate deal would still leave about a good $10 or $20 billion-with-a-B for the US to put up each year. And what does the legislation currently before Congress propose? Millions with an m, to be siphoned off from the revenue generated by the cap-and-trade system. That is, at least an order of magnitude less than the kind of offer that wouldn't just cause the rest of the world to laugh (bitterly).
Could you get anything like a real offer out of the current American political system? Where even the Democratic candidate for governor of Virginia ran against the congressional legislation on climate? Where Al Gore was smeared on the front page of the New York Times as a climate profiteer who stood to become the world's first "carbon billionaire" (even though the story noted, in its second-to-last paragraph, that he was giving away every penny he made from his green investments)? Congress, smarting from the health care debate, is backing away from even its modest bill—West Virginia's Jay Rockefeller said on Wednesday that climate legislation might have to wait till after the 2010 election. The moment is dark.
And yet some part of me remains buoyant—mostly because of the afterglow of our huge worldwide day of action at 350.org, which CNN has now officially certified as "the most widespread day of political action in the planet's history." A popular movement is the only thing that can shake up the sagging, depressing climate negotiations. Not some magic speech by Barack Obama—rhetoric isn't all that important at this point. What counts is some kind of real groundswell from ordinary people, the kind that you can see in the 23,000 photos now piled up in the 350.org Flickr photostream.
Here's how Anna Collins, a young woman who works with one of our sister organizations, Adopt-A-Negotiator, put it in her dispatch from Barcelona:
This morning in Barcelona it really started to get to me. All this talking and no action, the incessant and ridiculous formalities, everybody acting as if we have all the time in the world to solve this, it did my head in. I wanted to give up on this entire process and walk right out the door.

But on my way to the door I remembered that something has changed since Bangkok.

Last Saturday the most global movement the world has ever seen stood up and said WE WANT THIS!

We want 350 ppm, we want a bold climate deal that gives us all a future on this planet. No longer can politicians hide behind the excuse of not knowing the goal or not hearing the need from their citizens.
Let's hope she's right.