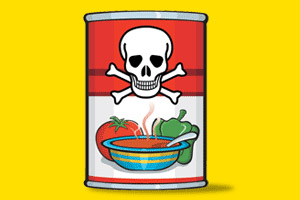 Facts matter:
Sign up
for the free
Mother Jones Daily
newsletter.
Support
our nonprofit reporting.
Subscribe
to our print magazine.
Read also: Plastic liners leach BPA into our food. So why have manufacturers and regulators failed to act?
CONSUMERS UNION recommends ingesting no more than .0011 micrograms of BPA daily per pound of body weight. But it found at least 20 times the limit for a typical adult in a single serving of several canned foods it tested.
Product/Model
BPA PER SERVING (AVERAGE IN MICROGRAMS)
EXCEEDS DAILY LIMIT BY A FACTOR OF
Progresso Vegetable Soup
22.0
115
Del Monte Blue Lake Fresh Cut Green Beans
14.9
77
Campbell's Condensed Chicken Noodle Soup
10.2
53
Annie's Home Grown Organic Cheesy Ravioli
7.70
39
Hormel Chili with Beans
6.10
31
Green Giant Whole Kernel Sweet Corn
3.80
19
Chef Boyardee Beef Ravioli in Tomato Meat Sauce
2.50
12
Nestle Juicy Juice All Natural 100% Juice Apple
2.3
11
Libby's Corned Beef
1.8
8
Vital Choice Tuna
1.15
5
Similac Advance Infant Formula (concentrated, liquid)
0.85
3
Slim Fast High Protein (extra creamy chocolate, liquid)
0.78
3
Bush's Best Original Baked Beans
0.6
2
Swanson White Premium Chunk Chicken Breast
0.47
1
Starkist Chunk Light Tuna in Water
0.2
Less than Limit
Valley Fresh White Chicken in Water Organic
0.19
Less than Limit
Eden Baked Beans with Sorghum & Mustard Organic
0.15
Less than Limit
Hunt's Tomato Sauce
0.04
Less than Limit