Fight disinformation:
Sign up
for the free
Mother Jones Daily
newsletter and follow the news that matters.
On May 6, 2014, as I read through the morning's incoming email, a Food Safety Alert from the US Food and Drug Administration (FDA) announcing a "voluntary recall of mangoes due to possible health risk" from the bacteria Listeria caught my eye. This grabbed my attention because at the time, a handsome sunset-hued mango, purchased several days before at my neighborhood market in Portland, Oregon, was ripening on the kitchen counter.
Your Produce's Secret Past
Grower: The name and other details identifying the produce farmer are often considered trade secrets.

Packer: The company that packs the produce may be the grower or a stand-alone packer. The packer may also distribute the produce to regional suppliers.

Distributor/Supplier: A company that sells directly to retailers, or to a regional supplier who then sells to stores.

At this stage (or when it's packed), the fruit or vegetable may get a Price Look-Up (PLU) sticker, which tells the store its variety and whether it's organic, GMO, or conventional.

Store: US law only requires the retailer to tell the customer the produce's country of origin—not any other part of the supply chain.
The FDA notice explained that the recall covered mangoes "shipped to retailers and distributors in limited quantities within five (5) US states (Arizona, California, Colorado, New Jersey and Texas)." It included a link to photos of PLU stickers for the mangoes covered by the recall. One of the two matched the PLU sticker on my mango.
I wondered: Was it possible that some of the mangoes shipped to California had ended up in Oregon?
As I learned, the answer is complicated. It turns out that tracing produce from kitchen counter back to its grower involves information that is far more difficult to obtain than one might guess, as key details are often considered confidential business information.
What's more, each type of produce may travel a different route from field to store. Still, what I learned applies to most whole fruits and vegetables you might buy. So let my mango be your guide.
What does a PLU code reveal?
You've probably seen the stickers bearing numbers affixed to most smooth-skinned produce sold without packaging. PLU stands for Price Look-Up code, a voluntary system that was designed in 1990 to make checkout pricing and inventory control easier. The PLU codes most noticeable at home in the kitchen are those on labels attached directly to produce. Others appear on store shelf cards, on tags such as the twist ties holding a bunch of kale or on other packaging.
The code's basic four digits simply signify a produce variety and size category. A "9" preceding the four-number string indicates the produce is organically grown and an "8" indicates that the produce is genetically modified.
PLU codes are easily searched through a publicly available database maintained by the International Federation of Produce Standards. When I looked up my mango's PLU—94959—I learned that it was an organic large red mango (other size categories are small and extra large) of the Tommy Atkins, Kent, Palmer, Vandyke, Edward and Hayden varieties. A PLU code isn't intended to tell you anything else, including where the produce comes from.
My mango's sticker included a logo for the distributor Pacific Organic, the company's website address and the words "Product of Mexico." All that was an information bonus. Such details are typically provided for marketing purposes, in hopes that a consumer who likes what they've eaten will look for that brand again.
If a PLU sticker doesn't say where produce comes from, does the store have to post this information elsewhere?
Since 2009, federal law has required stores to display produce's country of origin legibly and in a place conspicuous to customers—but the information doesn't have to be directly attached to the produce itself or to the packaging. It's often on a shelf card that also displays the produce name and price.
The country of origin labeling rules don't require sharing with the public any information about who grew the produce, who packed or transported it, or about the wholesaler or other business who sold it to the market where it was ultimately purchased by an individual consumer.
So how can I find out what stops my produce made on its way from the field to my supermarket?
Unless you do all your shopping at a farmers market, the produce you buy has made a journey roughly like this: Grower > Packer > Distributor > Supplier > Store. But some produce is packed where it's grown; some is mixed with other growers' products at a centralized location. Sometimes, the packer may also be the distributor. Sometimes growers sell directly to the distributors and suppliers who act as wholesalers.
To further complicate matters, Ed Treacy, the Produce Marketing Association's vice president for supply chain efficiencies, explained to me that "each commodity follows a different path." The specific route depends on the product and on the location of both grower and retailer. So the trip from grower to my kitchen table for an organic Mexican mango would likely be different than that of Oregon strawberries or California lettuce.
Under the Bioterrorism Preparedness and Response Act of 2002 and the Food Safety Modernization Act, signed into law in January 2011, produce suppliers are required to document from whom they purchase and to whom they sell. But any one company in a particular produce supply chain may not have access to full information about a product's journey from grower to market. And the law does not require produce companies to share any of these details with the public. (Some retailers—often smaller markets that specialize in organic and locally sourced food—regularly offer these details and some packaging may include some of this information, again typically for promotional purposes.)
Like many other produce distributors, Pacific Organic, I learned, does not share names of its growers and packers—that's considered confidential business information.
A spokesman for New Seasons Market, where I bought my mango, told me that my mango came from the Oregon-based supplier Organically Grown Company, and an OGC spokesman told me that this particular mango had come from Pacific Organic, a California-based distributor—the company listed on the PLU sticker. All I was missing now were the names of the packer and the grower.
What can I find out about the packer and grower?
The short answer: Not much.
Like many other produce distributors, Pacific Organic, I learned, does not share names of its growers and packers—that's considered confidential business information. An FDA spokesperson confirmed that grower names are indeed proprietary and that businesses in the food supply chain are under no legal obligation to share this information with customers.
To find out more, I contacted the National Mango Board, a trade association. Executive director William Watson explained that Mexican mangoes typically only change hands once—from grower to packer—before they enter the US, crossing the border by truck, usually at McAllen, Texas, or Nogales, Arizona. Some distributors work directly with packers, so it's at this stage that the sticker identifying my mango as a Pacific Organic product would have been put on the fruit. He also explained that the Mexican mango growing season moves northward as the year progresses. April is early in the season, so the orchards producing fruit purchased that month would likely have been in more southerly growing regions such as Chiapas or Guerrero. But he, too, explained that relationships between packers, distributors and growers are often proprietary.
How does the industry track produce internally?
While the public is offered few specifics, information collected within the industry is considerably more detailed. Some tracking systems now include not only the grower, but also the particular field where a specific batch of produce was picked, who picked it, and when.
However, there isn't "just one system" that companies use to trace produce from grower to market, explained FDA traceability expert Sherri McGarry. She described the exchange of information between growers, packers, distributors, suppliers, and retailers as "handshakes." But, she said, "some handshakes are firmer than others." She acknowledged that currently, "there are some holes in the system," meaning that comprehensive information about every produce item on the market was not always available.
That could soon change. Through the Food Safety Modernization Act, the FDA is in the process of working with the entire produce supply chain to shore up these information systems. At the same time, the Produce Traceability Initiative, a voluntary industry program, is developing an electronic system that would replace paper records and idiosyncratic filing systems. The goal is a globally standardized system with bar codes and digital, computer-readable labels. There is concern, however, among advocates for smaller growers about how such a system would affect those without the capacity or inclination to implement such high-tech recordkeeping.
What's the bottom line for consumer produce sourcing?
What's required by law in terms of transparency in produce sourcing is minimal: Only country of origin need be shared. Any information shared publicly beyond that is entirely voluntary. If something goes wrong and a safety issue is spotted, the FDA becomes involved and can audit a company's supply chain information as part of its oversight and enforcement authority.
Retailers, distributors, and wholesalers all stressed the importance of having confidence in one's suppliers and spoke of good suppliers as something of a business advantage. But as I learned with the example of my mango, even in the case of a recall, source details shared publicly are few. Largely, the industry continues to say to the public, "trust us."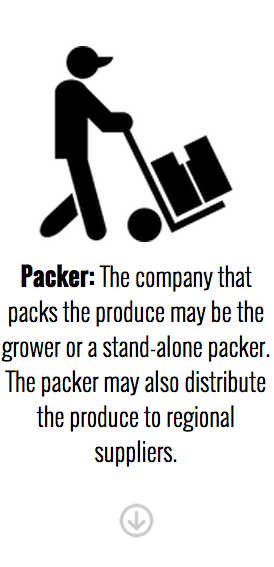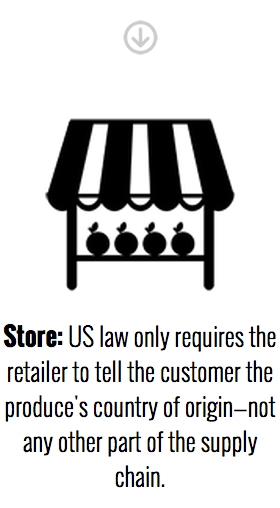 This article was produced in collaboration with the Food & Environment Reporting Network, an independent, nonprofit news organization producing investigative reporting on food, agriculture, and environmental health.