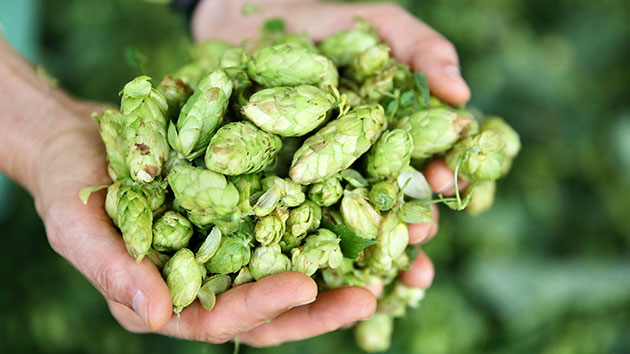 Fight disinformation:
Sign up
for the free
Mother Jones Daily
newsletter and follow the news that matters.
In 2011, Jan-Erik Paino, a former construction worker and grape-picker, launched a new craft beer company in Sacramento inspired by Captain Frank Ruhstaller, a Swiss immigrant who owned several of the city's hundreds of breweries in the late 1800's. Paino wanted to make a beer to carry on Ruhstaller's legacy.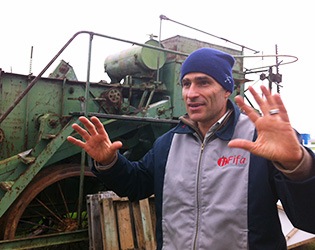 Paino's first recipe, a malty red ale called "1881," sold pretty well right away, especially to one local grocer, Darrell Corti, who ordered 10 cases, and then soon after, 12 more. When Paino paid a visit to Corti at his store in East Sacramento, "I was expecting a pat on the back," says Paino. Instead, Corti "gave me a stern look. He said, 'You don't deserve the words Ruhstaller and Sacramento together if you aren't using hops grown in Sacramento.'"
Hops are the fluffy green buds whose oils give beer its bright and bitter flavor. They grow on vines, and always clockwise. Up until World War II, Sacramento was a hop-growing empire. Corti grew up in California's capital, and remembers the days when miles and miles of these cone-shaped flowers still lined the riverbanks. "Corti had this intensity I couldn't ignore," says Paino. To truly make beer in the spirit of Ruhstaller, he realized, he would need to become a hop farmer.
Paino isn't alone in this pursuit. Ever since Prohibition, most hops have been grown on massive farms in eastern Washington and Oregon, and reached brewers in bulk via a few powerful hop brokers. But in recent years, people in other states are turning to hop farming, whether to join the local food movement, satisfy a growing taste for exotically hopped beer, or because of economic incentives and government subsidies.
This hops renaissance hinges in part on our growing taste for aromatically unique brews. Craft beer—brew made by independent outfits that produce less than 6 million barrels annually, and is often strong and flavorful—has boomed over the last decade, doubling in production between 2010 and 2014. Americans now prefer the sharp and fragrant India pale ales to any other craft variety. IPAs and many other craft beers (and Big Beer's craft knock-offs) use significantly more hops than, say, Bud Light, and they also depend on aroma hops instead of alpha hops, which mainly just add bitterness. Ann George of Hop Growers of America estimates that most alpha varieties yield up to 3,000 pounds dried hops per acre, whereas aroma hop plants only eke out 800 to 1,900 pounds, depending on the variety. Which means farmers can charge more for aroma hops—locally grown aromas now fetch up to $18 a pounds in some parts of the country. (The overall average price for hops right now is a little less than $4 a pound.)
In part because of this shift to lower-yielding aroma hops, many in the beer industry worry about whether there will be enough of the buds to go around. "There was a bona fide hop shortage" in 2007, says George, which drove up prices. In 2014, the average price for hops was $3.83/pound, compared to just $1.88 in 2004. A brewery in Auburn, California, cheekily named its beer "Hop Shortage Triple IPA" in 2012.
Oregon, Idaho, and Washington, which grow 98 percent of the country's hops, have enjoyed this boom: The large growers in the region have produced between 6.5 to 12 percent more hops since 2013. Small farmers and brewers are also eager to cash in on the craft beer industry's explosive growth. Nevada's growing craft market, for instance, inspired the state's Department of Agriculture to fund research into whether the flowers can thrive in the high desert.
Three years after meeting with Corti, Paino now manages a thriving seven-acre hop farm outside of Davis, California, producing 10 percent of the hops he needs to brew—which, in terms of justifying his company's new logo, "We Grow Beer," at least is a start. Ninety-five percent of the total hops Paino uses come from California farms. (The other 5 percent consists of Citra hops, a proprietary strain grown in Oregon.).
I visit Ruhstaller's hop yard in December, on a day when the air is so thick and white with moisture it's as if someone stuffed the Sacramento Valley with a wad of cotton. Paino has deep brown eyes and brows mottled through with grey, reminding me of a pinto horse. He wears a beanie that reads "Country Malt Group" as he surveys the small yard and its sheds, preparing to batten down the hatches before the "storm of the century" bears down on Northern California later that night. After months of drought, the ground is finally soaked through, and fat yellow mushrooms poke up through patches of new grass.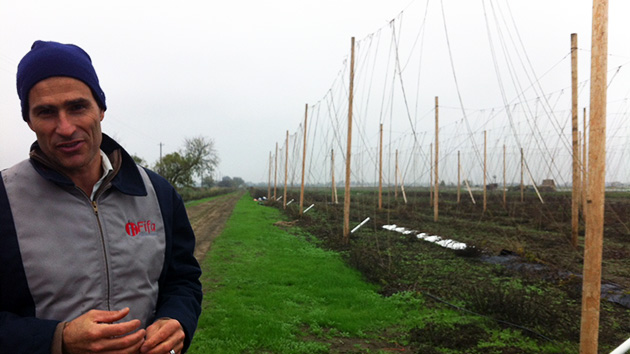 Brewers mostly use dried hops formed into pellets to flavor their beer; it takes roughly four pounds of fresh hops to make one pound of dried. To dry his hops after harvesting them, Paino built a kiln out of a shipping container. During the summer months, when temperatures reach well over 100 degrees, the warm air generated inside rises into a wooden shed perched on top. We climb the ladder to the second-story kiln and see where hops are spread and dried, shin-deep. Some brown crumbly buds still line the corners of the kiln; when I rub them to release leftover lupulin oil, my nose fills with the smell of the pungent beer my dad made in the kitchen of my childhood home in Colorado.
Despite the seeming romance of tending hops, the endeavor has been anything but. The plants are susceptible to disease and mites, meaning they require constant surveillance. Picking hops by hand is labor-intensive, so when he scaled up to seven acres, Paino bought a used mechanical hop-picker from Germany that he now lends to starter hop farms in the area. (He named the machine "Darrell," after Darrell Corti).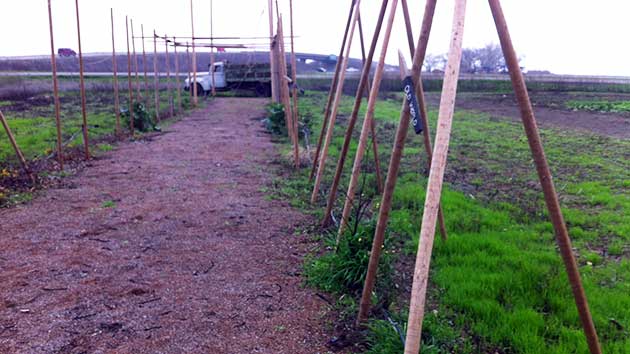 Raising these buds also requires a lot of water. In the fertile clay-based soil near Davis, Paino's crop needs a gallon of water per plant per hour; Ruhstaller waters around 12 hours a day for two to three days a week during growing season. The company is fortunate to have access to unlimited groundwater access on the land it leases. (California's loose groundwater regulations make it very easy for many farmers to suck up unlimited hydration, as my colleague Tom Philpott reported in his story about the nut boom amid the state's ongoing drought.)
According to George, craft brewers use 1.25 pounds of hops for every 31 gallons of beer. Using watering estimates from Washington State University and some back-of-a-napkin math, we can say that a pint of beer requires roughly 1.5 gallons of water just for the hop cultivation. (Your beer will also require more water for its barley and malt content, as well as for the actual brewing process—a total of between 8 and 24 gallons, by one estimate.) By comparison, a glass of almond milk needs 23 gallons of water, and cow's milk requires 30 gallons.
In 2007, there were 68 hop farms outside of the Northwest; that number grew to 166 in 2012.
Even with the resources and start-up costs required, Paino has noticed other Sacramento farmers taking baby steps into hop farming, "planting an acre or two just to see what happens." As craft beer's popularity continues to skyrocket, there's clearly a national interest in seeing hop cultivation thrive: In 2007, there were 68 hop farms outside of the Northwest; that number grew to 166 in 2012. Hop acreage statistics used to focus only on Washington, Oregon, and Idaho, the top-producing states. But in 2014, Hop Growers of America's George amassed data for 14 additional states by calling breweries and specialists and searching Facebook pages.
Paino says his homegrown hops are worth the trouble because they "actually make a better beer." Or, he corrects himself, a more unique beer, one whose bouquet evolves every year. To test Ruhstaller's terroir, Paino recently made two brews using the exact same recipe, including the same Cascade, Columbus, and Chinook hop varietals. But one batch used hops grown en masse in the Northwest, and the other batch drew from the flavors of hops grown in Northern California. He invited a group of tasters to compare notes at Ruhstaller's Rapid Fire Research and Development lab. "There was a noticeable difference," he says, adding that the California hops "had more pep in their step. Hops are like tomatoes, grapes, apples—not just a commodity. It does matter where they're grown. And that encourages me to keep doing this."