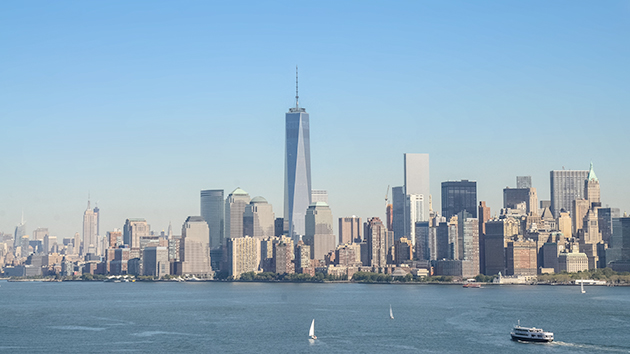 New York wants to get serious about solar power. The state has a goal to cut its greenhouse gas emissions 80 percent below 1990 levels by 2050, and it's already among the nation's solar leaders. New York ranks ninth overall for total installed solar, and in 2013 alone it added enough to power more than 10,000 homes.
While that's great news for solar companies and environmentalists, it's a bit of a problem for electric utilities. Until recently, the business model of electric companies hadn't changed much since it was created a century ago. (The country's first electric grid was strung up by Thomas Edison in Manhattan's Lower East Side in the 1880s, and some parts of it continued to operate into the 2000s.) Utilities have depended on a steady growth in demand to stay ahead of the massive investments required to build power plants and the electric grid. But now, that tradition is crumbling—thanks to the crazy growth of rooftop solar and other alternative energy sources and some big advances in energy efficiency that have caused the overall demand for electricity to stop growing. Meanwhile, utilities in New York are also required to buy the excess power from solar buildings that produce more than they need—a policy called "net metering".
"This is as exciting as the Public Service Commission gets," NRDC attorney Raya Salter said.
But here's the thing: Even the most ardent climate hawks agree that we can't afford for utilities to go out of business altogether. Someone needs to maintain and manage the grid. Hardly any solar homes are actually "off the grid," since they still depend on power lines to soak up their excess electricity during sunny afternoons and deliver power at night. In fact, net metering is a key factor in making solar economically viable to homeowners.
The question of how to aggressively slash carbon emissions without completely undermining the power sector (and simultaneously raising the risk of blackouts and skyrocketing electric bills) is one of the big existential questions that climate-savvy lawmakers are now trying to figure out. And last week in New York, they took a huge step forward.
Under a new order from the state's Public Service Commission, utility companies will soon be barred from owning "distributed" power systems—that means rooftop solar, small wind turbines, and basically anything else that isn't a big power plant. (There are some rare exceptions built into the order, notably for giant low-income apartment buildings in New York City that small solar companies aren't well-equipped to serve.)
"By restricting utilities from owning local power generation and other energy resources, customers will benefit from a more competitive market, with utilities working and partnering with other companies and service providers," the commission said in a statement.
The move is part of a larger package of energy reforms in the state, aimed at setting up the kind of futuristic power system that experts think will be needed to combat global warming. The first step came in 2007, when the state adopted "decoupling," a market design in which a utility's revenue is based not on how much power it sells, but on how many customers it serves. (Remember that in most states utilities have their income stream heavily regulated by the state in exchange for having a monopoly.) That change removed the incentive for utilities to actively block rooftop solar and energy-saving technology, because lost sales no longer translate to lost income. But because utilities could still make money by recouping the cost of big infrastructure projects through increases to their customers' bills, they had an incentive to build expensive stuff like power plants and big transmission hubs even if demand could be better met with efficiency and renewables.
Now, under New York's most recent reform, a utility's revenue will instead be based on how efficiently and effectively it distributes power, so-called "performance-based rates." This, finally, provides the incentive utilities need to make decisions that jibe with the state's climate goals, because it will be to their advantage to make use of distributed energy systems.
"We want to pay [utilities] for doing things we want, rather than paying for their return on investment for the things they build," said John Farrell of the Institute for Local Self-Reliance.
But there's a catch, one that had clean energy advocates in the state worried. If utilities were allowed to buy their own solar systems, they would be able to leverage their government-granted monopoly to muscle-out smaller companies. This could limit consumer options, drive up prices, and stifle innovation. That, in turn, could put a freeze on consumers' interest in solar and ultimately slow down the rate at which it is adopted. But if small companies are allowed in, then the energy market starts to look more like markets for normal goods, where customer choice drives technological advances and pushes down prices.
"New York's approach to limit utility ownership balances the desire for more solar with the desire to have competitive markets that we expect to continue to bring down the costs of solar," said Anne Reynolds, director of the Alliance for Clean Energy New York.
The upshot is that solar in New York will be allowed to thrive without being squeezed out by incumbent giants like Con Edison and National Grid.
"This is as exciting as the Public Service Commission gets," said Raya Salter, an attorney with the Natural Resources Defense Council in New York who worked with state regulators on the plan. "These are bold, aggressive changes."
The policy puts New York on track for a new way of doing business that many energy wonks now see as inevitable. In the past, the role of electric utilities was to generate power at a few central hubs and bring it to your house; in the near future, their role will be to facilitate the flow of power between countless independent systems.
"We need to plan for a primarily renewable system," said John Farrell, director of the Institute for Local Self-Reliance, which advocates for breaking up the old utility model as a key solution to climate change. "We want to pay [utilities] for doing things we want, rather than paying for their return on investment for the things they build."
So far, the response from utilities has been receptive; a spokesperson for Con Ed said the company looks forward to developing details for how the order will move forward.
The change in New York could become a model for other states, Reynolds said. Regulators in Hawaii are already considering a similar policy.
"Everyone is watching to see what's happening here," she said. "It's really a model of what a utility could be in the future."