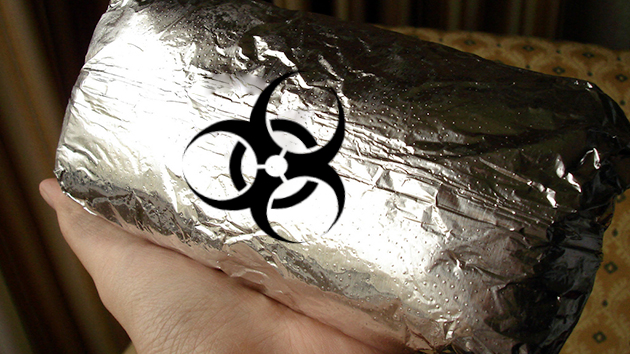 Fight disinformation:
Sign up
for the free
Mother Jones Daily
newsletter and follow the news that matters.
What should have been an easy public-relations win for Chipotle is turning into a major headache—but one that could have interesting repercussions in the public debate about genetically modified organisms.
Back in April, the fast-casual burrito chain announced that it would stop serving food prepared with genetically engineered ingredients. At the time it didn't seem like a huge change, since only a few ingredients—notably the soybean oil used for frying—contained GMOs. (More than 90 percent of the soy grown in the United States is genetically engineered.) But as critics in the media were quick to point out, there was an obvious hole in Chipotle's messaging: The pigs, chickens, and cows that produce the restaurant's meat and dairy offerings are raised on feed made with GMO corn. (In fact, 70-90 percent of all GMO crops are used to feed livestock.) And don't forget the soda fountain, serving up GMO corn syrup by the cup.
This is the first lawsuit to challenge the veracity of an anti-GMO marketing campaign.
Last week, Chipotle got officially called out, when a California woman filed a class-action lawsuit against the company for allegedly misleading consumers about its much-publicized campaign to cut genetically modified organisms from its menu.
"As Chipotle told consumers it was G-M-Over it, the opposite was true," the complaint reads. "In fact, Chipotle's menu has never been at any time free of GMOs."
Chipotle has never denied that its soda, meat, and dairy contain, or are produced with, GMOs. A spokesman, Chris Arnold, said the suit "has no merit and we plan to contest it." Still, the case raises an unprecedented set of questions about how food companies market products at a time when fewer than 40 percent of Americans think GMOs are safe to eat (they are) and a majority of them think foods made with GMOs should be labeled.
The California statute applied in the lawsuit deals with false advertising: Allegedly, the "Defendant knowingly misrepresented the character, ingredients, uses, and benefits of the ingredients in its Food Products." The suit then provides a cornucopia of Chipotle marketing materials, such as the image to the left, which implies that that taco has no GMOs in it—even though, if it contains meat, cheese, or sour cream, then GMOs were almost certainly used at some stage of the process. The suit goes on to detail how Chipotle stands to gain financially from this anti-GMO messaging. The upshot is that, according to the complaint, Chipotle knew its stuff was made from GMOs, lied about it, and duped unsuspecting, GMO-averse customers like Colleen Gallagher (the plaintiff) into eating there. (Gallagher is being represented by Kaplan Fox, a law firm that specializes in consumer protection suits. The firm didn't respond to a request for comment.)
It will be up to the court to decide whether Gallagher's claims have any merit. But there's a big stumbling block right at the beginning: There's no agreed-upon legal standard for what qualifies a food as being "non-GMO," and thus no obvious legal test for whether Chipotle's ad campaign is legit. In fact, several food lawyers I spoke to said this is the first suit to legally challenge the veracity of that specific claim, which means it could set a precedent (in California, at least) for how other companies deal with the issue in the future. That sets it apart from deceptive marketing suits related to use of the word "organic," for example, for which there is a lengthy legal standard enforced by the US Department of Agriculture. (Organic food, by the way, is not allowed to contain GMOs.)
"There are many definitions of what constitutes non-GMO that are marketing-based definitions," said Greg Jaffe, biotechnology director at the Center for Science in the Public Interest. "But nothing like [the federal standard for organic labeling] exists for GMOs at the moment."
In the context of this lawsuit, that lack of clarity may work to Chipotle's advantage, said Laurie Beyranevand, a food and ag law professor at Vermont Law School. Without specific guidelines to adhere to, Chipotle could basically be free to make "non-GMO" mean whatever the company wants it to mean (more on that in a minute). The question before the court is about the gap, such as it exists, between Chipotle's understanding of that term and its customers' understanding of it, when it comes to the meat, dairy, and soda at the heart of the suit.
Beyranevand said the soda could be a weak point for Chipotle. Even though the company's website is clear that its soda is made with GMO corn syrup, customers could still be misled by the advertising into thinking it isn't.
Even if a chicken has been stuffed full of genetically modified corn its whole life, it's no more a GMO than I would be if I ate the same corn.
Meat and dairy are a different story, and there's a bit of existing law that makes Chipotle's rhetoric seem more defensible. In Vermont, the only state to have passed mandatory GMO labeling laws, meat and dairy products are exempted. And that makes some sense: Even if a chicken has been stuffed full of genetically modified corn its whole life, it's no more a GMO than I would be if I ate the same corn.
"Chipotle is just sort of riding on the coattails of that state legislation," Beyranevand said. In other words, Chipotle could have pretty good grounds to argue that a reasonable person wouldn't confuse its advertising with the notion that livestock aren't fed GMOs.
Of course, not everyone agrees with Vermont's approach. That includes the Non-GMO Project, an independent nonprofit that has endorsed nearly 30,000 food products as being non-GMO over the past five years. The group won't give its stamp of approval to meat products that have been fed GMOs. According to Arnold, Chipotle "would love to source meat and dairy from animals that are raised without GMO feed, [but] that simply isn't possible today."
a GMO by any other name…
Let's zoom out to the broader issue: Why isn't there a standard definition for what makes a food product count as "non-GMO"?
The closest thing is a bit of draft language the Food and Drug Administration published in 2001 that was meant as a nonbinding blueprint for companies that want to voluntarily label their foods as non-GMO. Turns out, that simple-sounding phrase is loaded with pitfalls. As "GMO" has gone from a specialized term used by biochemists to describe seeds, to broadly used slang for the products of commercial agriculture, its meaning has gotten pretty garbled. That makes it hard to come up with a legal definition that is both scientifically accurate and makes sense to consumers, and it leaves companies like Chipotle with considerable linguistic latitude.
First of all, there's the "O" in GMO. A burrito, no matter what's in it, isn't really an "organism," the FDA points out: "It would likely be misleading to suggest that a food that ordinarily would not contain entire 'organisms' is 'organism-free.'" Then there's the "GM": Essentially all food crops are genetically modified from their original version, either through conventional breeding or through biotechnology. Even if most consumers use "GMO" as a synonym for biotech, the FDA says, it may not be truly accurate to call an intensively bred corn variety "not genetically modified."
Finally, there's the "non": It might not actually be possible to say with certainty that a product contains zero traces of genetically engineered ingredients, given the factory conditions under which items such as soy oil are produced. Moreover, chemists have found that vegetables get so mangled when they're turned into oil that it's incredibly difficult to extract any recognizable DNA from the end product that could be used to test for genetic modification. So it would be hard, if not impossible, for an agency like the FDA to snag your tacos and deliver a verdict on whether they are really GMO-free.
"It would likely be misleading to suggest that a food that ordinarily would not contain entire 'organisms' is 'organism-free.'"
The point is that Chipotle likely isn't bound to any particular definition of the non-GMO label, and that we just have to take their word that the ingredients they say are non-GMO are, in fact, non-GMO. Lawmakers are attempting to clear up some of this ambiguity: House Republicans, led by Mike Pompeo (Kan.), succeeded in July in passing a bill that would block states from passing mandatory GMO labeling laws similar to Vermont's. The bill is now stalled in the Senate, but it contains a provision that would require the USDA to come up with a voluntary certification for companies like Chipotle that want to flaunt their GMO-less-ness.
Until then, another solution would be to seek non-GMO certification from the Non-GMO Project, though the group would likely reject Chipotle's meat products. In any case, Arnold said, neither Chipotle nor its suppliers are certified through the project, and they don't intend to pursue that option.
"We are dealing with relatively niche suppliers for many of the ingredients we use," Arnold said. "By adhering to a single certification standard, we can really cut into available supply of ingredients that are, in some cases, already in short supply."
With all this in mind, here's a final caveat: When Chipotle has its day in court, how we actually define what is or isn't a GMO product might not matter too much, explained Emily Leib, deputy director of Harvard's Center for Health Law. That's because the California laws in question here are as much about what customers think a term means, as what it actually does mean.
"The court will ask, 'Is there a definition [of non-GMO] or not?" Leib said. "They'll say, 'No,' and then they'll ask, 'Is this misleading?' How does this use compare to what people think it means?"
That's what makes this case interesting, since the truth is that most of the burrito-eating public knows very little about GMOs. Does that make it illegal for Chipotle to leverage peoples' ambiguous (and mostly unfounded) fears to sell more barbacoa? We'll have to wait and see. In the meantime, probably don't eat too much Chipotle, anyway.