Fight disinformation:
Sign up
for the free
Mother Jones Daily
newsletter and follow the news that matters.
A Kentucky farmer has accused Animal Planet of setting a fire, damming a creek, chopping down trees, and illegally trespassing and building structures on his property during the production of the reality TV show Call of the Wildman.
Scandal is all too familiar for viewers of this once-popular show, which follows the supposedly real-life antics of a wily Kentucky wildlife rescuer nicknamed "Turtleman" and his buddies. First, Mother Jones uncovered evidence of repeated animal mistreatment, including drugging an endangered zebra and trapping a sick coyote and other animals for elaborately faked scenes. Then came revelations of state and federal animal welfare investigations, abrupt cancelations of broadcasts, and plummeting viewership—all while Animal Planet representatives denied any wrongdoing.
Now, Turtleman, a.k.a. Ernie Brown Jr., along with his fellow cast members and producers, is facing a potential trial over allegations stemming from an episode filmed in the summer of 2014, called "Call in the Cavalry." During the episode (part of which can be watched online), the so-called "Turtle Team" builds an elaborate tree house, using only materials that they find in the woods, and the "backwoods wisdom" for which the show is famous. "Everything we're going to get is going to come from the backwoods," Turtleman instructs his team—and the cast can be seen chain sawing at least one tree, cutting shingles, and mixing cement.
But behind the scenes, J.D. Long, a 54-year-old resident of the rural hamlet of Liberty, Kentucky, says the show's producers came onto his approximately 49-acre property after his sister, who lives there, explicitly told them they weren't welcome. Long was furious when his sister told him that the team had built the tree house at least partly out of lumber he says they logged on his land. (One of Long's lawyers, Andrew Trimble, says he saw multiple tree stumps at the site during a survey—consistent, he said, with claims in the broadcast that the tree house was built using local materials.) Long told local police that he commissioned a survey and found that three-quarters of the new tree house along with a recreational zip line had been built on his property, near the boundary line he shares with his neighbor, Rodney D. Finn.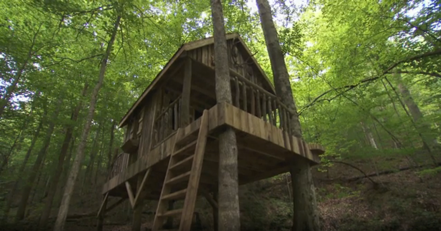 "They didn't cut just any tree," Long said. "Some of these trees they cut, they're not replaceable. They only grow in certain places. They grow in deep, dark hollows." Long, a landscaper and nurseryman by trade, says people tend to pay top dollar for this type of wood, which is prized in log cabin design.
Along with trespassing and cutting down his trees, people working for the show allegedly chipped away at the rock face of a waterfall—which Long says is also on his property—to make the concrete (in a scene that plays out in the actual broadcast), and then used that concrete to dam up one of his creeks.
But the most bizarre part of the incident, Long says, came in the middle of the night some months after filming had wrapped up—around November 20, 2014—when he woke to the sound of machinery. "My sister jumped out of bed, she was scared to death," he said. "It made this whizzing that sounded like the whole neighborhood was going to blow up." He called 911.
It turned out the whizzing was coming from a crane, Long said, which had arrived under the cover of darkness to tear down the tree house. Long says the remains of the tree house were then set on fire. "I mean, they could have set the whole mountain on fire, that's what got me," he said. "I was really aggravated."
Sheriff's Deputy Jamie Walters says he saw evidence of burned wood at the site of the tree house when he went to look, and he found debris in the creek, according to a police report he filed about the incident. In the same police report, Long's neighbor, Finn (whom Long is also suing), admitted to building the tree house that the production company had wanted for the episode. In court documents filed in his defense, Finn admitted to being an "associate" of Turtleman but denied the other allegations.
Finn did not respond to a voicemail left by Mother Jones, but in an interview with Walters last year, Finn said he had rented a crane and attempted to move the cabin after Long complained. Walters wrote, "He said when they tried to move the cabin it buckled in the center and came apart. Some of the cabin was salvaged but the remaining parts were burnt."
"I'm the poorest famous guy around," Turtleman said.
According to Walters, Finn said he admitted that he had "made a mistake when he constructed the cabin because he thought it was on his property." Long refused to accept $1,000 from Finn as an apology.
Animal Planet and Sharp Entertainment—the New York-based production company that makes the show—did not respond to repeat attempts to seek an interview for this article. Neither did attorneys Rebecca Schafer and Emily Newman, from the Louisville legal firm representing the bulk of the defendants. Schafer and Newman filed documents asking the court to dismiss the case in May and denied all the central allegations. The judge has yet to rule on that request.
In March, Long filed a suit against Animal Planet and its parent company, Discovery Communications, along with the show's production company, Sharp Entertainment, CORE Media Group (which owns Sharp), the cast of the show, and his neighbor Rodney D. Finn, who he says also trespassed and was involved in the construction and destruction of the tree house. Long has since been locked in the back-and-forth pre-trial exchange of documents between lawyers. No trial date has been set.
For his part, it seems Turtleman might need all the financial help he can get from the production company he has worked for since 2011. "People think I have a million dollars," he told the Post Standard, in March. "I got the famous part, but I haven't got the rich part figured out yet. I'm the poorest famous guy around. I only made $50,000 last year, and that's before taxes."
Call of the Wildman is still under investigation by the US Department of Agriculture, which is looking into multiple claims of animal mistreatment raised by Mother Jones' reporting last year: