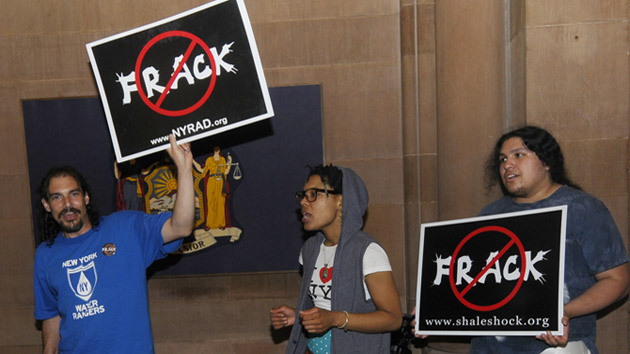 This story was originally published by Fusion and is reproduced here as part of the Climate Desk collaboration.
On April 19, when New Yorkers get their turn to vote on the country's next leader, the future of natural gas—specifically gas that comes from hydraulic fracturing—will be on many people's minds.
Clean energy and climate activists are hoping to build on the attention that a highly public skirmish between Democratic candidates Hillary Clinton and Bernie Sanders about the role of fossil fuel money in campaigns has already brought to the New York race. At the same time, illustrating the success of the multi-year, multi-pronged anti-fracking movement in the state, which has now evolved into "fractivism 2.0″—a broader endeavor pushing for change across the energy and climate platforms—could give a boost of momentum to these issues at the national level.
In one example of this on Tuesday, April 5, several hundred activists rallied in Albany, the state's capital, to ask the Democratic candidates (as well as Republicans Donald Trump, Ted Cruz, and John Kasich, if they can be bothered) to take a stand against natural gas pipelines that are slated to crisscross the state. One of these pipelines, the Constitution Pipeline, or the "unConstitution Pipeline" as it's referred to by the Stop the Pipeline organization, is in the final stages of the approval process. Activists are hoping New York Gov. Andrew Cuomo will use the state's authority under the Clean Water Act to deny the pipeline a necessary water quality permit.
While Cuomo has yet to take a stance on pipelines and other natural gas infrastructure that processes fuel from places like the gas-rich Marcellus Shale in Pennsylvania, his administration banned hydraulic fracturing in the state in 2014 in response to concerns about health risks. New York remains the only state in the nation with proven gas reserves to have such a ban in place.
Alex Beauchamp, the Northeast region director at Food & Water Watch, told me that he thinks the next logical step for the movement after the statewide fracking ban was to try and stop reliance on fracked gas from other states—gas that enters the state though "a maze of pipelines, storage facilities, and compression stations."
"By the time we get through all of my conditions, I do not think there will be many places in America where fracking will continue."
Beauchamp said that even though New York has outlawed fracking, the state is using even more natural gas than it was just a few years ago due to imports from out-of-state supplies. He also said many of the people involved in the push to eliminate fracking and natural gas expansions are pushing for a "real plan" to get the state on track to get 100 percent of its energy from renewable sources.
"We need enforceable benchmarks along the way," he said. "There is no real actual plan to get us there."
In a testament to this, the 100% Renewable NY campaign and the Fossil Free state divestment campaign are organizing a Climate Change Lobby Day on Monday, April 11, at the state capitol. Bills promoting 100 percent clean energy by 2030, divestment from fossil fuels, and other climate- and clean-energy-friendly policies, such as offshore wind production, will be discussed.
With a high-profile New York primary fast approaching, Clinton—a two-term senator for New York—is meeting face to face with her home state's anti-fracking movement, which is gathering force around Sanders, who recently said in a debate that he does not support fracking.
Clinton's answer to the question in the March 6 debate was less straightforward. She told moderator Anderson Cooper that she supports fracking only in very specific circumstances: when local governments approve, when companies are forthcoming about the chemicals they're using, and when they can prove they aren't polluting nearby water or land.
"By the time we get through all of my conditions, I do not think there will be many places in America where fracking will continue," Clinton said.
Expect at least one fossil fuel-related question to come up at the Democratic debate in Brooklyn on April 14.
As Ben Adler at Grist recently pointed out, Clinton and climate activists appear to butt heads on several key issues, including fossil fuel production on public lands and the value of natural gas as a "bridge fuel" to smooth the transition to renewables.
"Clinton's platform on fossil fuels has been moving steadily leftward since she entered the race, as she has come out against Arctic and Atlantic offshore drilling, called for stricter fracking regulation, and endorsed leasing reform," wrote Adler. "But climate activists won't be satisfied until she fully embraces the principle that the government shouldn't help produce fossil fuels at all—not even natural gas as a supposed lesser evil than coal."
Clinton's history of supporting natural gas during her stint as US secretary of state from 2009 to 2013 is also worrisome to some, even though at the time it was really just part of the Obama administration's overall support of the industry.
The administration has changed its tune somewhat in recent years, and the EPA recently said tackling methane emissions is one of its top issues in 2016. Methane is a very potent greenhouse gas and leaks from natural gas infrastructure—such as the devastating leak from a dated well outside Los Angeles earlier this year—are major contributors to the problem. The Obama administration recently set a goal of slashing methane emissions by up to 45 percent from 2012 levels over the next decade.
Beauchamp said he still considers there to be a lack of leadership on natural gas production and fracking at a national level, saying "there's really a lag from what we're seeing at a state level."
Even so, compared with eight years ago when fracking really wasn't even an issue in the presidential election, the overall shift in discussion is dramatic. Beauchamp thinks it could even play a role in fracking-friendly Pennsylvania, which holds its primary on April 26.
"I there there's a shift in Pennsylvania as well," he said. "The myth is that where's there's fracking they love it and where there isn't they oppose it. What we see in polling is that as people become more familiar with what it is, they tend to dislike it more."
A recent Gallup poll found that since last March there has been an 11 percentage point increase in those opposing the practice. Perhaps most surprisingly, the percentage of Republicans in support of fracking declined 11 percentage points. This polling coincides with polls showing that more than two-thirds of Americans are now "worried" about global warming—an eight-year high.
"What we see in polling is that as people become more familiar with what it is, they tend to dislike it more."
Deborah Goldberg, the managing attorney of Earthjustice's Northeast regional office, told me that many of the upstate New Yorkers who helped lead the charge against fracking in the state were not "traditional left-leaning, tree-hugging types of people," but they were still galvanized by the destruction that oil and gas development was wreaking on other places. She said she thinks the success of the New York movement gave "people hope that where they are able to really organize and educate each other, they can make a difference."
Since the Cuomo administration made the determination to prohibit fracking, Goldberg said people who were engaged in that fight have become involved in a "wide array of efforts to address infrastructure that facilitates the transportation and storage or processing of natural gas and oil," such as the Constitution Pipeline, which is "emblematic of what they're fighting for." She said this is a much more diffuse movement because it can't be fought with just one rule or regulatory process, but requires lots of different angles.
She also said a lot of people are working on the positive side to try to develop clean energy at the state, county, and local levels. She said they refer to all these efforts together as "fractivism 2.0."
"They're trying to prevent the country and the planet from digging their own graves by committing ourselves to another 50 or 100 years of burning fossil fuels," she said.