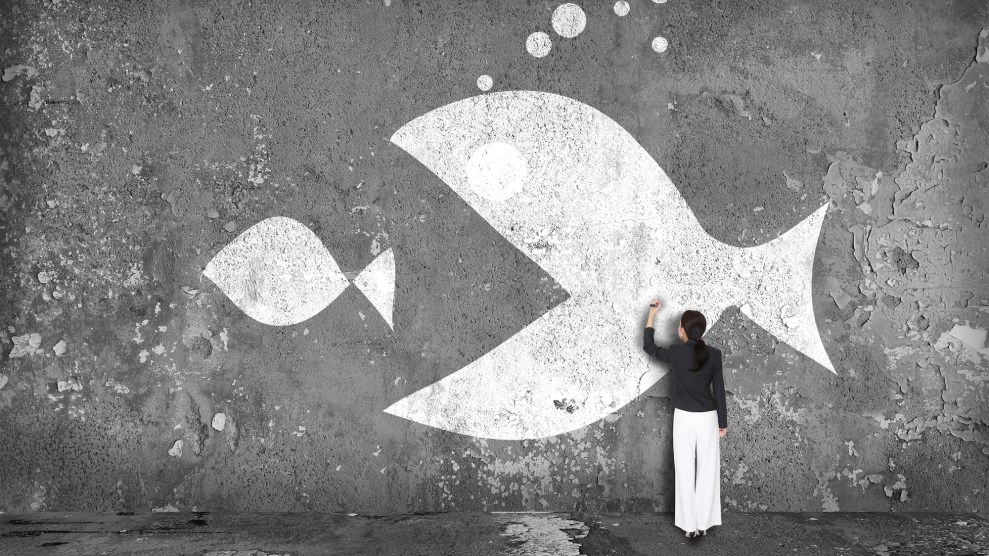 Fight disinformation:
Sign up
for the free
Mother Jones Daily
newsletter and follow the news that matters.
Big Food is in a pickle. Its core business—packaged, pre-cooked fare—remains profitable, but sales are shrinking. Consumer distrust is mounting. One response has been to maintain profits by slashing expenses. Conagra, the behemoth behind such one-time powerhouses as Chef Boyardee canned spaghetti and Pam spray oil, recently announced it would cut $300 million in annual costs and lay off 1,500 workers.
Another time-tested strategy is to snap up smaller, independent companies operating in niches of the industry that are actually growing, like organics, for example. That means that what started as your favorite local organic food brand—Naked Juice, Dagoba chocolate, LaraBar—now belongs to a much larger, much less local company.
Last week alone, three much-loved small players succumbed to the appetites of larger players:
• Spam king Hormel gobbles up an organic peanut butter player. It might seem bizarre that Hormel—the topic of Ted Genoways' excellent 2011 exposé on working conditions on the slaughterhouse floor—would drop $286 million on nut-snack company Justin's, which started as a stand in the Boulder Farmers Market in 2004. But Hormel has been diversifying away from canned pork for a while. It spent $700 million to take on supermarket peanut butter titan Jiffy in 2013. By broadening its portfolio to include Justin's—probably most famous for its organic peanut butter cups—Hormel is adding rapid sales growth. Hormel had already displayed its taste for the sweeter growth prospects and profit margins offered by organic and "natural" foods when it spent $775 million to buy niche meat player Applegate a year ago.
• A very European-like midsize cheese-maker gets snapped up by a European giant. Switzerland-based Emmi is a globe-spanning cheese titan with $3.3 billion in annual sales. Its offerings now include those of Cowgirl Creamery, which sells about $20 million per year of cheeses from cows raised on the lush rolling hills of Northern California's Marin County. For US cheese lovers like me, the thought of Cowgirl falling into the maw of a large company is like seeing your favorite local coffeehouse get bought by Starbucks. Although, to be fair, Emmi isn't exactly Kraft—it sells some pretty high-quality cheeses in the United States, like gruyere. And as the San Francisco Chronicle notes, Emmi has already demonstrated its fondness for Northern California cheese—it bought Redwood Hill Farm and Creamery last year and Cypress Grove Chevre in 2010. Another European behemoth, Heineken, also bought a bit of Northern California chic when it gulped up a 50 percent stake in craft-beer maker Lagunitas last year.
• A great Sonoma County niche winery gets swallowed by a California-based titan. Full disclosure: I can't afford to drink them very often, but I love the lean, light, pretty wines of Sonoma County's Copain, which makes about 20,000 cases per year. I don't love the big, high-alcohol ones favored by Kendall Family Wines, which are cranked out at the rate of 5.6 million cases annually, from wineries that span the globe from California to Chile to South Africa. So I won't be toasting this deal (the price of which has not been disclosed.) But I do hope it signals a shift away from the "jammy fruit bomb" style that has dominated the wine world for decades, a stubbornly persistant trend ably skewered by Jonathan Nossiter's excellent 2004 documentary Mondovino.
In all three of these deals, the charismatic founder(s) of the smaller company has vowed to maintain full control of the brand's quality and vision as it moves forward under the shadow of a conglomerate. Here's hoping they do.