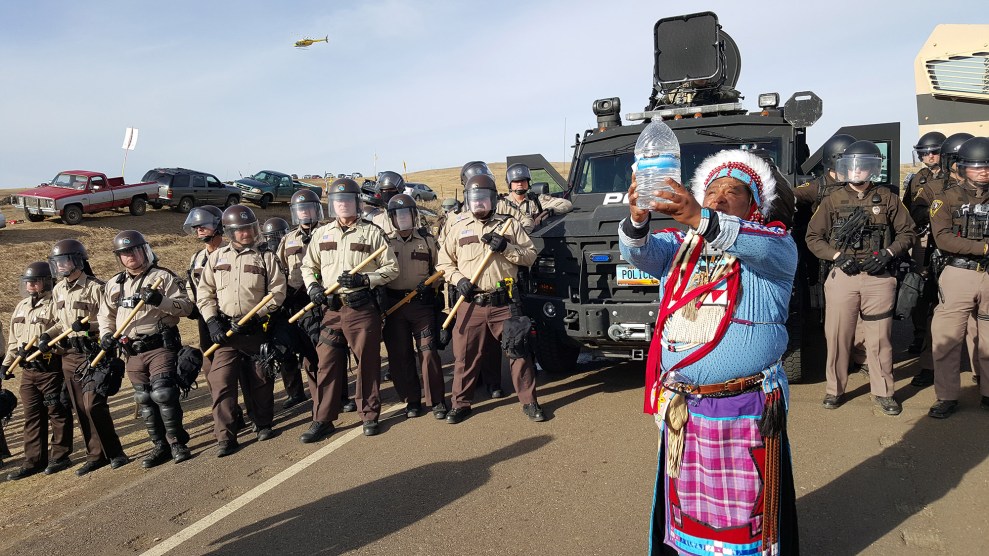 Fight disinformation:
Sign up
for the free
Mother Jones Daily
newsletter and follow the news that matters.
Yesterday, Standing Rock Sioux Chairman Dave Archambault II and other tribal authorities met with the US Army Corps of Engineers at the Standing Rock Sioux Tribal Council Building in Fort Yates, North Dakota. According to activists and others in attendance, Colonel John W. Henderson, the head of the Army Corps of Engineers in North Dakota, agreed that the Corps will ask Energy Transfer Partners to halt construction of the Dakota Access pipeline for at least 30 days.
Dakota Access pipeline representatives have said they have between two and five days of work left before the pipeline reaches the Missouri River. Anti-pipeline protesters and "water protectors" say that laying the crude oil pipeline just upstream from the Standing Rock Sioux reservation will threaten its water supply. The pipeline is nearly 90 percent completed.
The company has not yet received an easement permit to dig under the river. According to Kandi Mossett, an organizer with the Indigenous Environmental Network, and others at yesterday's meeting, Henderson said he would wait at least 30 days until granting such an easement. If the Corps' Washington, DC, office grants the easement, Henderson reportedly said he would not sign it for 30 days.
A spokeswoman for the Corps said it is in ongoing deliberations with the Standing Rock Sioux and that yesterday's meeting was part of an ongoing process. She said the Corps will not make any decisions until the Department of the Army completes its own review. Right now, she said, the 30-day stay is only a proposal. (Energy Transfer Partners, Archambault, and the Standing Sioux Rock tribal office have not yet responded to requests for confirmation and further information.)
A delay, if it happens, could be a big win for anti-pipeline activists. "We're looking at anywhere from a month and a half to two and a half months of nothing. They have to sit there on their thumbs," says Mossett in a video she recorded today. "It's huge, this delay. It's the first glimmer of hope, of good news, that we've had out here for weeks—months."
Earlier this week, President Barack Obama suggested he would urge the Army Corps of Engineers to consider rerouting the Dakota Access pipeline. "We're monitoring this closely and I think, as a general rule, my view is that there's a way for us to accommodate sacred lands of Native Americans," Obama told Now This. "I think right now the Army Corps is examining whether there are ways to reroute this pipeline in a way."
In her video statement, Mossett said any discussion of rerouting the pipeline away from Native American land could stop the project. "A reroute, to this company, effectively kills the project because they won't be able to afford it. It will make it obsolete," she said. The 1,172-mile pipeline, set to run between North Dakota and Illinois, was planned to be completed by the end of this year.
Recounting the latest meeting between the Standing Rock Sioux and the Army Corps of Engineers, Mossett was visibly excited. "The feeling is like, oh my god, are we gonna win?"