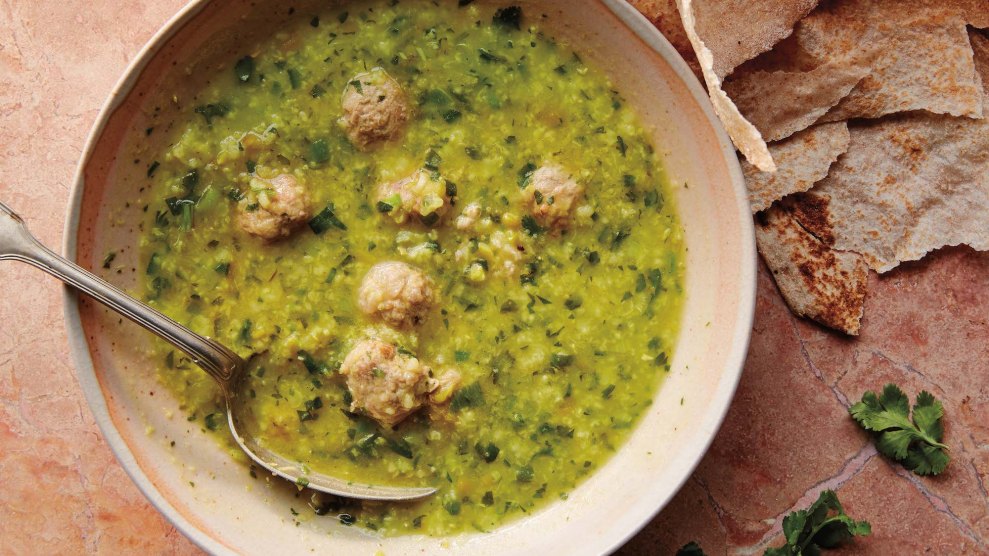 Fight disinformation:
Sign up
for the free
Mother Jones Daily
newsletter and follow the news that matters.
For the past several Novembers, I've cooked variations of the standard US Thanksgiving meal: roasted turkey, stuffing, mashed potatoes, etc. This year, I have no taste for it. A feast celebrating harmony between European settlers and indigenous Americans, it swaddles a history of ethnic cleansing and landgrabs in apple pie nostalgia—at a time when a champion of anti-Muslim extremists is our incoming president's chief strategic adviser and a racist xenophobe has been appointed to enforce the nation's laws.
The website Help for Syria features nine recipes that would make for a delectable Thanksgiving spread, including freekeh (young green wheat) with chicken and manoushi, a glorious flatbread.
But that doesn't mean I'm not into giving thanks this year, or staging a feast. Rather than concocting a meal that nods to a pretend vision of history, I want to celebrate something real and genuinely excellent about the United States: that we are and always have been an immigrant nation. And our food system, more than any other sector of the economy, remains and has long been completely reliant on the labor of newcomers.
Also, what national food culture we have—the part that's not dominated by huge corporate chains mass-producing flavorless beef patties—comes largely from the historic migrations. "Southern food," the latest trendy cuisine, would not exist if millions of Africans had not been forcibly brought here as slaves. I do not know what I'd eat on a daily basis if people from Italy, Mexico, Central America, the Middle East, and Asia had not streamed into the United States over the past century.
So if you end up cooking a turkey this year, consider swathing it in mole (recipe here), the way they've been preparing this North America-native bird for centuries in Puebla, Mexico. A complex and not overly spicy mix of various dried chili peppers, nuts, herbs, spices, and fruit, pavo en mole poblano will pack many times the flavor of even the best-done standard roast turkey and gravy preparation.
If you're looking to skip meat, consider the work of Oakland, California, chef and cookbook writer Bryant Terry, who takes the culinary traditions of the African diaspora in a vegan direction. His couscous with butternut squash, pecans, and currants could anchor a holiday feast.
As for me, President-elect Donald Trump's anti-Muslim bigotry and reckless attacks on the Iran nuclear arms deal has me craving Middle Eastern food. The website Help for Syria features nine recipes that would make for a delectable Thanksgiving spread, including freekeh (young green wheat) with chicken and manoushi, a glorious flatbread. As for Iran, the great Canadian cookbook writer Naomi Duguid has an excellent new cookbook encompassing that region called Taste of Persia: A Cook's Travels Through Armenia, Azerbaijan, Georgia, Iran, and Kurdistan. Below is a recipe from her book that's perfect for an autumn celebration meal.
Like some tangerine-colored Grinch, the specter of Trump quite nearly spoiled Thanksgiving for me this year. Then I remembered the vast and glorious food traditions I have to be thankful for, gifted to us by the very people targeted by the new regime. ¡Salud!
Pomegranate Ash (Soup) with Lamb Meatballs
Serves 6
Excerpted from Taste of Persia, by Naomi Duguid (Artisan Books)
Ash is at the heart of Persian home cooking, a category of slow-cooked sustaining soups that are welcoming, subtle, and rewarding for cooks and eaters alike. The soups are also flexible: You can make substitutions, as long as they stay within the feel of the original. This ash is an inviting blend of legumes and rice, flavored with little lamb meatballs. A crowd-pleaser. Like most ash recipes, this one looks long, but please don't be dismayed. Yes, it takes some time to cook, but it's a carefree kind of thing to make: Start it on a weekend afternoon and then set it aside until shortly before you want to serve it. Or make it a day ahead, and reheat it to serve. Just make sure it comes to the table hot.
Serves 6
¼ cup sunflower or extra-virgin olive oil
1 onion, sliced
½ teaspoon ground cassia (cinnamon)
½ teaspoon turmeric
¾ cup short-grain rice or broken jasmine or basmati rice (see Note), washed and drained
¾ cup dried split peas, soaked in water for an hour (or as long as 12 hours) and drained
8 to 10 cups water, or as needed
¼ pound scallions, trimmed and finely chopped
2 bunches flat-leaf parsley, leaves and tender stems, finely chopped (about 2 cups)
2 bunches coriander, leaves and stems, finely chopped (about 2 cups)
1 bunch mint, leaves finely chopped (about 1 cup)
1½ tablespoons sea salt, or to taste
4 to 6 tablespoons pomegranate molasses, to taste
Meatballs
1 onion, grated
½ pound ground lamb
1 teaspoon sea salt
¼ teaspoon freshly ground black pepper
Toppings
About ¼ cup sunflower or extra-virgin olive oil
2 tablespoons dried mint
1 cup thinly sliced onion
To make the soup, place the oil in a large heavy pot over medium-high heat, toss in the onion, cassia, and turmeric, and cook until the onion is translucent, 4 to 5 minutes. Add the rice, drained split peas, and 8 cups water, raise the heat, and bring to a boil, then lower the heat to maintain a strong simmer and cook for 1 to 1 1/2 hours, or until the split peas are tender.
While the soup is cooking, make the meatball mixture: Mix the onion thoroughly with the lamb. Mix in the salt and pepper. Set aside, covered, in the refrigerator.
Add the scallions, parsley, coriander, and mint to the soup and simmer for 30 minutes. Add another cup or two of water to thin it, as you wish, and bring back to a strong simmer. Add the salt and 4 tablespoons pomegranate molasses and stir. Taste and add a little more pomegranate molasses if you like.
Make the meatballs about 15 minutes before you want to serve: Scoop up about a heaped teaspoon of the meat mixture for each and roll it into a ball between your wet palms, then drop it into the soup. Let the soup continue to simmer while you make the toppings.
Pour 2 tablespoons of the oil into a small skillet and heat over medium-high heat. Toss in the dried mint and immediately remove from the heat; it will fizz up a little. Set aside in a small bowl.
Heat the remaining 2 tablespoons oil in the skillet over high or medium-high heat, add the sliced onion, and fry until starting to brown and crisp, about 6 minutes. Set aside on a plate. Ladle the hot soup into individual bowls, making sure to serve several meatballs in each, and top with a drizzle of mint oil, and with a sprinkling of fried onions if you wish.
Note: Short-grain rice or broken rice will break down more easily than long-grain rice as it cooks, and the starch from the rice helps thicken the soup.