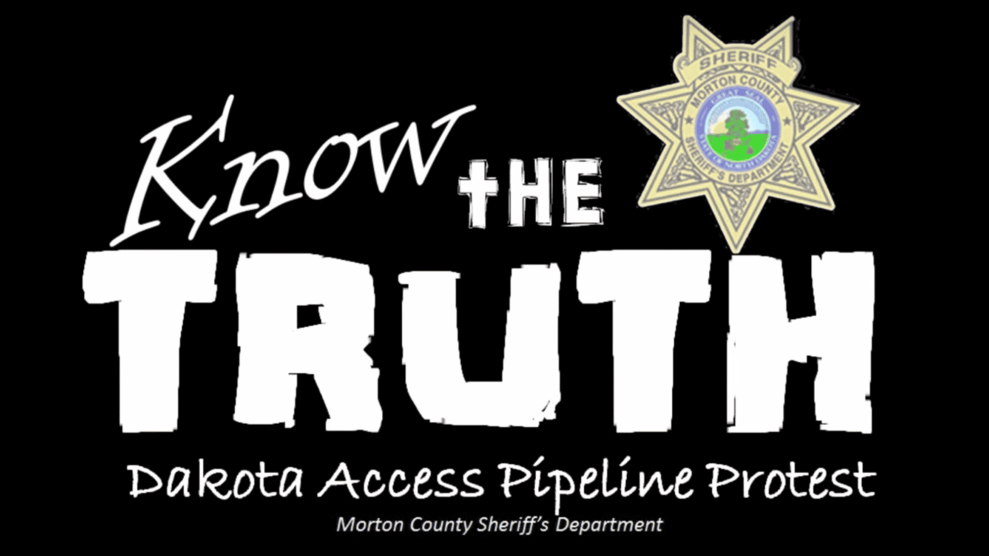 Fight disinformation:
Sign up
for the free
Mother Jones Daily
newsletter and follow the news that matters.
Snowball fights. Upside-down American flags. Out-of-town agitators. These are among the evils perpetrated by Dakota Access Pipeline protesters according to Know the Truth, a series of gonzo propaganda videos produced by the Morton County Sheriff's Department.
At a press conference on December 8, North Dakota Gov. Jack Dalrymple complained that his state has found itself "outgunned" in countering a "social-media machine" operated by shadowy environmentalist groups in support of the anti-pipeline protests near the Standing Rock Sioux reservation. To counter this, the Morton County Sheriff's Department, which has been overseeing the often aggressive response to the protests, has launched its own revealing and sometimes bizarre informational series. Shot on cellphone cameras by officers, edited in-house, and posted on Morton County's YouTube channel, the series provides a rare glimpse into the mindset of the officers stationed at Standing Rock, who have been reluctant to offer access or interviews to the media.
"Protesters are using social media to get their agitator message to the public," says Morton County Sheriff Kyle Kirchmeier in an episode of Know the Truth posted on November 28. "These are short narratives that will tell you the real story of what's occurring in our communities."
The videos, whose production values and DIY spirit recall public access television, also offer insight into the sheriff's department's strategies to delegitimize the anti-pipeline movement, such as suggesting that "militant" activists have infiltrated the peaceful protesters. "Their hope is that we will come out and do something to women and children, and there's no way that we would ever do that," says Cass County Sheriff Paul D. Laney in a video titled "You Can Protest, But Do It Lawfully." "A lot of the times the militant ones will disguise themselves in there, and the next thing we know, what we thought was going to be peaceful or prayerful, now they're coming for us."
While in most videos Kirchmeier and his fellow officers make a distinction between lawful protesters and illegal "agitators," other episodes decry all protest activities. In an episode posted on December 1, just before thousands of veterans from across the country announced their plans to come to Standing Rock, Raymond Morrell, a Marine Corps veteran, stands on a snowy hillside and questions the motives of any veteran who would sympathize with the anti-pipeline movement. "Recent actions that have been announced by veterans wishing to come to North Dakota to support the protesters, veterans within the state of North Dakota," he says. "We really question what…their cause truly is, because we all took the oath to support and defend the Constitution."
Other videos aim to provide evidence of abuses perpetrated by anti-pipeline activists. "Protestors Harass Female Officers" includes cellphone footage and testimony from two female officers about men, possibly veterans, who threw snowballs at them. "You could see they were taking more time to make the snowballs," one says. "They say they stand for our country and stand for our flag, but yet they are going out here, they are throwing snowballs…It's disappointing that they're disrespecting everything they say they stand for."
In "Restoring the Stars and Stripes to its Rightful Position," Sheriff Laney narrates a gonzo mission to overturn an upside-down flag that protesters planted in the snow near the Oceti Sakowin protest camp. Grainy cellphone footage shows an upside-down flag left fluttering in the wind. Suddenly a boat crashes across a tributary of the Missouri River and up onto the snowy banks, where a SWAT team member captures the flag and brings it back to the other side. "Many of us…have watched that flag flutter upside down for the past week, and it has bothered us," Laney says. "We've just been taunted by that flag every single day."
Morton County has arrested more than 600 people since September and has spent nearly $10 million policing the protests. Its sheriff's department has come under intense criticism for its aggressive tactics and militarized response. On November 28, the National Lawyers Guild filed a lawsuit against Kirchmeier for using excessive force. The lawsuit sought an immediate injunction to stop Morton County police from firing water and sound cannons, lead-filled beanbags, and explosive tear-gas grenades. During a clash eight days earlier, the suit's nine complainants allege that they suffered broken bones and genital injuries and lost consciousness as a result of police actions. "The civil rights violations that night were deliberate and punitive," attorney Rachel Lederman told the Bismarck Tribune. "It is only a matter of luck that no one has been killed."