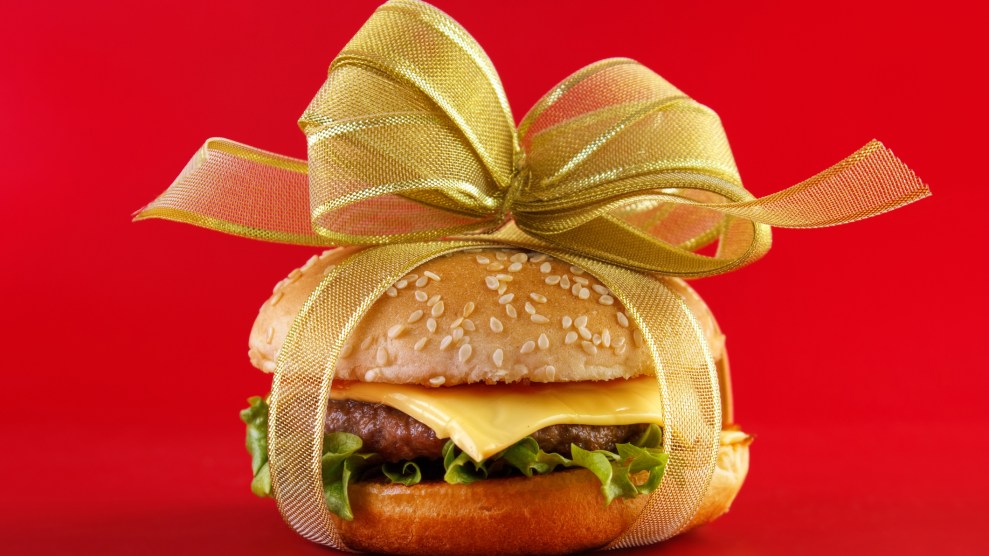 Fight disinformation:
Sign up
for the free
Mother Jones Daily
newsletter and follow the news that matters.
During the campaign, President-elect Donald Trump's agriculture advisers had a tough row to hoe: They had to assure farm state Republicans that Trump's constant tirades against trade wouldn't hurt a farm economy that relies increasingly on exports, by mouthing vague platitudes about the great "deals" the candidate would cut with key trading partners like China. They also stressed Trump's disdain for the regulation of farming practices, vowing he'd bring the Environmental Protection Agency to heel.
Branstad signed into law one of those infamous "ag gag" bills, championed by Big Ag, that make it a crime to secretly document conditions inside livestock farms.
On Wednesday, the incoming chief executive showed his willingness to make good on his promises to keep ag exports booming and gut environmental regulations on farms. Iowa Gov. Terry Branstad, Trump's pick to serve as ambassador to China, has been promoting trade between his state's massive hog and soybean farms and China since the 1980s, when Branstad served the first of his two stints as governor. Then there's Scott Pruitt, Trump's choice to run the EPA. The Oklahoma attorney general is most famous for his climate change skepticism and ties to the oil industry, but he's also tightly aligned with his state's farm interests.
Here's a quick rundown of why Trump's big Wednesday personnel choices amount to twin gifts to Big Ag.
• Branstad is enmeshed with Iowa's agribusiness interests. His chief patron is Bruce Rastetter, CEO of the sprawling Summit Agriculture Group, a major Iowa pork and ethanol producer with interests in Brazil. Politico describes Rastetter as an "agribusiness mogul who's made a fortune in pork, ethanol and farm real estate." Branstad credits Rastetter with convincing him to run for Iowa governorship in 2010. (Branstad had previously served as governor from 1983 to 1999.) Rastetter then backed up the idea by plying the candidate with $164,875 in donations in 2010—Branstad's biggest contributor that year. (His second-biggest contribution, at $152,000, was from Eldon and Regina Roth—Eldon Rothi is CEO of Beef Products International, maker of "lean finely textured beef," known in some quarters as "pink slime.")
Once elected, Branstad quickly raised hackles by appointing his patron to the University of Iowa's board of regents. Rastetter now serves as president of the university's board, and his tenure has been marked by steady controversy (see here, and here). His business, Summit, was "awarded $480,000 in no-interest loans from an Iowa State University center a few months after he joined the school's governing board," the Des Moines Register reports. He also "pursued a deal with the Tanzanian government that would have used Iowa State University's expertise to develop farmland there and, in the original proposal, would have displaced refugees," the Register adds. The university ended up backing away from the plan after controversy around the refugees erupted. Through it all, Branstad resisted activist calls to "fire Rastetter" from his perch on the regents board.
Branstad wasn't satisfied just to appoint one generous Rastetter to a powerful state board. Back in 2011, the governor also tapped Rastetter's brother Brent, who then ran a business constructing industrial-scale hog-rearing facilities and who also contributed to Branstad's campaign, to the state's Environmental Protection Commission. Branstad also signed into law one of those infamous "ag gag" bills, championed by Big Ag, that make it a crime to secretly document conditions inside livestock farms.
When Branstad is installed as ambassador to China, Iowa's ag interests will have a strong advocate pushing to keep exports flowing east. Just last month, the governor led a trade mission there, traveling with the heads of the Iowa Pork Producers Association and the Iowa Beef Industry Council. And that's crucial—with US meat consumption growing slowly, China has emerged as a key market for the handful of companies that dominate US meat production, as I show here. Indeed, the biggest US pork producer, Smithfield, is now a Chinese-owned company.
In 2015, the Humane Society sued Pruitt for what it called a "nearly yearlong campaign of political harassment and public vilification" against the group.
• Oklahoma's Pruitt, soon to take responsibility for executing US environmental policy, is also quite a piece of work. The EPA is already under heavy criticism for weak regulation of pollution from the very kind of large-scale, concentrated livestock favored by Branstad and his patron Rastetter in Iowa. Like Iowa, Oklahoma has a heavy concentration of large-scale, confined animal operations—see Food and Water Watch's "Factory Farm Map" for the state. Pruitt, too, enjoys strong support from his state's agriculture interests, and has thundered against EPA farm regulations.
To be fair, Pruitt is hostile to the EPA in its entirety, not just in its capacity as a watchdog of farm pollution. On his LinkedIn page, Pruitt boasts that he's a "leading advocate against the EPA's activist agenda." But while his ties to the fossil fuel industry are well known, his chumminess with his state's ag interests are also worth noting. This year, he hotly supported State Question 777, informally known as a "right to farm" law, which would have restricted efforts by the state or localities to regulate farms—a blatant attempt to protect large-scale operations. The initiatives's supporters, led by the Oklahoma Farm Bureau Mutual Insurance Co. and the Oklahoma Pork Council, spent about $1 million promoting it. Opponents, led by the Humane Society of the US, also spent around $1 million.
Oklahoma voters shot down the measure by a 60-40 margin, but it didn't lose for lack of effort by Pruitt. Back in 2014, Pruitt launched an investigation of of the Humane Society, which was organizing opposition to the Right to Farm proposal. In 2015, HSUS hit back, suing Pruitt for what it called a "nearly yearlong campaign of political harassment and public vilification" against the animal welfare group. HSUS ultimately dropped the suit after the attorney general's office announced it was no longer investigating HSUS.
Meanwhile, Pruitt's relations with meat industry interests flourished. In August 2015, the Oklahoma Cattlemen's Association honored him with its Distinguished Service Award, given to "individuals who have contributed to the success of the OCA and the Oklahoma beef cattle industry."
And just last month, days before the presidential election, he keynoted the Oklahoma Farm Bureau's annual convention. In his speech, he lambasted EPA overreach, complaining that the agency is "affecting farmers and ranchers, it's affecting oil and gas."
About that: Farmers and ranchers are indeed suffering—but government overreach is the least of their problems.