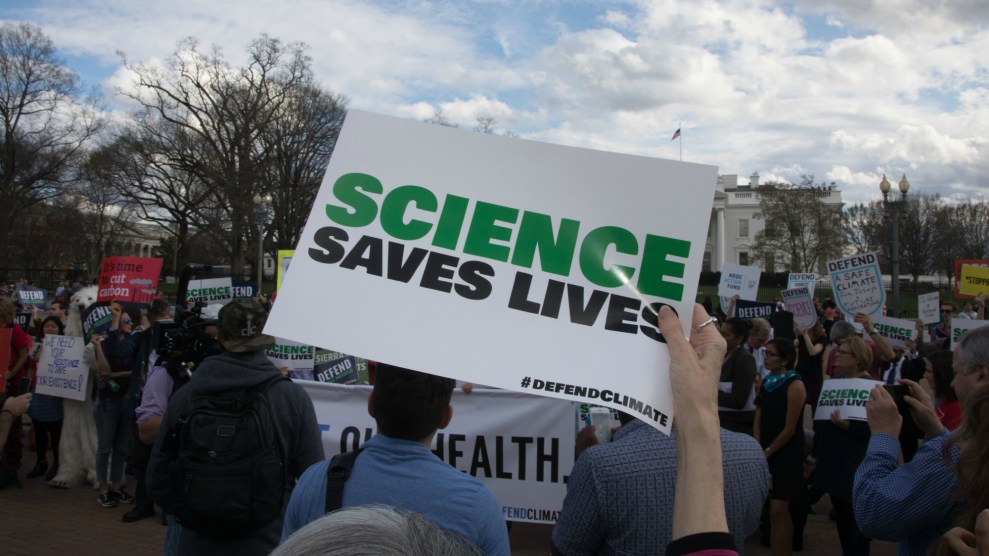 Caroline Weinberg, Valorie Aquino, and Jonathan Berman met online after Berman, a post-doc in physiology, created a Facebook group and web page to galvanize some of the protest energy among scientists after Trump's inauguration. The three, who were in New York, New Mexico, and Texas, thought that scientists should organize a march to "call for science that upholds the common good and for political leaders and policy makers to enact evidence-based policies in the public interest." Weinberg, a public health writer and researcher, and Aquino, who was finishing her Ph.D. in anthropology, volunteered to coordinate the planning. Almost overnight, the march became a viral social-media campaign.
The culmination of all their work will occur on Saturday, April 22, when the three volunteer co-chairs of the March for Science will witness the results of their first experiment in grassroots organizing—with anticipated crowds of hundreds of thousands of people in Washington, DC, and satellite marches in some 500 cities around the world, including in the Republican strongholds of Wyoming, Idaho, and Oklahoma.
The experience of pulling together this march, Aquino said, was tantamount to starting an NGO from scratch and immediately having "1 million members and running it with total strangers." Weinberg told me over the phone in late February that the only reason she was able to get involved was because she "wasn't working that day" and saw online chatter about the march. "We happened to be at the right place at the right time," she said.
When they began to organize in January, they envisioned their march to be comparable to the Women's March: a grassroots campaign that channeled the public's anger into a productive movement for social change. President Donald Trump's antipathy to science was clear before he took office, when he declared climate change was a hoax and appointed climate change deniers as his advisers. In just under 100 days as president, Trump has also alienated a much broader swath of the science and academic communities: He's threatened to pull funding from the University of California-Berkley over anti-Trump protests; he aligned himself with anti-vaccine critics, proposed steep budget cuts to science agencies, wanted to eliminate or downsize science advisers' role in the government, appointed Scott Pruitt as head of the Environmental Protection Agency, and has sought to roll back agency work based on public health research.
Climate activists, who have organized similar marches since at least 2014, have planned their people's climate march in DC and in 200 cities around the country one week later. Although the two marches have overlapping constituencies and purpose, those involved in the climate march focus on specific policy demands—fighting climate change—while the science march is vague, championing more public engagement, evidence-based policies, and science research. But during the evolution of the science march, the organizers have been forced to face some unexpected realities about the community it's engaging. Weinberg noted the "origin story" of the march is the narrative of "unbelievable sprawling grassroots nature."
Aquino and Weinberg had more flexible schedules (Berman worked nine-hour shifts in his post-doc) to fit into their suddenly packed days and were able to put their other priorities on hold. Aquino postponed finishing her Ph.D. a few months ahead of schedule, and Weinberg stopped her freelance income in order to dive into planning the big picture and wrestling with the many logistics of permits, volunteer coordination, and march routes. Less than a month after Berman started the March for Science Facebook group, the three organizers, with the help of about 40 volunteers, had cobbled together a hasty, decentralized infrastructure for the online platforms and hundreds of satellite marches that popped up. They added more experienced organizers who created a database—what Weinberg calls "some kind of magic program"—to locate volunteers with the skills to address inevitable fires and the daily tasks, such as doing outreach to high schools and colleges.
The organizers were not just planning a single march. Their goal was to build a movement of scientists and science-enthusiasts who take a stand when objectivity is under attack. In the process, they have struggled with growing pains, some predating the Trump administration. One is philosophical: What duty do scientists have to participate in a debate that politicizes and misrepresents scientific study? What responsibilities do scientists have as citizens?
For years, Republicans (and occasionally Democrats) have threatened to defund federal research and have resorted to cherry-picking scientific studies that support their conclusions. House Science Chair Lamar Smith has perfected this rejection of inconvenient scientific findings by popularizing the myth of a so-called pause in global warming. But organizers say the debate feels more urgent given this uniquely anti-fact White House and appointed climate change deniers.
"We're all very nervous about entering into a territory where science is seen as being explicitly political."
"We're all very nervous about entering into a territory where science is seen as being explicitly political," Adam Frank, an astrophysics professor, tells Mother Jones, explaining an essay he wrote about the march that was published on NPR. Frank thinks scientists do need to protest but worries that overt politicization is "the worst thing that could happen to science. Last thing we want is science being aligned with one or another political perspective." He sees that we've passed a tipping point of attacks "where scientists don't know what else to do."
In January after the inauguration, Robert Young, a coastal geologist, wrote in the New York Times that "trying to recreate the pointedly political Women's March will serve only to reinforce the narrative from skeptical conservatives that scientists are an interest group and politicize their data, research and findings for their own ends."
The organizers of the science march believe it's their responsibility to wade into politics, but they have tried to balance on the nonpartisan tightrope. "I would actually argue that science is political," Aquino said. "Scientific integrity goes beyond one person eroding it. It hits across both sides of the aisle and people who aren't necessarily affiliated with a political party at all."
Weinberg noted, "If you believe in scientific research and evidence-based policy. You take a stand for that and take a stand for what you believe in."
Then there is the problem of diversity within the scientific profession. Many of the public figures discussing the march are white men. In some respects, the science march has become a microcosm of the criticism STEM initiatives and academia have received for being far too white and male.
BuzzFeed reported on the time the organizers' attempted to address concerns about diversity by forming a committee and issuing a diversity mission statement. Conservative outlets, such as the National Review, have seized on these statements to claim the march is much more about the left co-opting science for political gain. Steven Pinker, a best-selling author and Harvard University professor of psychology, gave this faction a boost, tweeting in January that the march "compromises its goals with anti-science PC/identity politics/hard-left rhetoric."
But the criticism comes from both sides. At least one early collaborator has distanced herself from the march, claiming that disorganization, clashes of vision, and micromanagement left the march doing too little to include diverse voices:
I left the @ScienceMarchDC organizing committee in March due to a toxic, dysfunctional environment and hostility to diversity and inclusion.

— Jacquelyn Gill (@JacquelynGill) April 16, 2017
Gill did not return a request to explain further. Aquino had alluded to some infighting in an earlier interview back in February, noting that some of her 18-hour days were as much about handling "some kind of meltdown and crisis" as they were about organizing the big picture. Since then, organizers have brought on more than 200 partners. They range from science celebrities—Bill Nye the Science Guy, for instance—to nonpartisan academic institutions, like the American Association for the Advancement of Science, as well as more overtly political groups, like Tom Steyer's climate advocacy arm, NextGen Climate. Beyond the dozens of partner organizations, they have put forward a set of basic principles supporting science. They have also managed to raise $1 million for the day's costs and beyond, by selling merchandise and through sponsorships.
They have all tried to plan the next steps for their newly recruited activists after the march is done. "I've never really gotten to step back and really consider all this from a 30,000-foot view," Aquino said. She hardly expects any overnight change in politics or among scientists, but added, "I've never seen such a united front in the science community and science supporters."