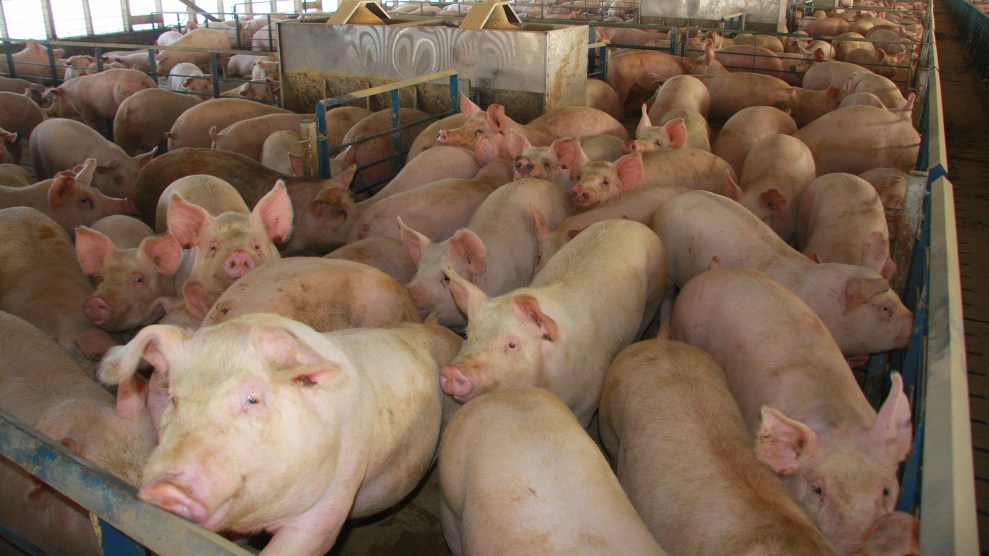 Fight disinformation:
Sign up
for the free
Mother Jones Daily
newsletter and follow the news that matters.
UPDATE: 5/10/2017: The North Carolina House voted 74-40 to override Gov. Roy Cooper's veto of a bill designed to protect hog farms from nuisance lawsuits. The bill now goes to the NC Senate. "Big Pork had a big day in the state house, as it snatched away the ability for residents to obtain fair compensation for damage to their homes and health from the animal waste of factory farms," Ken Cook, president of the Environmental Working Group, said in a statement.
Last week, North Carolina's newly elected Democratic governor, Roy Cooper, vetoed a bill that would have shielded the state's massive industry pork industry against nuisance lawsuits from residents who live near massive hog operations. As I teased out in this post, the facilities foul air and water and make life miserable for neighbors, mainly in areas with sizeable black and Native American populations.
But the North Carolina Republican Party—author of such legislative triumphs as the "bathroom bill" and its "even worse" replacement—has sufficient votes in both chambers of the legislature to override a gubernatorial veto. Cheered on by the North Carolina Pork Council, the House has scheduled a vote Wednesday to do just that, reports the Greensboro News and Record. If it passes, the override legislation would then go to the state Senate—which has already worked with the House to override a Cooper veto in this legislation session.
A recent analysis of satellite data by Environmental Working Group found that around 160,000 North Carolinians live within a half mile of an industrial-scale hog operation or an open cesspool filled with waste from one. An analysis of campaign-finance records by the Durham-based weekly IndyWeek found that the politicians pushing the legislation have been heavily funded by donors associated with Smithfield, the globe's biggest pork company, which dominates pork production in North Carolina. Over on Civil Eats, Christina Cooke has more details; and here's my piece from two weeks ago.