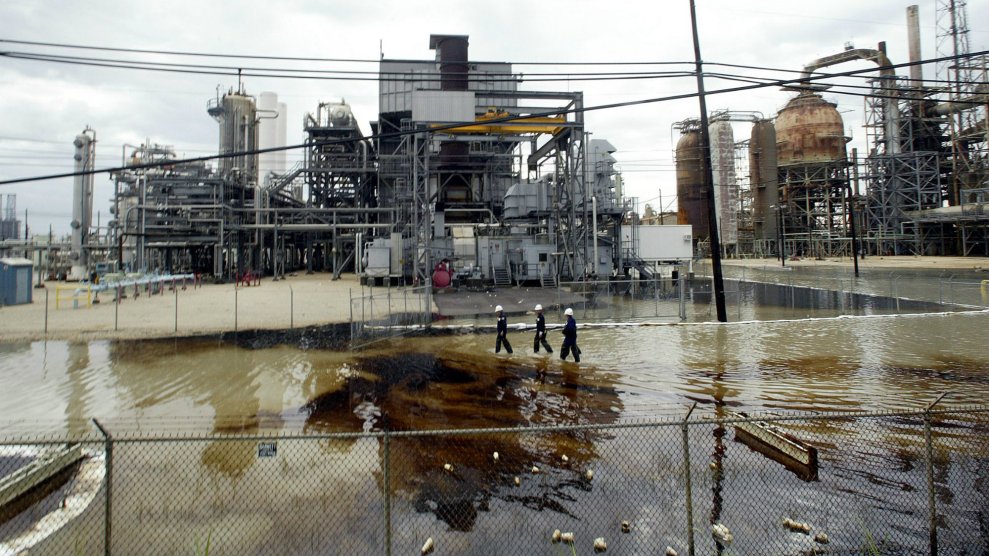 This story was originally published by New Republic and appears here as part of the Climate Desk collaboration.
In the devastating wake of Hurricane Sandy in 2012, parts of the East Coast were left not only demolished, but polluted. Wastewater treatment plants lost power and discharged 11 billion gallons of sewage into receiving waters. The toxic Gowanus Canal—a Superfund site—flooded and overflowed into people's homes, covering people and possessions in what one victim called a "greasy, oily slick." Homeowners' personal heating oil tanks broke apart and oozed fuel into the soil.
That was Sandy, a Category 1 hurricane. Now, a Category 3 hurricane is heading straight toward Southeast Texas, the heart of the American petrochemical industry. It's the nightmare situation Roy Scranton warned about in his 2016 op-ed for the New York Times, titled "When the Next Hurricane Hits Texas." If a storm rips through the region, it will hit an area that includes roughly one third of the country's known oil and natural gas reserves. And there's more: "The refineries and plants encircling Galveston Bay are responsible for roughly 25 percent of the United States's petroleum refining, more than 44 percent of its ethylene production, 40 percent of its specialty chemical feed stock and more than half of its jet fuel."
A powerful hurricane could disrupt oil and chemical production, Scranton wrote, and in turn domestic and world markets. On Thursday, oil prices were already going haywire as refineries in Corpus Christi shut down ahead of Harvey. That's a real concern, but it's not the only reason we should be watching the refineries. There is a huge environmental risk to this storm. If the "biblical event" predicted materializes in this densely packed industrial area, "it may impact the Gulf Coast oil refineries and chemical plants," said Judith Enck, who served as administrator for EPA's Region 2 during Hurricane Sandy. "I am extremely concerned about the path of Hurricane Harvey."
Oil and chemical companies are concerned too. LyondellBassell, one of the largest chemical and refining companies, said in a statement that it is preparing for "potential flooding" of its many Houston-area sites. Anadarko Petroleum and ExxonMobil have started evacuating workers from the region's offshore oil drilling platforms, which together spilled a total of 741,000 gallons of oil during Hurricanes Katrina and Rita. One analyst told industry publication ICIS that five or six refineriescould be directly hit by the storm.
Environmental advocates are also worried that Harvey will create long-term public health problems due to accidental toxic substance releases, and not just from refineries and power plants. In the 30 counties where a disaster has been declared, there are dozens of Superfund sites, many of which are essentially waste pits containing harmful chemicals. The San Jacinto River Waste Pits, for example, contain carcinogenic dioxins, which are linked to birth defects. Advocates also rightly point out that communities living closest to all these sites—both the Superfunds and the refineries—are disproportionately low-income and minority. "This is an environmental justice issue," Enck said.
This type of risk is inherent in any major hurricane, especially one that is slated to hit a major population center. But Enck says it is compounded by the fact that President Trump has not appointed an administrator for EPA's Region 6, which covers both Southeast Texas and Louisiana. "Career staff will do a good job, but this is a situation where real leadership is needed," Enck said, recalling her own experience. During Sandy, she said, her position was "round the clock." As the agency works to solve multiple pollution events at once after a storm, "The regional administrator troubleshoots and is the interface with the state environmental agencies, regional staff, and the EPA in Washington," Enck said. "FEMA is in the lead, but EPA plays a crucial role."
Fortunately, the acting administrator in EPA's Region 6 office at the moment appears experienced in responding to natural disasters that result in environmental catastrophe. According to the agency's website, Samuel Coleman, "guided EPA's response to Hurricane Katrina as the agency's senior federal official in New Orleans, leading EPA's emergency response and recovery missions." In 2009 Coleman was awarded a Meritorious Presidential Rank Award for his work on Katrina.
This is a stroke of luck for Trump, who has been so preoccupied with the superficial drama of his presidency that he's barely mentioned the coming storm at all. Hopefully, the communities in the path of Harvey will all be just as lucky. But the future impact of Trump's dismal policy agenda—which so far has increased the risk of environmental disaster without increasing disaster preparation—gives us something else to worry about. Even if the president can manage on Friday to curb his theatrics and focus on the storm of the decade, it's unlikely that an environmental disaster will be anywhere near the front of his mind.