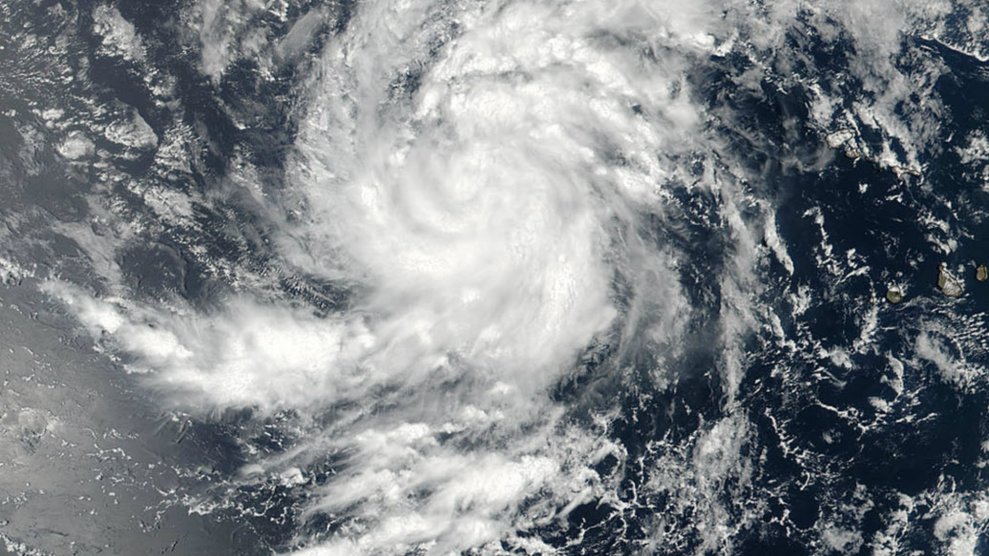 Fight disinformation:
Sign up
for the free
Mother Jones Daily
newsletter and follow the news that matters.
Update, September 5, 2017: Hurricane Irma is now a powerful and dangerous Category 5 storm with 175 mile per hour winds. The National Weather Service has issued hurricane warnings for several islands in the Caribbean including Puerto Rico and the US Virgin Islands saying, "preparations should be rushed to completion in the hurricane warning area." There's still some uncertainty, but Irma could continue westward and make landfall in South Florida later this week. Florida Gov. Rick Scott has declared a state of emergency across the state, ahead of the storm.
As Texas begins the long road to recovery after Hurricane Harvey made landfall as Category 4 storm last week, another storm is brewing in the Atlantic.
Hurricane Irma is currently a Category 2 storm packing winds of 110 miles per hour, and we're still days away from knowing if it will reach land or, mercifully, turn back out to sea. The National Hurricane Center is forecasting that Irma will remain powerful for days and meteorologists are already in awe of the storm's potential strength, but it's too soon to tell where the storm is headed.
"I'm seeing some of the highest wind forecast that I've seen," Michael Ventrice, a meteorological scientist, tells Mother Jones. What's striking about Irma is how early the models have predicted its strength. "You usually don't see models predicting a Category 5," Ventrice says. "With regards to Harvey, we only had one to two days of knowing it would be a major storm."
Meteorologists are running several models tracking the potential path of the storm.
Still a lot of uncertainty with the future track of #Irma but a grim picture with most members holding onto hurricane intensity near the US pic.twitter.com/pfWEzmRdAf

— Michael Ventrice (@MJVentrice) August 31, 2017
"Stronger storms typically curve up the Eastern Seaboard," Ventrice says, "but there's a split in the models," which now predict the hurricane could make landfall anywhere from Florida, the Carolinas, the Mid-Atlantic region or back out to sea. Notably, Florida has not been directly hit by a hurricane since 2005. (Last year, Hurricane Matthew tracked perilously close to the state's coast.)
Some models track the potential of the storm turning back out to sea, while others look at a potential path over the Caribbean islands and to the Gulf of Mexico. Weather patterns such as high and low pressure systems could also play a role in the path and intensity of the storm.
The uncertainty hasn't stopped internet hoaxers from circulating fake forecast maps that show Irma following the path of Harvey, prompting the National Weather Service to tweet out a real forecast.
Keep your eyes out for fake forecasts. THIS is what an official NOAA advisory looks like. Note: forecast only goes out 5 days. #Irma pic.twitter.com/9k87y7jkMz

— National Weather Service (@NWS) September 1, 2017
Those affected by Harvey and people on the east coast should keep an eye on the storm, but it's much too early to take any protective measures. Ventrice warns that the storm is "still a wait and see type of thing."