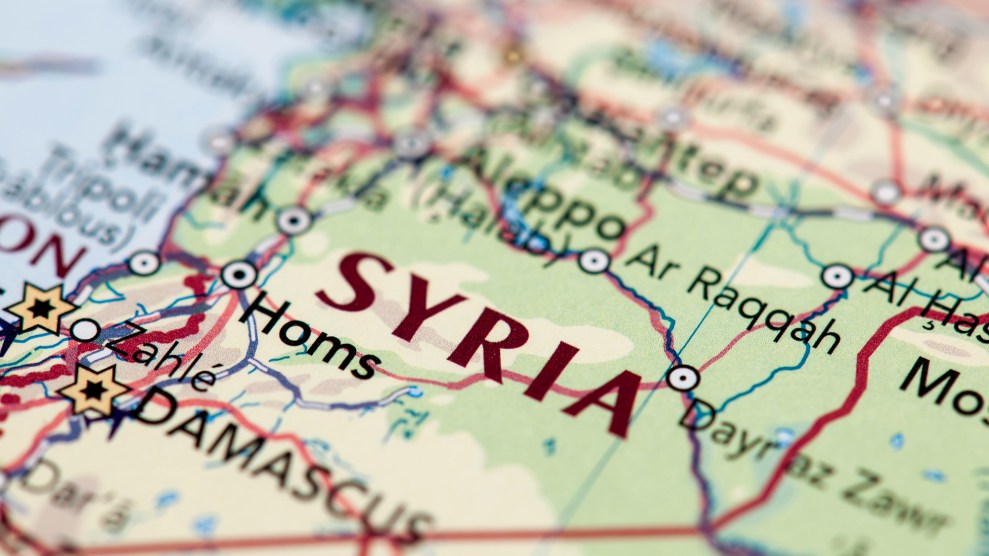 Fight disinformation:
Sign up
for the free
Mother Jones Daily
newsletter and follow the news that matters.
This story was originally published by Food and Environment Reporting Network. 
Salvatore Ceccarelli knew he was engaging in a subversive act when, in 2010, he took two 20 kilo sacks of bread and durum wheat seeds from a seed bank outside of Aleppo, Syria and brought them to Italy during a visit back to his home country. Now, seven years later, those seeds from the Fertile Crescent, the birthplace of domesticated agriculture, with thousands of years of evolution behind them, are poised to challenge the system of plant patenting in Europe, and, soon enough perhaps, the United States.
Ceccarelli, one of the world's foremost seed scholars and practitioners and an honorary research fellow at Bioversity International, has consulted with governments on policies to encourage biodiversity. He has also been a leading advocate of participatory plant breeding—which, as he describes it, means engaging farmers in the process of breeding new crop varieties, rather than leaving that to the rapidly consolidating group of global seed companies.
Ceccarelli arrived in Syria in 1984 and stayed for the next quarter-century as a senior breeder and researcher at the International Center for Agricultural Research in Dry Areas (ICARDA), one of nine UN specialized agencies founded to protect regionally evolved seeds. His specialty is wheat, barley and other cereals, bred for dry and hot climates—precisely the conditions that many of the earth's food-growing lands now face as climate change raises the temperature and disrupts precipitation patterns.
ICARDA was based in Tal Hadya, a town about 20 miles outside of Aleppo, until it was finally abandoned last year when the city became a focus of the Assad government's brutal counter-offensive against Syrian rebels, including the Islamic State. Ceccarelli was gone by the time the last Syrian scientists were forced to evacuate, but he had ensured that at least a part of the seed bank's legacy lives on in Italy.  (ICARDA's work continues in Morocco and Lebanon and a collection of its seeds is stored at the Svalbard Global Seed Vault in Norway).
In each one of those sacks Ceccarelli took from Syria were dozens of different wheat varieties. Working with a Tuscany-based NGO, the Rural Seed Network (Reto Semali Rurali, RSR) Ceccarelli arranged to have the seeds planted with a farmer in Sicily and another in Tuscany.
The RSR and a coalition of environmental NGOs from the UK, Germany, Austria, Denmark, and France went to work lobbying in Brussels, to convince the European Council of Ministers – the EU's executive body—to amend a key provision which requires that all seeds sold in Europe be registered as single seeds with uniform, distinct and stable characteristics. In other words, each seed remains uniform and distinct from other varieties year after year, a registration requirement that is also a key precursor to what is often the next step—patenting. But this uniformity, the coalition argued, makes them uniquely unsuited to the extreme volatility in growing conditions being wrought by climate change—a hot-button question in Italy and throughout much of Europe, which has been facing record-breaking temperatures and, in some regions including Italy, a multi-year drought.
In 2014, the coalition succeeded. The EU agreed to waive those registration requirements on four crops for what it described as "a temporary experiment … for the marketing of populations of the plant species wheat, barley, maize and oats." For the first time, populations of seeds, evolving and changing and sharing genes in the ways that plants do naturally, could be registered for sale.
The Syrian seeds have already provided a lesson in 'Evolution 101′ on the Italian farms. Within four growing seasons, the two populations growing in different parts of Italy showed significantly different characteristics, a live illustration of the adaptation process, Ceccarelli said.
In Sicily, which receives a fraction of the rainfall of Tuscany, the wheat is maturing several weeks earlier, and is as many as two to four inches shorter than the Tuscan varieties, which, in the more moderate and moist climate, mature later and deliver more protein per plant.
"Compare the two in the same environment," says Ceccarelli, "and it's day and night." Ceccarelli argues that its their diversity which gives the fields the ability to adapt to new conditions. "Explain to me how a crop that is uniform and stable responds to climate change?" he says. "Today if you are a dynamic seed company you are working on varieties for 2025. For which sort of climate? How many more degrees hotter will it be? Do they know what pests and diseases will come with the new conditions? These population mixtures are extremely dynamic, the cheapest and most dynamic way to cope with climate change."
The experience of field inspecting a diverse population was a first for the seed inspectors in from Rome, recalled Riccardo Franciolini of the RSR. "It was interesting to see their response," he said from the group's headquarters near Florence. "We asked them to do the opposite of what they're used to doing. They're used to seeing a single variety, all the same in a field. But the idea of a 'population' changes the vision in a profound way."
In June, the Italian Agriculture Ministry authorized the farmer in Sicily, Giuseppe li Rosi to sell up to two tons per year of the seeds cultivated there; the Tuscan farmer, Rosario Floriddia, could sell up to three tons per year of the seeds he had grown. The difference reflects the different yields of each of the two distinct populations, which of course had been just one single population back in Tel Hadya, Syria. At least 100 farmers are now growing the wheat from those seeds in Italy, according to Ceccarelli. The yields may not match bushel for bushel the yields of neighboring farms — many of which require intensive synthetic chemical inputs. But, he says, they're showing "high rates of yield stability, year in and year out, which is what farmers care about." And the bread and pastas made with their wheat are finding a budding market.
The movement is now bigger than the fields Ceccarelli seeded. The EU directive gives each member-state the right to authorize seed populations in the four designated crops. At least 20 such 'cross-composite populations'—the technical term for them—have also received authorization from national seed authorities in the UK, Germany, Denmark and France, representing a total of about 300 to 400 tons of seed, according to Klaus Rapf, a Board Member and Adviser to Arche Noah (Noah's Ark), a seed-saving and research institution in Austria that was part of the coalition fighting for the change. More exact totals won't be known until next year, said Rapf, when the EU compiles all the registrations held by national authorities, in their respective languages, and releases the Europe-wide figures to the public. The registrations come after years of research throughout Europe comparing the performance and resilience of diverse versus single seed populations, including by Ceccarelli and other scientists.
The fields are now a long-running fuse that could present the first major challenge to the plant-patenting system in either Europe or the U.S., proponents believe. When the first phase of the experiment is completed, at the end of 2018, there will be an assessment of its success. The program could be expanded to other crops, sustained, or stopped.
If it continues beyond 2018, the global dimensions of the seed business suggest it would not take long for the principles to make their way into the United States, where similar research is underway. The experiment could force a reassessment of existing rules, which prioritize individual varieties. You can't 'patent' a population, or at least in ways that patents are currently defined. Populations are dynamic, changing in response to changing conditions—unlike hybrids or genetically engineered seeds, the patenting of which has been the foundation for the companies that now dominate the global seed trade, and which rely on standardized regulations to export their seeds.
"What's at stake is the very concept of 'variety'," said Klaus Rupf of Arche Noah. "Defining something as a 'variety' is an abstract concept created to defend turning a seed into a protected intellectual property, based on the notion of very high uniformity."  
Or, as Ceccarelli puts it, "We are registering and certifying something that is evolving—next year will be different. You start with one thing and you end up with another thing totally different … Yes, it is a little radical," he said.