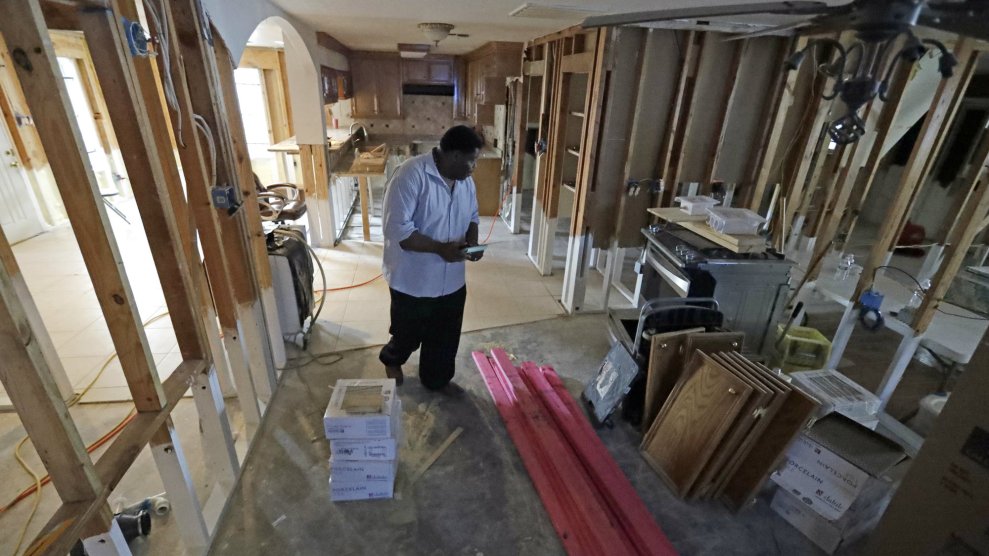 Three months after Hurricane Harvey made landfall as a Category 4 storm in Rockport, Texas, bringing four feet of rain to Houston and the surrounding area, the recovery process for those who live there—especially minority communities— has been slow and grinding.
A new Kaiser Family Foundation and Episcopal Health Foundation survey of 1,635 residents in the 24 hardest-hit counties found that 66 percent of them suffered employment disruptions, lost income, and property damage from the hurricane.
"The conventional wisdom that Texans hit by Hurricane Harvey have recovered is wrong," said Drew Altman, the president and CEO of the Kaiser Family Foundation.
During the storm and its aftermath, media coverage mostly focused on Harris County where Houston is located, but the storm disproportionately affected people living in the Beaumont, Orange, and Port Arthur—known as the "Golden Triangle"—and Rockport, Corpus Christi, and other vulnerable towns on the coast.
The Golden Triangle is poorer than Harris County and is home to several oil refineries, some of which were breached during the storm and leaked toxic chemicals into the water. In Beaumont, flooding was so severe the city's water system failed.
The Kaiser report revealed great disparities in the recovery between higher-income and lower-income residents.
Forty-three percent of Harvey survivors say that their home was damaged; in the Golden Triangle and coastal areas, that number jumps to about 60 percent. In all areas, the storm was more likely to damage the homes of low-income and black residents; 55 percent of black residents reported damage to their homes as did 53 percent of residents whose incomes are below 100 percent of the federal poverty line. Only 38 percent of white residents and 32 percent of people with incomes at 400 percent of the federal poverty line reported damage to their homes.
Among residents who said the storm damaged their homes, 48 percent report having homeowners' or renters' insurance and 23 percent said they had flood insurance. In Harris County, 10 percent of residents and 24 percent of those who live in Golden Triangle have not returned home after evacuating.
Natural disasters often spur financial disasters for those in their paths and Hurricane Harvey was no exception. Almost 30 percent of all residents report that they or someone in their household has fallen behind in rent or mortgage payments since the storm. Of those residents, 36 percent are Latino, 31 percent are black, and 18 percent are white.
Nearly 60 percent of those surveyed said they skipped or put off needed medical or dental care, skimped on prescription drugs, or had trouble receiving mental health care since the storm. Thirteen percent of residents also said their mental health is deteriorating; in the Golden Triangle that number more than doubles.
Assistance from the federal government has also been a problem for many residents. Forty-four percent of those surveyed said they applied for government disaster assistance; only 26 percent say they were approved, while 33 percent were denied. The others are either unsure of their status, or their applications are still pending. Fifty-nine percent said they received no information on how to resubmit their applications.
Despite the challenges, about 70 percent said their local officials are doing a good job in the recovery, but federal officials receive mixed reviews. Only 46 percent of those who were asked said Congress was doing a good job responding to Harvey and 43 percent believe Trump's response went well. Altman concluded, "The people in the hardest-hit areas are telling us that they still face major hurdles before their lives return to normal."