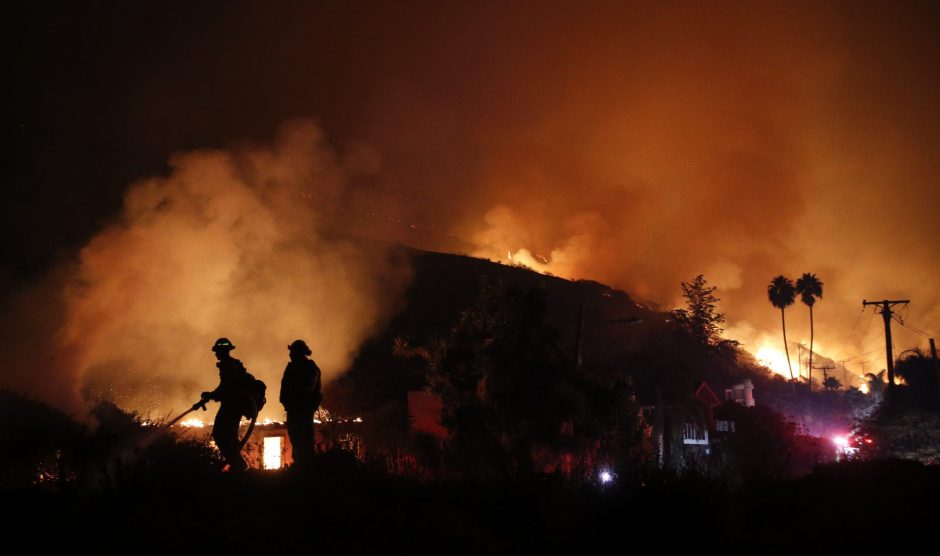 Fight disinformation:
Sign up
for the free
Mother Jones Daily
newsletter and follow the news that matters.
Update, December 11, 1:23 p.m., PDT: The largest of Southern California's five ongoing fires, the Thomas Fire, has spread from Ventura County into Santa Barbara County and has charred at least 230,000 acres—an area larger than New York City, as CNN points out. It is only 15 percent contained, and now makes the list as the state's 5th largest wildfire in recent history. The fire teams (with aid from 10 neighboring states) have the remaining four fires at least 80 percent contained, according to Calfire.
Update, December 9, 1:18 p.m., PDT: The first fatality of the Southern California wildfires has been reported by the Ventura County Medical Examiner. Virginia Pesola, 70, was found dead in a car Wednesday night that had crashed along the evacuation route of the Thomas Fire in Ventura County.
The Los Angeles National Weather Service is forecasting Santa Ana winds to increase over the weekend with gusts ranging from 25 to 40 miles per hour into Saturday and 40 to 50 mph into Sunday in Los Angeles and Ventura Counties.
The number of acres wildfires burned in California more than doubled between 2016 and 2017, according to the Calfire response records. From January 1 to December 3, 2016, a total of 4,742 fires burned 244,297 acres. Over the same time period in 2017, 6,762 fires seared 505,391 acres. This doesn't account for this week's blazes, which started on December 4 and have charred at least 173,000 acres across Southern California.
Across the nation, the 2017 fire season was the most expensive on record, costing the US Forest Service more than $2 billion. Read more on that here.
Update, December 8, 10:01 a.m., PDT: Four fires are still blazing in the Los Angeles area, the first of which began Monday evening. The largest, in Ventura County, northwest of LA along the coast, has seared at least 132,000 acres and is only 10 percent contained, according to Calfire. The larger of two San Diego fires started on Thursday morning exploded across 4,100 acres by night and is 0 percent contained as of Friday morning. There are 8,700 personnel battling the blazes and 212,000 people have been evacuated. More than 140,000 acres of land and 500 structures have been destroyed.
President Donald Trump declared an emergency and ordered federal assistance to the fires on Friday morning. The Federal Emergency Management Agency (FEMA) has approved grant funding for all four fires in and around Los Angeles as well as the Lilac fire in San Diego to help firefighters with aid like safety equipment, meals, and travel costs.
Why are these fires so hard to contain? Record autumn warmth dried out vegetation in the area, leaving fertile ground for fire. Now, near-record dryness has combined with strong winds to create a potent combination, UCLA climate scientist Daniel Swain explained to the LA Times.*
Update, December 7, 2:46 p.m. PDT: About 125 miles south of Los Angeles, San Diego residents are preparing to evacuate as the Lilac fire, which reportedly sparked at around 11:15 a.m. today, continues to spread at a dangerous rate. Mandatory evacuations are in place and 1,000 structures are at risk, according to Calfire San Diego. More than 9,000 San Diego residents are without power both from power outages and because gusty winds forced the utility SDG&E to shut off service because power lines are a fire threat. The Santa Ana Wildfire Threat Index says that northeast winds exceeding 65 miles per hour paired with a humidity level in the 5-15 percent range are expected through Thursday night. "New fires will have a high probability of becoming large in a short period of time," it warns. This high-risk zone extends from the southern border of California up to the edges of Los Angeles County.
#LilacFire [update] off Old Hwy 395 at Dulin Road, Bonsall (San Diego County) is now 500 acres. Evacuations and road closures in effect. https://t.co/d1AIEV66qV pic.twitter.com/qMdfwclTlX

— CAL FIRE (@CAL_FIRE) December 7, 2017
Update, December 7, 11:42 a.m. PDT: The winds fanning the wildfires are expected to reach gusts of up to 80 miles per hour today. For the first time in Calfire's history, the agency is using the color purple on a map used to highlight the threat of wildfires. The index uses the colors yellow, orange, and red to indicate marginal to high wildfire risk, and purple denotes "extreme" risk. Thom Porter, Southern Region Chief for Calfire, told CBS that the window of extreme risk began last night and will continue through Thursday evening. "Today is the first time that a purple rating has shown up," he said. "It indicates that any spark can and will start a fire—and fires that start will be almost impossible to contain."
Update, December 7, 10:46 a.m. PDT: As of Thursday morning, there are still four active fires that have seared more than 116,000 acres around Los Angeles. None of the fires is more than 15 percent contained and more than 300 buildings have been destroyed, according to the New York Times.
The Skirball Fire near the Getty Center museum has charred nearly 500 acres, according to Calfire. The mandatory evacuation zone stretches nearly into the University of California-Los Angeles campus. The first and largest fire to ignite in Ventura is only 5 percent contained and the reported acreage burned has increased from 65,000 to 96,000 acres.
A new fire erupted in the hills of Malibu near the Pacific Ocean early Thursday morning. The fire team has the entire blaze under control, with no open flames. The Meyers Fire in San Bernadino county is 100 percent contained after burning 34 acres in the area.
The Los Angeles area is being swallowed by smoke. Affected areas are experiencing "hazardous" pollution levels, which is the government air quality's worst and highest index. PM2.5, a pollutant found in smoke, is reading at levels of 330; healthy air quality requires these levels to be below 50. The Los Angeles county public health department has advised people to stay inside as much as humanly possible.
What happened?
On Monday evening, a wildfire ignited in the foothills of a popular hiking spot in Ventura, California, northwest of Los Angeles. By late Tuesday, the Thomas Fire had jumped highways and burned through oil fields before eventually reaching the Pacific Ocean. Since then, multiple wildfires in and around Los Angeles County have charred more than 83,000 acres of land—and several of them are still growing. Governor Jerry Brown declared a state of emergency on Tuesday, which allows state funds, resources, and employees to join the disaster relief. As the Skirball brush fire in Los Angeles' Bel Air neighborhood burned uncomfortably close to the 405 highway on Wednesday morning, commuters took to Twitter to show the grisly landscape:
Not the typical morning commute… pic.twitter.com/kJIOQeqsIK

— A. Mutzabaugh CMT (@WLV_investor) December 6, 2017
Santa Ana winds are feeding on thick brush that's especially dry this year and there's no rain projected through Friday, making it harder for fire teams to contain the flames. We'll be keeping an eye on the situation as it unfolds and updating this post. In the meantime, here's what you need to know:
Where are the fires?
Ventura County's Thomas Fire, the largest of the blazes, is 0 percent contained and has burned at least 65,000 acres and 150 buildings. Further east, Rye Fire and Creek Fire, both in Los Angeles County, erupted Tuesday morning and have burned at least 18,377 acres cumulatively. The Rye Fire is 5 percent contained and the Creek Fire is 0 percent contained. San Bernadino County's Little Mountain Fire is 80 percent contained, and fire team hopes to have it completely contained before winds pick up tonight.
High-speed winds are still fueling new flames: A new brush fire nearby the Getty Museum, dubbed the Skirball Fire, ignited Wednesday morning near the 405 freeway and 25 miles per hour winds soon fanned the fire across 150 acres. Here's an interactive map of the area's active fires:
Who's affected?
Nearly 200,000 people have been evacuated from their homes and travel in certain areas is still dangerous. Parts of the 405, 210 and 5 highways have closed, and more than 50 schools are closed across the affected areas. At least 150 structures, including a large apartment building and a mental health facility, have been scorched.
Some of the houses belong to the area's many film and entertainment celebrities. The estate of media mogul Rupert Murdoch faced encroaching flames on Wednesday, and residents in the village of Casitas Springs wondered if Johnny Cash's historic home survived the fires.
WATCH: Video shot from inside vehicle on 405 Freeway in Los Angeles captures intense flames rolling down hillside. https://t.co/CxMAjaNFNW pic.twitter.com/4krSiWi2TF

— ABC News (@ABC) December 6, 2017
At least five homes turned to rubble after #VenturaFire rolled through. A 360 view from just one street. This is a portion of Heidelberg ave. pic.twitter.com/DkGjw3N8Tp

— Sara Sidner (@sarasidnerCNN) December 5, 2017
#Ventura Fire Units responding #ThomasIncident #ThomasFire downtown Ventura pic.twitter.com/kQbrf59A50

— Michel Brewer (@MichelBrewer) December 5, 2017
The Skirball Fire, the most recent 150-acre brush fire, ignited near the Getty Center, a 20-year-old museum with a renowned art collection of both contemporary and historical pieces including Roman antiquities and Byzantine manuscripts. The neighboring Jewish cultural building on the 405 highway, the Skirball Cultural Center, closed on Wednesday until further notice.
Skirball Fire engulfing area near the Getty Center in Los Angeles. @MattGutmanABC reports from the scene: https://t.co/mQb3TKbTC0 pic.twitter.com/y95cZK5yNA

— ABC News (@ABC) December 6, 2017
A fast-moving brush fire near the #GettyCenter in Los Angeles forced evacuations and shut down a major freeway, as a series of devastating Southern California #wildfires continue into a 3rd day https://t.co/K8gBBTtzpw #SoCalFires #wildfire #CAWildfires #SkirballFire pic.twitter.com/1tIAzfJdH0

— Merced (@Merced_Calif) December 6, 2017
Is climate change causing these fires?
California's wildfire season often extends into the fall, when high-speed winds fan parched forests and grasslands before the winter rains arrive. But an inferno this late in the year is unusual, Chief Daniel Berlant, assistant deputy director of Calfire, told the New York Times in response to this week's blazes. "In the last decade we've had more and more fires in the nontraditional fire season months, which really emphasizes the changing climate that we have here in California," he said.
My colleague Matt Tinoco explored the connection between climate change and wildfires when blazes erupted in Northern California in October, citing a study by bioclimatologist Park Williams. "Climate is really running the show in terms of what burns," Williams wrote. "We should be getting ready for bigger fire years than those familiar to previous generations."
Two-thirds of the state's largest wildfires in the past century have occurred since 2002, according to Calfire.
Thick smoke is seen streaming from several fires, including the #CreekFire, in southern California in this @NASAEarth satellite view from this afternoon. Take a look: https://t.co/xXJl4Vx6mr pic.twitter.com/uz3dlB4FQv

— NASA (@NASA) December 5, 2017
High winds expected to return tonight. Graphic shows wind gusts 10 meters above the surface peaking at around 4am. #CAwx #ThomasFire #CreekFire #RyeFire #SkirballFire pic.twitter.com/FfRZb0tVLC

— NWS Los Angeles (@NWSLosAngeles) December 6, 2017
This post has been updated.
*Correction: A previous version of this article misconstrued Daniel Swain's rationale for why the Santa Ana winds are so unusual this year.