Fight disinformation:
Sign up
for the free
Mother Jones Daily
newsletter and follow the news that matters.
Cigarettes are responsible for nearly all tobacco-related diseases and deaths, and one key factor is the highly addictive nature of nicotine in tobacco. Last week, the Food and Drug Administration released a proposal for a rule that would limit nicotine levels so that cigarettes and other tobacco products are "minimally addictive or non-addictive." But what would this really mean in terms of public health?
Back in July, Food and Drug Administration Commissioner Dr. Scott Gottlieb announced he wanted to place nicotine at the center of the agency's efforts to regulate tobacco. (A federal law prevents the FDA from creating a policy that would eliminate nicotine altogether.) Each year, smoking cigarettes is the primary cause of 163,700 cancer deaths, 160,600 deaths from cardiovascular and metabolic diseases, and 113,100 deaths from pulmonary diseases for adults over 35 years of age.
Alongside the new proposal, the FDA funded a study, "Potential Public Health Effects of Reducing Nicotine Levels in Cigarettes in the United States," which was published in the March 2018 issue of the New England Journal of Medicine.
"Our findings show that reducing the nicotine level in cigarettes has the potential to substantially reduce the enormous burden of smoking-related death and disease," the authors of the study wrote. "We estimate that a nicotine product standard for cigarettes in the United States could save millions of lives and tens of millions of life-years over the next several decades."
The FDA proposal is based on research that supports limiting nicotine to 0.3 to 0.5 milligrams per gram of tobacco in a cigarette, compared to the 10 to 14 mg of nicotine currently in a conventional domestic cigarette. The study estimated that if a policy limiting cigarettes to a "very low nicotine content" is put in place by 2020, it could lead to these three outcomes:
Fewer New Smokers
About 5 million adult smokers would quit smoking within one year after the new rule is implemented. More than 33 million people would not become regular smokers by 2100, helping bring down the portion of the adult population who smoke cigarettes to about 1.4 percent.
Longer Life Span
As the number of new smokers drops due to the policy, the life expectancy for people who don't smoke increases. The study projects the US population could gain 134 million years of life by the year 2100.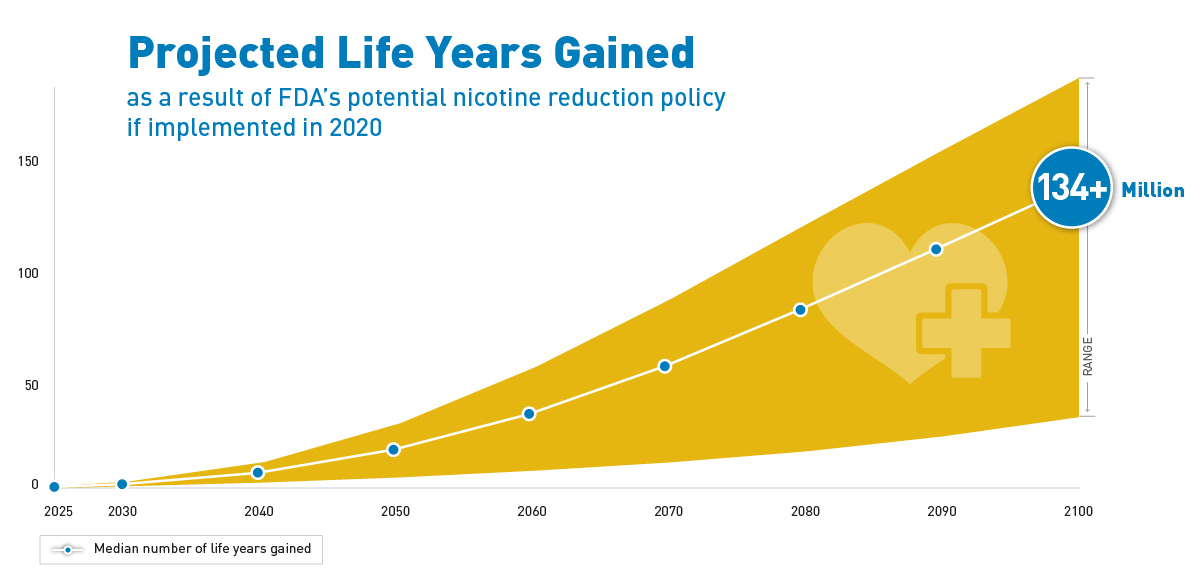 Millions of Deaths Avoided
The policy could significantly reduce preventable tobacco-related death and disease, the study found. By the end of the century, researchers anticipate that more than 8 million premature deaths from tobacco could be prevented.
One potential concern the FDA notes in its proposal is that low nicotine cigarettes could be misconstrued as "healthier" than their original versions and lead to increased smoking. The FDA also speculated that users might try to add nicotine themselves in liquid form, or an illicit trade of high-nicotine cigarettes could emerge.
The FDA's proposal is open for comment through June 14, 2018