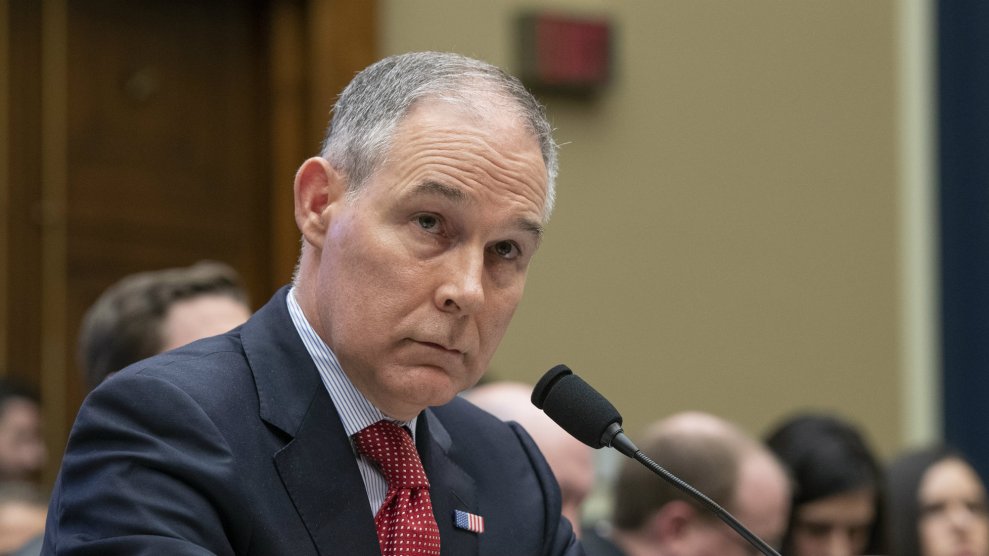 This story was originally published by HuffPost and appears here as part of the Climate Desk collaboration.
The Environmental Protection Agency on Friday inched closer to proposing a regulation to replace an Obama-era rule that clarified which bodies of water qualified for federal protection.
The proposal comes more than a year after EPA administrator Scott Pruitt signed an executive action to revoke the 2015 Clean Water Rule, also known as the Waters of the United States, or WOTUS, rule. The regulation clarified which wetlands and streams could be protected under the Clean Water Act and expanded federal authority to all "navigable" waters. That extended the federal safeguards to 2 million miles of streams and 20 million acres of wetlands, securing the drinking water of more than 117 million Americans.
But a federal judge stayed the Clean Water Rule in 2015; the rule has since bounced around the courts. In January, the Supreme Court volleyed the case back to the district court level. In the meantime, Pruitt began the process of repealing the rule outright.
On Thursday evening, Pruitt said he planned to send the new rule to the White House Office of Management and Budget. In a tweet wishing President Donald Trump a happy birthday, Pruitt said he announced the WOTUS replacement in a meeting with farm interests in Lincoln, Nebraska.
https://twitter.com/EPAScottPruitt/status/1007403087261241345
The new proposal comes amid a series of personal and professional scandals involving Pruitt. People have called for Pruitt to be investigated for public corruption and fired following revelations of his extravagant spending, bizarre requests of aides, and use of his office to enrich himself. President Donald Trump has so far defended the embattled administrator, insisting as recently as this month that the "EPA is doing really, really well."
But conservatives began to turn on Pruitt this week. On Wednesday, a dark-money conservative group in Iowa rolled out a new TV ad calling Pruitt a "swamp monster" who is "embarrassing the president." Later that day, conservative pundit and Trump booster Laura Ingraham said in a tweet that Pruitt had "gotta go." Even Sen. James Inhofe (R-Okla.), who counts Pruitt as a friend and protégé, said on Ingraham's radio program that it may be time for Pruitt to step aside.