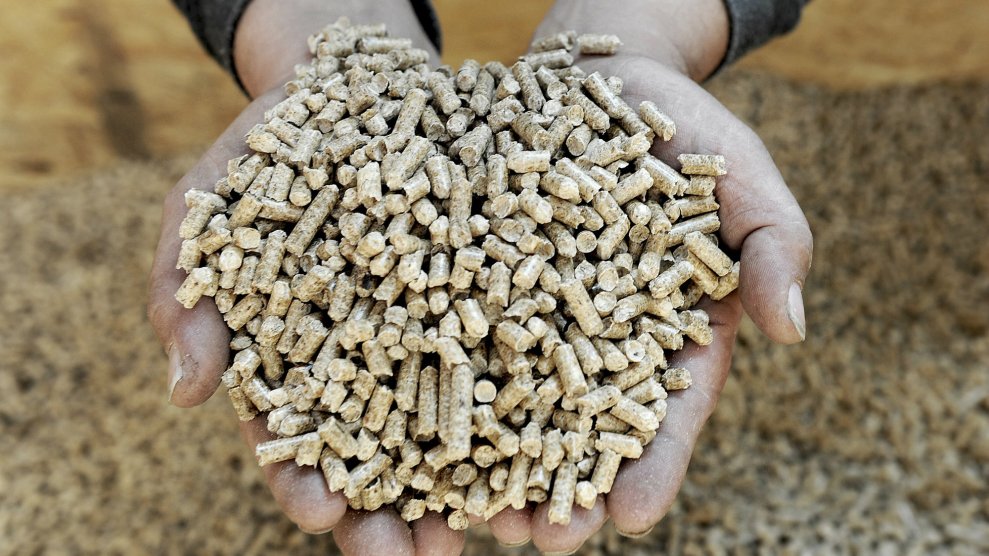 This story was originally published by The Guardian and appears here as part of the Climate Desk collaboration.
It is touted as a smart way for Europe to reach its renewable energy goals. But try telling Lisa Sanchez thousands of miles away in America that burning wood chips is a form of clean energy.
The bucolic charm of her rural home in the Piney Woods forest region of east Texas is undercut by the big German Pellets manufacturing plant just beyond the bottom of her garden. The German-owned plant is capable of producing 578,000 tons of wood pellets a year, which are destined to cross the Atlantic to satisfy a vibrant market for the product there.
Sanchez moved to the eight-acre property in Woodville, a hundred miles north-east of Houston, in 2014. As she sat by her pool on a sunny evening last week, two horses grazing in her field, it was easy to understand why she and her husband Tony swallowed their doubts about the location.
"The plant wasn't loud, it was more peaceful than I thought it was going to be," she said. But within a year, "I started having a lot of respiratory problems, I was getting sick all the time." From being in excellent health, she added, "I have emergency inhalers, I was on all kinds of things. I have asthma now."
Opening her windows and doors to let in the breeze was an unwise move, she said: the air felt more sooty than fresh.
Burning forest biomass—essentially, wood—has been promoted by industry as a cleaner, more renewable energy alternative to coal and gas. American companies such as Enviva have developed a growing export industry for trees diced into wood pellets, with export volumes increasing from almost nothing in the early 2000s to 4.6 million tons of pellets in 2015—almost all of which goes to Europe to displace coal in power plants there.
The wood pellets industry claims that it uses tree branches and waste wood, but environmental groups say there is strong evidence that vast swaths of valuable, untouched forest have been felled in states including North Carolina and Florida to feed the growing sector.
UK-based researchers found last year that burning wood is a "disaster" for climate change because older trees release large amounts of carbon when they are burned and aren't always replaced with replanted forests. Even when trees are replaced, it can take up to 100 years to cultivate a wooded area that soaks up as much carbon as was previously released. And the fuel burned in shipping wood pellets to Europe is also a significant source of emissions.
"Philosophically it looks good but practically it looks pretty bad in many cases," said William Schlesinger, a biogeochemist and member of the US Environmental Protection Agency advisory board.
"When you cut down existing trees and burn them, you immediately put carbon dioxide in the air. None of the companies can guarantee they can regrow untouched forest to capture the same amount of carbon released. The whole renewable forest industry is kind of a hoax in terms of its benefit as climate mitigation."
Schlesinger added, however, that burning wood can result in lower emissions than coal if managed and certified properly and could be used as a "bridge fuel" as solar and wind energy continues to expand.
Scott Pruitt, the administrator of the EPA, recently announced that wood pellets will be classified as renewable energy similar to solar or wind power.
This has caused alarm among some experts, including those on the EPA's own scientific board, which is still working on its own advice on the environmental impact of burning wood to generate energy. "Pruitt announcing that before we weighed in was appalling—frankly it was insulting to our existence," said Schlesinger.
"If you burn young trees and regrow them, it might not be too bad. If you venture into older trees or forests that have never been cut before, that can be very bad."
Some communities living near wood pellet mills have also protested about the fumes that waft over their homes. Woodville, though, with fewer than 3,000 residents – about a quarter below the poverty line – values jobs. Sanchez once went to a local environmental meeting and was the only person who showed up.
"It's like they're saying 'it's closed, why worry about it?' " the 57-year-old said, the facility's shiny metal silos just visible above a row of trees behind her. The plant's bright red walls stand out from the main road, along with the company's slogan on a giant sign: "Energy that grows back."
All was quiet: operations at the plant, which started production in 2013, are currently suspended. German Pellets filed for insolvency in 2016 but environmental campaigners fear their Texas plants will reopen soon despite a string of safety problems.
Last year a fire in a silo and a separate fatal accident at a German Pellets Texas storage facility prompted lawsuits.
There was an explosion and fire at the Woodville plant in 2014. And the Sierra Club environmental group accuses the facility of far exceeding permitted levels of emissions, with regulators willing to raise pollution limits.
The Texas commission on environmental quality and German Pellets did not respond to requests for comment, but a TCEQ spokeswoman told the Texas Observer that it ensures violations are corrected.
An analysis by the Environmental Integrity Project found that at least eight of the 15 largest US wood pellet facilities have had fires or explosions since 2014, while 21 mills exporting to Europe emit excessive greenhouse gases and pollutants.
The Sierra Club describes the Texas facilities as a "monument to Europe's climate sins."
Back in her garden, Sanchez is not anti-industry but believes that regulations need to be tightened.
She cannot prove the plant made her sick but thinks it is no coincidence that her health is much improved since it ceased production. "I feel much better, I breathe a lot better, even the air doesn't seem to be as heavy to me," she said.