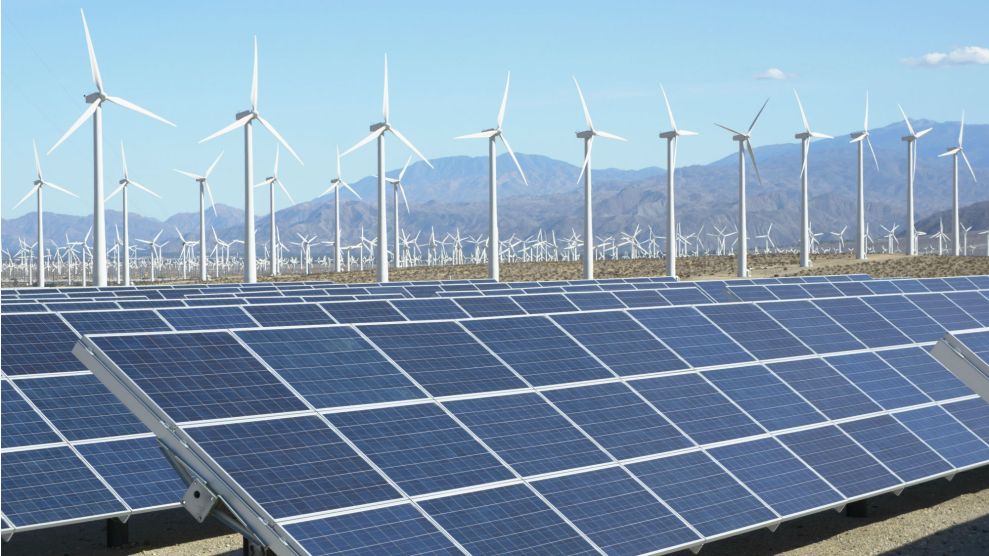 Fight disinformation:
Sign up
for the free
Mother Jones Daily
newsletter and follow the news that matters.
On Tuesday afternoon, California state lawmakers passed a landmark bill, SB100, which would put the state's electricity supply on track to be totally emissions-free by 2045. It passed 43-32.
The bill would amend California's Renewable Portfolio Standard, which currently requires half of all the state's electricity to come from clean, renewable sources of energy by 2030. Regulators have already predicted the state will meet that goal 10 years early, by 2020.
Although Hawaii was the first state to commit to a 100 percent renewable portfolio last year, California's decision to go green would likely have much bigger implications. The most populous state in the country and with the world's fifth largest economy, the Golden State could provide a model for others to follow. And, as MIT Technology Review reports, with the move, "California is effectively acting as a testbed for what's technically achievable, providing a massive market for the rollout of clean-energy technologies and building a body of knowledge that other states and nations can leverage, says Severin Borenstein, an energy economist at the University of California, Berkeley."
Environmental groups lobbied hard for the bill, which passed the state Senate 25-13 last year, while the Assembly held the bill, effectively killing it for a time.
"This is a pivotal moment for California, for the country, and the world," said Sierra Club executive director Michael Brune in a statement Tuesday. "While Donald Trump abandons reality by ignoring the climate crisis and the incredible growth of clean energy, California is stepping up to lead the transition to a 100 percent clean energy economy."
California has been a leader in its commitment to renewable energy, boasting more than 500,000 jobs in the clean energy sector, according to the Department of Energy—more than any other state in the union.
"This is a massive victory for Californians who've been demanding a swift transition to clean energy in the state," executive director of 350.org May Boeve said in a statement. "With wildfires intensifying and temperatures skyrocketing, the impacts of climate change across the Golden State are impossible to ignore."
The state Senate will reconcile the changes made to the Assembly's version of the bill before it heads to Gov. Jerry Brown's desk. Brown has not made his position on the bill public.