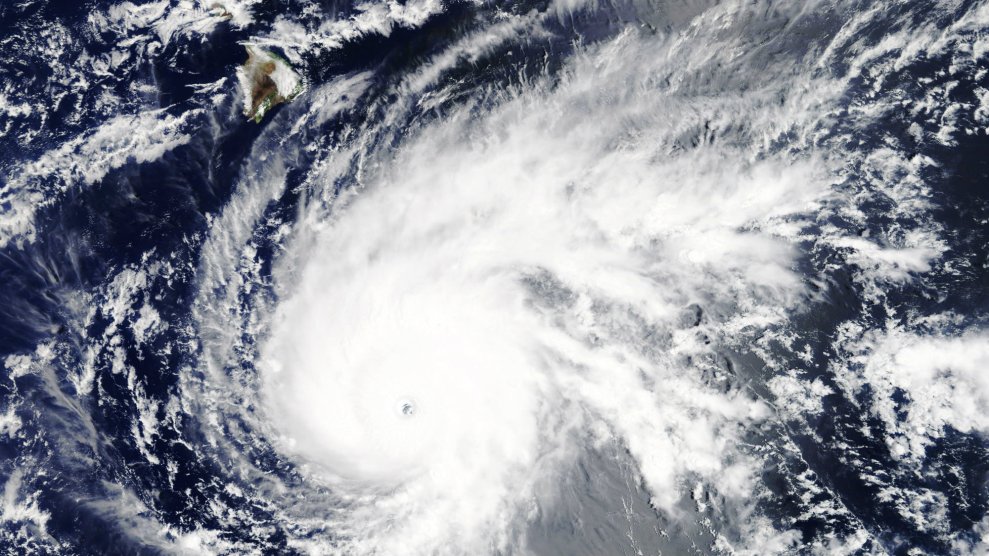 Fight disinformation:
Sign up
for the free
Mother Jones Daily
newsletter and follow the news that matters.
Hawaii is being lashed by the effects of Hurricane Lane right now, with 110 mph force winds and torrential rain. Hurricanes rarely hit the string of islands, but this Category 2 storm is going to skirt close enough to cause life-threatening flooding and landslides.
"We are expecting large amounts of rain, flooding, and high winds. There will be significant impacts even if the hurricane doesn't hit us directly," Democratic Hawaii Governor David Ige warned residents in a statement. "Families should be prepared to shelter in place and have 14 days of food, water and supplies." The islands of Oahu, Maui, Lanai, Molokai, and Kahoolawe are under hurricane warnings while the big Island has a tropical storm warning.
#Kauai Impacts Report (10:45 PM)#HurricaneLane
Remains Hurricane Watch
💨Expected winds: 40 – 50 MPH
💨Gusts to 70 MPH
💨Possible winds: 58-73 MPH
💦Flooding rain: 10 – 15 inches
🌊Storm surge: 1-2 feet
Stay safe. Be vigilant.#AlohaStrong

— Governor David Ige (@GovHawaii) August 24, 2018
While the storm is expected to get even closer to Hawaii on Friday and Saturday, major flooding has already begun. The Big Island has already seen over 31 inches of rain. The storm is moving very slowly and is expected to be a long-duration event, which could lead to even more destruction. The National Weather Service is warning of catastrophic flooding, life-threatening surf, and damaging winds.
Extreme flooding seen from above as parts of Hawaii's Big Island report receiving over two feet of rain, with Hurricane Lane lurching northward. https://t.co/8ZpGqp28VM pic.twitter.com/Og8eh4HNbu

— ABC News (@ABC) August 24, 2018
Schools and office buildings are closed on Friday while hotels took emergency measures to keep guests safe. Residents are using lessons from Hurricane Maria, which devastated Puerto Rico last year, to prepare for Lane. State aid agencies are also working to shelter Hawaii's large and vulnerable homeless population. Five tourists had to be rescued on Thursday after the home they were renting flooded.
We are being evacuated. The neighborhood is too dangerous as the water from the Wailuku River keeps rising. Fire, police and county officials want us to move about 100 feet down the hill. There are still people stranded in homes. #HurricaneLane pic.twitter.com/93WqBeTI2f

— Lynn Kawano (@LynnKawano) August 24, 2018
The Federal Emergency Management Agency, which has been harshly criticized for its slow response to Hurricane Maria, began preparing for an emergency response more than a week ago, when Hurricane Hector, another Pacific storm passed by the archipelago. "We have already shipped meals-ready-to-eat, and also water and generators to all four [Hawaii] counties and prepositioned them for Hector," Veronica Verde, a FEMA spokesperson told Reuters on Thursday. The storm comes on the heels of the eruption of the Kilauea volcano in May that damaged 700 homes.
There are few precedents for hurricanes hitting Hawaii. The last time a storm caused major damage was in 1992 when Hurricane Iniki, a category 4 storm, killed six people and caused $3 billion in damage.