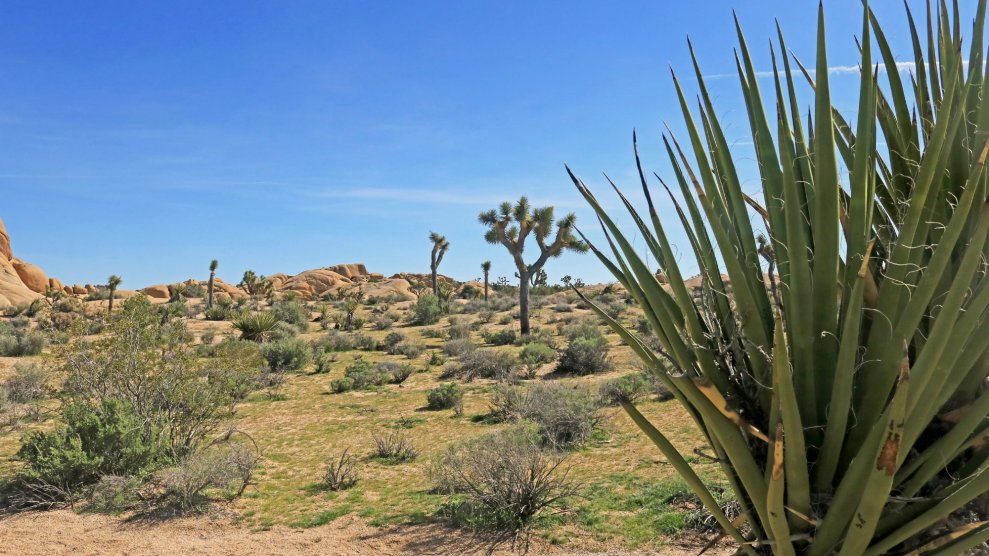 This story was originally published by the Guardian. It appears here as part of the Climate Desk collaboration.
America's national parks have warmed twice as fast as the US average and could see some of the worst effects of climate change, according to a new study.
Most of Joshua Tree national park could become uninhabitable for its eponymous trees, glaciers will continue to melt away at Glacier national park, and many other of America's most treasured beauty spots could be rendered virtually unrecognizable by climate change, Patrick Gonzalez, the lead author of the study, writes in the journal Environmental Research Letters.
Even the tiniest of creatures are at risk in the worst-case predictions: the American pika, a small alpine mammal, may no longer be able to survive on park land.
"We are preserving the most remarkable ecosystems, and they happen to be in extreme environments," said Gonzalez, a climate scientist at the University of California, Berkeley. Gonzalez is also the principal climate change scientist for the US National Park Service but conducted and spoke about the research in his university capacity.
The study finds that temperatures in national parks could go up from 37.4 to 48.2 degrees Fahrenheit by 2100, under the Intergovernmental Panel on Climate Change's worst-case scenario, which shows what could happen without policies to decrease greenhouse gas pollution. With lower emissions, temperatures could still exceed 35.6 degrees for 58% of park land, compared to 22% of the US as a whole, according to the study.
They are particularly vulnerable because most US park land is in areas that are heating up quicker: in the mountains, the Arctic and the dry south-west.
Alaska parks would see the most extreme heat increases, and the US Virgin Islands parks face 28% less rainfall by the end of the century. In Glacier Bay national park, the Muir Glacier melted 640 meters between 1948 and 2000.
In Yellowstone national park, trees are dying because bark beetles are thriving in warmer winters. Yellowstone will also become far more vulnerable to wildfires. The area burned could be up to three to 10 times higher by 2100. Joshua Tree national park in California could lose up to 90% of the habitat suitable for its namesake trees.
Gonzalez explained that parks at a higher elevation have a thinner atmosphere that warms faster. Higher temperatures are also melting snow cover and making the ground darker so that it absorbs more heat. Parks in California and the southwest US have seen both high temperatures and record-low rainfall, he said.
The research is the first comprehensive look at climate change impacts on national parks, Gonzalez said. He said he has been using the climate impacts research to develop plans for parks to adapt and reduce the greenhouse gas pollution they contribute.
The Trump administration has rescinded government efforts to slow climate change. The Interior Department, where the National Park Service is housed, nixed a policy that would have urged management decisions based on science, including climate change research. Park officials in New England scrubbed references to climate change and flooding risks in a report this summer, according to Reveal. The National Park Service did not immediately respond to a request to comment on the study or climate change policies for parks.