Hurricane Florence, expected to make landfall sometime Thursday, will bring dangerous winds and torrential rainfall to an area of the country that has already been drenched by historic amounts of rain this summer.
On Monday, only an hour after the National Hurricane Center declared Florence a Category 3 storm, the service upgraded it to Category 4, indicating "maximum sustained winds near 130 mph." The East Coast has seen no storm make landfall with the expected intensity of Florence since Hurricane Jeanne battered central Florida in 2004. Hurricane Irma, which rampaged through the Caribbean last year, made landfall as a Category 3 storm. Other recent storms to hit the region, like Hurricane Matthew, were even weaker upon hitting land.
Florence is approaching the coast on a path similar to that of Hugo, a devastating 1989 storm that left 50 people dead and incurred $8 billion in damage after moving inland to the west of Charlotte, North Carolina. "Because hurricane winds rotate counter-clockwise, the most damage occurs to the right, or east, side of the storm system," the Charlotte Observer reported.
Nick Humphrey, a meteorologist and geoscientist in Lincoln, Nebraska, said a "large area of high pressure over the North Atlantic" should keep Florence from trending more northward, but nonetheless, he anticipates a "very destructive storm," especially for parts of West Virginia, North Carolina, and Virginia.
Not only have forecast environmental conditions shown for the past few days shown that #Florence will be in a highly favorable environment for a high intensity to landfall (Category 4+) w/winds….the interior parts of NC, VA, WV in mountainous terrain may see extreme rainfall.

— Nicholas Humphrey (@NTH_met) September 10, 2018
States are already preparing for the storm with evacuation orders and states of emergency. Several islands in North Carolina's Outer Banks have already issued evacuation orders, and officials in Dare County, which encompasses several islands off of the North Carolina coast, urged residents to leave by Tuesday morning. "We do know that we're in the bullseye," Gov. Roy Cooper said Monday in comments reported by the Washington Post. In a news conference over the weekend, South Carolina Gov. Henry McMaster asked President Donald Trump to issue a federal emergency declaration, which would let the state be reimbursed for hurricane-related costs by the Federal Emergency Management Agency.
On Monday afternoon, Trump tweeted a message of support.
To the incredible citizens of North Carolina, South Carolina and the entire East Coast – the storm looks very bad! Please take all necessary precautions. We have already began mobilizing our assets to respond accordingly, and we are here for you! pic.twitter.com/g74cyD6b6K

— Donald J. Trump (@realDonaldTrump) September 10, 2018
The National Hurricane Center said residents could expect freshwater flooding from "prolonged and exceptionally heavy rainfall," which may extend "over the Carolinas and Mid Atlantic for hundreds of miles."
September 10, 11 AM EDT: Here are the Key Messages for #Hurricane #Florence. You can always get the latest forecast at https://t.co/tW4KeGdBFb pic.twitter.com/IJ7OG63Zrp

— National Hurricane Center (@NHC_Atlantic) September 10, 2018
Other areas that are not directly in the storm's path are also expected to be affected. For Washington, DC, and Baltimore, Florence will be an unwelcome addition to one of the wettest summers on record. The Washington Post reported that through July 31, Baltimore, whose yearly average for rainfall is 41.87 inches, had already accumulated 41.36 inches of rain—the most on record since 1886.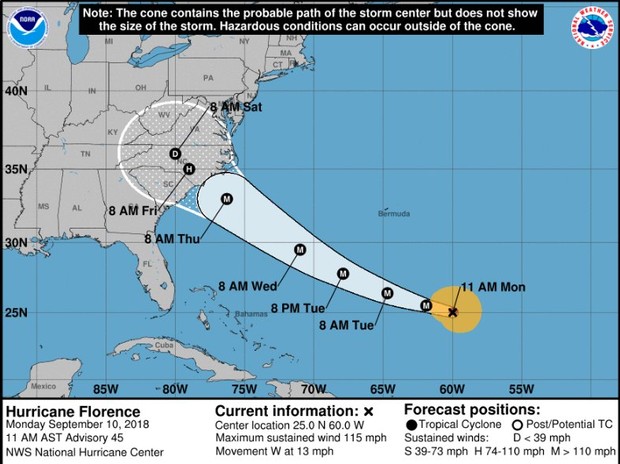 With Category 1 storm Olivia heading toward Hawaii in the coming days, Florence caps off an exceptionally busy week for hurricanes during an otherwise "below average" summer. Researchers from Colorado State University's Department of Atmospheric Science said in July that "much colder than normal" temperatures in the Atlantic Ocean could stunt the growth of developing storms.
In contrast, ocean temperatures off the North Carolina coast have reached record highs. On July 9, Wrightsville Beach in the southeastern part of the state recorded its highest temperature "since water temperatures were first charted in 2004," according to WECT, a local news station. Along Florence's path, sea surface temperatures "all the way to the Carolinas are running anywhere from half a degree to even 2 degrees Celsius above normal," Humphrey said.
In the days before Florence is expected to hit, evacuees across the region stocked up on bread, bottled water, and plywood. "Literally, they are filling buggies full of water, shopping carts full of water," Ryan Deeck, grocery department manager at a Walmart, told the Sun News in Myrtle Beach, South Carolina. "They're coming in and buying water and plates, and that's about all they're buying." And in Florence, South Carolina, this was the scene at a local supermarket:
The bread aisle ahead of Hurricane Florence. Taken by a coworker near Florence, SC yesterday. pic.twitter.com/mjRXzgfezD

— Bryan Wood (@bryanwx) September 10, 2018