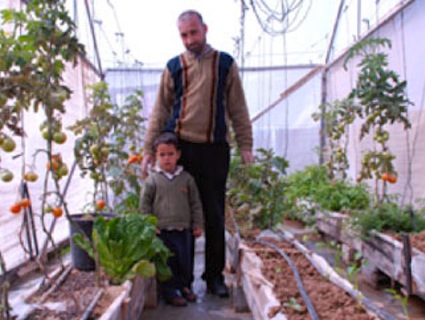 Fight disinformation:
Sign up
for the free
Mother Jones Daily
newsletter and follow the news that matters.
Climatewire recently ran a rather tedious article rehashing Monsanto's familiar talking points, on the occasion of a media conference put on by the GMO seed/agrichemical giant. Here's a sample:
The company's pipeline is teeming with seeds aimed to protect farmers from losses due to pests, heat, drought and nutrient deficiencies. Nitrogen-efficient corn is expected in the next three to 10 years, as are high-yielding soybeans.
These Wonder Seeds of the Future are vital, the company insists, because (as the Climatewire reporter puts it) "The world will need to double its crop output to satisfy 9 billion people on just a sliver more of available land." According to its marketing pitch, Monsanto will solve that problem by conjuring up seeds that allow farmers to "produce more, conserve more, [and] improve lives."
While contemplating the Cilmatewire piece—which was, to be fair, balanced by withering analysis from Union of Concerned of Scientists' Doug Gurian-Sherman—I got to to thinking about a Guardian article I read a while back on how people are scraping by in the Gaza Strip under the twin hardships of occupation and blockade.
Under siege from Israel, Palestinian farmers in Gaza have limited land, little access to water, and face ruinously high fertilizer costs (when they can get fertilizer at all): In other words, the very conditions Monsanto claims its seeds will save the world from. But these farmers don't have access to the wonder seeds, partly because they don't exist yet (Gurian-Sherman is skeptical that they ever will); and partly because Palestinian farmers don't have the resources to buy pricey patented seeds anyway. (How farmers resource-strapped farmers are ever supposed to afford Monsanto's premium-priced super-seeds—if and when they do come into existence—has never really been explained.)
So what are Palestinian farmers doing? According to The Guardian, they're turning to a technology that has been proven to conserve water, recycle crop nutrients, and generate robust yields: diversified organic agriculture. The newspaper quotes an official from the UN's Gaza emergency food program:
In so many other places, this is terribly trendy and green. But in Gaza the resource scarcity is so bad this is actually becoming a necessity.
Where organic ag has taken root, The Guardian reports, food security has been bolstered and dependence on food aid for survival has decreased. The UN is pushing organic ag as a response to resource scarcity, and last year Hamas government rolled out a a 10-year strategy "aimed at skirting the blockade and developing sustainable agriculture," The Guardian reports.
Already, concrete steps are being made. According to The Guardian, Palestinian farmers are barred by the blockade from buying synthetic nitrogen fertilizer, which could be used to make explosives. All they have access from the import market is "fertilisers made from Israeli waste water run-off," which is expensive—$200 per metric ton—and of "uncertain safety." But a local initiative called Palestinian Environmental Friends (PEF) is generating a homegrown fertilizer from manure and crop waste collected from local farms. It costs just $100 per metric ton to make, and profits from it stay within Gaza.
Farms are also solving the fertilizer problem by setting up closed-loop aquaculture/crop systems that recycle nutrients and generate bounties of food:
In a rural area of the central Gaza Strip, Eyad Najjar plucks organic carrots from the sandy soil of his tiny farm. Najjar no longer uses fertilisers or pesticides for his plot, which also grows tomatoes, parsley, rocket, lettuce and spinach. Instead, a fishpond on the field's far edge delivers water rich in nutrients via drip irrigation.

Smiling, Najjar squeezes an almost-ripe fruit hanging from the branch of a lemon tree. "The onions and lemons are bigger and better," he says.
Now, Gaza's push for organic ag as a response to severe resource challenges hardly settles the question of how to "feed the world" going forward. The effort is too new, and the results remain anecdotal. But it's entirely consistent with the emerging consensus among development experts that low-input, locally adapted appropriate technologies, not expensive high-tech solutions from the likes of Monsanto, are key to feeding ourselves amid population grown and resource depletion. And it surely contradicts the old agribusiness claim, recently parroted by The Economist, that organic food is a "luxury of the rich."