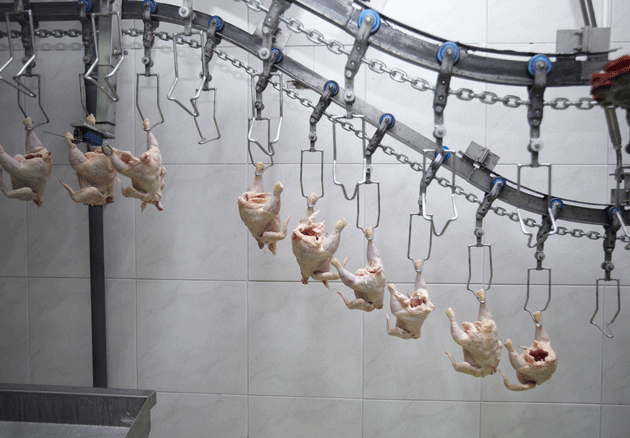 Fight disinformation:
Sign up
for the free
Mother Jones Daily
newsletter and follow the news that matters.
Remember the proposal that Obama's US Department of Agriculture has been pushing since spring 2012, the one that would speed up kill lines in poultry slaughterhouses while simultaneously slashing the number of federal inspectors who oversee them? As I've reported before, the plan involves a unleashing a barrage of anti-microbial sprays onto chicken carcasses as they zip down the line.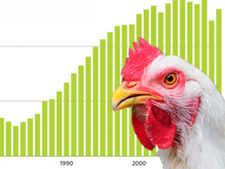 The Washington Post's Kimberly Kindy has shown that these sprays, whose use is already on the upswing, harm workers and may even mask, not decrease, salmonella contamination. As for the traces of them that remain on supermarket chicken, "government agencies have not conducted independent research into the possible side effects on consumers of using the chemicals," Kindy reported.
Back in April, as I reported at the time, USDA chief Tom Vilsack declared that the department would roll out the plan "very soon." The USDA claims that it would save taxpayers $30 million per year by laying off inspectors, and save the poultry industry "at least" $256 million annually. The chicken industry—dominated by Tyson, Pilgrim's Pride (now mostly owned by JBS), Perdue, and Sanderson—strongly supports the proposal.
But it caused an uproar among food safety and labor advocates—who argued that the combination of more speed and fewer inspectors would lead to dangerous conditions for both consumers and line workers, sparking hopes the USDA might back away from it. A scathing Government Accountability Office assessment (my analysis here) bolstered those hopes.
The new plan involves a unleashing a barrage of anti-microbial sprays onto chicken carcasses as they zip down the line.
But over the past week, the administration has sent two signals indicating that it plans to move ahead with the rules. Just before Thanksgiving, the administration released its Fall 2013 Regulatory Agenda, including for the USDA, which states that in 2014, the department's meat inspection service "plans to finalize regulations to establish new systems for poultry slaughter inspection, which would improve food safety and save money for establishments and taxpayers."
And then, on Wednesday, the USDA's Food Safety and Inspection Service released its action plan to reduce salmonella contamination of the meat supply. What's No. 1 on its 10-point list? "[M]odernization of poultry slaughter inspection," the USDA's preferred phrase for its speedup plan. What does firing inspectors and jacking up line speeds have to do with fighting salmonella?
The timeline on exactly when the administration plans to move on the plan remains cloudy—but its determination to do so seems as strong as ever.