Fight disinformation:
Sign up
for the free
Mother Jones Daily
newsletter and follow the news that matters.
Gazpacho can be a drag: dull and savoring of the refrigerator. That's because its essential ingredients—tomatoes, cucumbers, sweet peppers—are too often mass-produced and hauled in hundreds of miles from God knows where. However, when those hot-weather staples are in season and grown by talented farmers in your region—or better, in a nearby garden—gazpacho can be a revelation: vibrant, zippy, and as fresh as a sun-baked veggie patch.
Here in central Texas, it's gazpacho time. My own tomato plants are towering and healthy, but a diabolical squirrel is helping itself to all the big ones, leaving me with just cherry tomatoes—delicious, but not right for the gazpacho blender. As for sweet peppers, mine aren't quite ready yet. I did grow some fabulous cukes, though. So I headed over to Austin's glorious Boggy Creek Farm, now in the midst of an epic tomato harvest, to fill out my gazpacho larder.
Now, my gazpacho mojo hit a snag a few years ago when a close friend dismissed a batch I had whipped up with a soul-crushing assessment: "salsa in disguise." I realized my mistake: not enough cucumber and sweet pepper, and too much hot chile pepper. Since then, I've been using one medium-sized cucumber and one sweet pepper each for every five medium-sized tomatoes. As for hot pepper, I usually reserve it for garnish, in the form of a few chile flakes. These days, my gazpacho tastes like a summer garden in a bowl, not something you want to plunge a chip into. For a slightly spicy and ligher—but still un-salsalike—version, check out the one I came up with last year.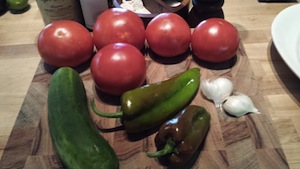 Gazpacho
(Serves two)
5 medium-sized tomatoes, coarsely chopped
1 medium cucumber (if it's super-fresh, no need to peel), coarsely chopped
1 medium (or too small) sweet pepper, seeded and coarsely chopped
1 clove garlic, crushed
1/3 cup extra virgin olive oil
1 slice of good rustic day-old bread, toasted and torn into pieces
Sherry vinegar, one splash at a time, to taste
Sea salt and black pepper, to taste
Garnish
Extra virgin olive oil
Something green, like chopped parsley and/or garlic chives
Crushed red chile flakes
A few coarsely chopped cherry tomatoes (optional)

Place the chopped tomatoes, cucumbers, peppers and garlic into a blender, along with the olive oil, a good dash of vinegar, and a healthy lashing of salt and pepper. Blend until smooth. Taste. Add more vinegar and salt if need.
To serve, divide into two bowls (there may be a bit leftover). Give them a drizzle of olive oil and top with remaining garnishes.