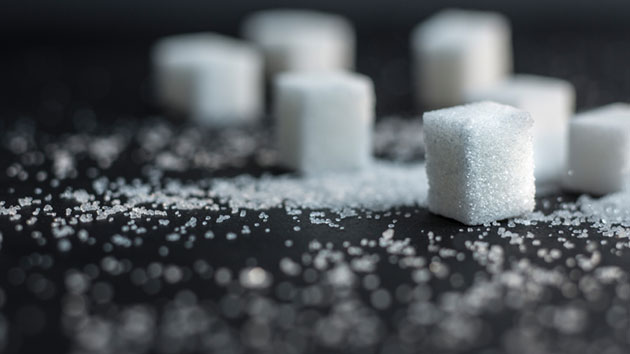 Facts matter:
Sign up
for the free
Mother Jones Daily
newsletter.
Support
our nonprofit reporting.
Subscribe
to our print magazine.
When the popular news quiz show Wait Wait…Don't Tell Me! hosted the country's Surgeon General, Vicek Murthy, last weekend, he was confronted with the question: What's your one weakness? "Sweets," he answered, "I like bread pudding and cheesecake, in particular."
Even if you're concerned about your levels of added sugar intake, it's nearly impossible to tell how much you might be eating.
Many of us can identify with the hankering for the occasional piece of cheesecake after dinner. But lots of the added sugar you inhale probably doesn't come in the form of dessert. Rather, Americans get much of their sweetening in the form of beverages—especially soda—and packaged foods that at first glance seem snacky or savory (yep, one serving of hoisin sauce has two whole teaspoons; barbecue sauce one and a half). While the World Health Organization has suggested that adults should get no more than 5 percent of their daily calories from added sweeteners—that's about 6 teaspoons—the average American ingests roughly five times that amount every day.
For decades, researchers and doctors have been sounding the alarm about the negative health risks associated with a diet too rich in added sugars—from obesity, poor nutrition, diabetes, and even heart disease. But as I've written about in the past, even if you're concerned about your levels of added sugar intake, it's nearly impossible to tell how much you might be eating: Current food labels don't require added sugar to be listed. There's even indication that food companies have gone to great lengths to keep that information hidden from the public's eyes. The US Department of Agriculture used to list added sugars for popular products in online, but the database was removed in 2012 after companies claimed that added sugar amounts should be considered trade secrets.
So in March, the Food and Drug Administration proposed revising nutrition labels to include added sugars on packaged foods. And on Friday, the agency went even further by proposing to require that packaged food companies must also include a percent daily value of added sugar on the nutrition label. (The daily value would be based on the recommendation that added sugar not exceed 10 percent of total calories, or roughly 12 teaspoons of sugar a day).
The FDA has already received pushback from industry groups about the attempt to make added sugar quantities more transparent; the Corn Refiner's Association questioned the agency's "statutory authority to do so" and complained of a lack of "credible scientific evidence." Meanwhile, Kellogg argued that the proposal "to distinguish added sugars…may confuse consumers." Of course, Kellogg happens to be the world's "second largest producer of cookies, crackers, and savory snacks."