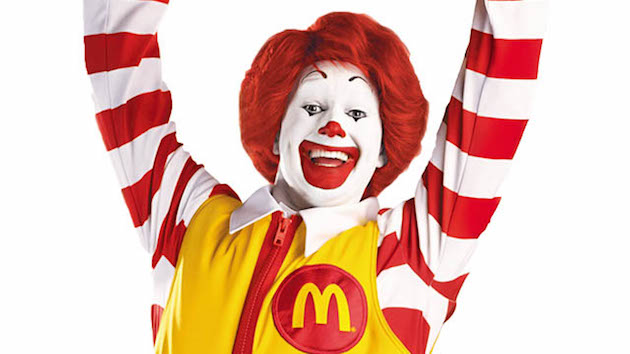 Fight disinformation:
Sign up
for the free
Mother Jones Daily
newsletter and follow the news that matters.
In recent years, the big red grin painted onto Ronald McDonald's face has looked increasingly desperate. The company's flagship burgers placed dead last among 20 national fast-food chains in a Consumer Reports poll last year. Its poverty-wage business model has inspired a successful labor movement. In March, McDonald's sacked its CEO after the company had underperformed Wall Street's earnings expectations in every quarter of 2014. Meanwhile, sales at "fast casual" competitors like Chipotle and Shake Shack have boomed. A recent effort to market its wares to school kids earned the company media derision (including from me). And this year, reports The New Yorker's Michael Specter, "for the first time since 1970, McDonald's will close more locations in the U.S. than it opens."
McDonald's attributes its rising shares to the new Premium Buttermilk Crispy Chicken Deluxe sandwich and its switch from margarine to butter on its Egg McMuffins—but others say it has more to do with international sales.
And yet, after digesting the burger giant's latest quarterly report, investors bid McDonald's shares up to an all-time high this week. What gives?
According to the investment site The Motley Fool, the main driver appears to be renewed success in the company's "emerging markets" segment—China and other fast-growing countries. Overall in emerging markets, sales at McDonald's outlets open at least a year rose 8.9 percent—and in China itself, they leapt 26.8 percent. The China surge is a big deal, because the company saw sales plunge there last year after an American-owned McDonald's supplier in Shanghai was caught selling expired meat.
Overall, international "comps" (sales at those established outlets) grew 4.6 percent, "due to solid growth in Australia, the U.K., and Canada," The Motley Fool reports.
Here in the United States, consumers showed considerably less enthusiasm for McDonald's—comparable-store sales rose just 0.9 percent. But that miniscule bump, too, cheered investors, because it marked the first time the fast-food titan had delivered positive quarterly comp numbers in its home market in two years, according to Motley Fool.
What's causing this modest uptick in traffic into the Golden Arches here in the land of Chipotle, Shake Shack, and other fast-growing competition? "McDonald's said a new Premium Buttermilk Crispy Chicken Deluxe sandwich and its decision to swap butter for margarine on its Egg McMuffins helped the division break a two-year streak of quarterly sales declines," Reuters reports.
Whether such tweaks in the direction of "real food" can continue to take the edge off of that clown's grin remains to be seen.